By Pat Harty
IOWA CITY, Iowa – No matter what the results have been on the football field, Kirk Ferentz has always had his culture to fall back on.
Ferentz's culture has been built over time with values such as hard work, sacrifice and unselfishness helping to pave the way and define his mission.
It is a culture strengthened by continuity, stability and humility, one in which the team always comes first, and one in which substance and class means more than style and flash.
It is a culture built on integrity, character and discipline, the envy of so many.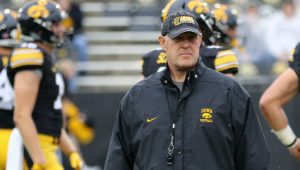 But sadly, it is also a culture that has allowed racial disparities to fester for years.
And if not for the death of George Floyd on May 25th in Minneapolis, the problem would likely still be festering and creating conflict. It took the fallout from Floyd's horrific death to create the right environment for former Iowa players to speak out.
Floyd's death was the latest in a long list of incidents in which a black person was killed by a police officer.
From Freddie Evans to Eric Garner to Ahmaud Arbery to Breonna Taylor to George Floyd, these incidents continue to happen, some right before our eyes, and blacks from all walks of life are now fed up and refuse to take it anymore.
Many blacks have shown their anger and frustration by protesting on the streets of cities throughout the United States and beyond, while others, including former Iowa center James Daniels, have used social media to air their grievances.
Daniels' tweet on June 3rd in which he encouraged the Iowa football team to kneel during the National Anthem in order to bring what he called a long overdue cultural change for both Iowa football and the state of Iowa kicked the door open.
It often takes the courage of one person to ignite a movement and James Daniels embraced that challenge by tweeting something that he knew would have a polarizing effect.
He also tweeted about what he believes are racial disparities in the Iowa program, and that helped to embolden others as more than 40 former Iowa players have since shared stories on social media about how they were mistreated.
There are too many racial disparities in the Iowa football program. Black players have been treated unfairly for far too long.

— James Daniels (@jamsdans) June 6, 2020
One or two players speaking out is one thing. But to have over 40 black players make the same kind of accusations of racial disparity can't be dismissed, ignored or minimized.
Some of those who have made statements transferred from the Iowa program and never made an impact on the field. So you could argue that they were bitter and had an axe to grind.
But then how do you explain James Daniels speaking out?
The Ohio native made a huge impact at Iowa where he played in 37 games and was a two-year starter, mostly at center. Daniels was so accomplished that he skipped his senior season to enter the NFL Draft and was selected in the second round by the Chicago Bears.
He also has earned his degree from the University of Iowa, so college was good to James Daniels in a lot of ways.
And yet, he still felt compelled to speak out about what he feels are racial disparities within the football program.
Most of the criticism and accusations have focused on the culture that exists within the Iowa strength and conditioning program.
Chris Doyle in a matter of days has gone from being one of the most respected strength and conditioning coaches in all of college football to now being on paid administrative leave and fighting to save his job.
His son, sophomore linebacker and Iowa City West graduate Dillon Doyle, has since left the team and entered the transfer portal, while Chris Doyle has released a statement in which he denied the accusations.
Doyle said in his statement that he was advised to remain silent, but he went against that advice.
"There have been statements made about my behavior that are not true," Doyle said. "I do not claim to be perfect. I have made mistakes, learned lessons and like every American citizen, can do better. At no time have I ever crossed the line of unethical behavior or bias based upon race. I do not make racists comments and I don't tolerate people who do. I am confident that a complete review of the body of work over 21 years will speak for itself and I am trusting the process to respect the rights and experiences of all parties involved.
"There are countless men of character who are better fathers, husbands, activists, leaders and contributors to society due to their experience at Iowa Football. The record will show this."
Doyle's statement probably didn't help his cause because he wants us to believe that over 40 players aren't being truthful, but that's just hard to accept.
Doyle also spoke when told to be silent, and that causes you to wonder if he feels too empowered after being Kirk Ferentz's so-called right-hand man for the past 21 years.
Kirk Ferentz has clearly been the face of Hawkeye football since 1999, but Chris Doyle has also been put on a pedestal.
Doyle has been the master of his domain, but now it appears that the line between demanding and demeaning has been crossed far too many times under his watch, often at the expense of a black player.
Kirk Ferentz either has allowed it to happen or wasn't aware that it was happening, and neither looks good from his standpoint.
It makes you wonder if Kirk Ferentz became complacent and too comfortable over time. Or perhaps he put too much trust in Doyle and gave Doyle too much power and influence as the highest paid strength coach in college football.
Ferentz said to the media recently that he believed his culture was healthy, and he based that opinion mostly on the results, which includes 47 victories over the past five seasons.
"That being said, every program, every year, it's a new challenge and there's always things to learn," Ferentz said. "I will share this with you – the last 48 hours – I've learned of things that needed more attention."
"However you want to break it down, I'm the one who's responsible. I'm the one who's got accountability. We all have ownership, but I'm the one who's accountable."
"However you want to break it down, I'm the one who's responsible. I'm the one who's got accountability. We all have ownership, but I'm the one who's accountable."
Ferentz said he is in the process of doing his own investigation, and wants to reserve judgment."I don't feel like my picture is complete," he said. "I'm not ready pass judgment on anybody or anything. And I think that's certainly what the committee will do on a different level, different plane. My first and foremost concern (is) my obligation and my responsibility of doing it thoroughly."Two factors that can't be disputed are that black players have transferred from Iowa at a much higher rate than white players, and also have graduated at a much lower rate.Iowa signed 49 black players in its four recruiting classes from 2015-18 and 19 transferred from the program, while only four of the 40 white players signed during that same time transferred.

In the quest to be fair and balanced, I've tried to think of a way in which the 51-year old Doyle could keep his job, but can't come up with a scenario that makes sense.
Imagine the awkwardness and suspicion and the disgust and resistance that would occur if Iowa tried to recruit black players with Chris Doyle still running the strength and conditioning program.
It would be a recruiting disaster at a developmental program where nearly 40 years of stability and success could be erased in a short period of time.
There are rumblings about potential civil and class-action lawsuits being filed by former players, and that would add another layer to the story, and would be a major distraction and an embarrassment.
Doyle has excelled in so many ways as Kirk Ferentz's strength coach, turning numerous unheralded recruits into standout college players, and in many cases, future NFL players.
Countless players, including some black players, have credited Doyle's training techniques for helping them reach their potential.
Even some of the black players who have shared their grievances over the past few days have acknowledged that Doyle was instrumental in their success.
But that success apparently came at a heavy price in what is described as a systematic culture of racism and ridicule.
Former defensive lineman Jaleel Johnson, who now plays for the Minnesota Vikings, has been very vocal on social media expressing his opinions. Doyle is the focus of Johnson's allegations, along with Iowa offensive coordinator Brian Ferentz, who is Kirk Ferentz's son.
"Coach Doyle is the problem in that building," Johnson said on Twitter. "And so is Brian Ferentz. Things won't progress until those two fix themselves. They know they're a problem. KF isn't. I respect coach Ferentz wholeheartedly. It's the others in the building."
James Daniels then echoed that sentiment on Twitter.
"I wouldn't be in the league without Coach Doyle and BF. But Jaleel is right, change needs to start with those two," Daniels said.
The mother of former Iowa running back Akrum Wadley also has been critical of Brian Ferentz on social media. So that's two former star black players, and the mother of another star black player, who have singled out Kirk Ferentz's son as the root of the problem.
Kirk Ferentz was asked on a zoom call this past Sunday why Doyle was put on paid administrative leave, while Brian Ferentz wasn't.
"Really, two things: The level of comments regarding the two are very different from my perspective," Kirk Ferentz said. "The other thing regarding Brian, the things I read about and heard I was aware of and I've had discussions with people regarding that. There are two different levels there and that's how it stands right now."
This isn't the first time that Doyle and Brian Ferentz have faced adversity.
Doyle's training methods were questioned after 13 Iowa players were hospitalized in 2011 with rhabdomyolysis, a stress-induced syndrome that can damage cells and cause kidney damage and even failure in severe cases. The outbreak was traced to a grueling squat-lifting workout.
UI officials did an investigation and found no wrongdoing among trainers, coaches or players and recommended that the football strength and conditioning staff abandon the workout, which it has.
Kirk Ferentz's support of Doyle never wavered, and in fact, Ferentz awarded Doyle with an "Assistant Coach of the Year" award at an I-Club event that spring.
Some perceived that as Kirk Ferentz's way of saying don't ever question my strength coach.
Doyle had to feel more empowered after the rhabdo incident based on how Kirk Ferentz reacted, maybe even untouchable.
Brian Ferentz, meanwhile, unleashed a profanity-filled tirade at halftime in the press box at Kinnick Stadium in the 2017 game against Minnesota. His rage was directed at the replay official who had reversed the call on the field and ruled a fumble late in the first half of the 17-10 win over Minnesota.
Brian Ferentz issued a public apology shortly after the incident and said there would be no repeat performance.
Kirk Ferentz called his son's outburst "inappropriate" and "unacceptable" but it was pretty much forgotten after that.
This current mess, on the other hand, never will be forgotten, and will forever tarnish Kirk Ferentz's legacy.
Too much damage already has been inflicted on his reputation, and now the question is where does Kirk Ferentz go from here.
He will turn 65 years old on Aug. 1  and that by itself is a concern on the recruiting trail.
It is widely believed that the 37-year old Brian Ferentz is being groomed to replace his father as head coach some day, but that plan has likely taken a serious hit.
Football is a demanding sport in which players are tested and challenged on a continual basis. Pain, sacrifice and hard work are part of that challenge.
Coaches have different ways of motivating and challenging players, and that's where Iowa appears to have slid off the tracks.
In addition to the racial disparities, there also seems to be a culture of bullying within the Iowa program. And that's sad and disappointing.
Former Iowa player Jack Kallenberger, who is white and suffers from a learning disability, said on social media that he often was ridiculed by an Iowa assistant coach for being dumb, once even having his grade-point average posted on the board in a meeting room.
The assistant coach was later identified by Kallenberger as Seth Wallace.
Kallenberger's story is tragic and points to a serious flaw in the culture at Iowa.
If there is anything positive to take from this sad and disturbing situation, it's that Iowa now has a chance to spark a movement.
Some of the current players, including defensive back Kaevon Merriweather, have expressed their desire to kneel during the National Anthem in protest of racial inequality. His request on Twitter drew lots of support from his teammates.
My guess is that Iowa will kneel as a team during the National Anthem this coming season.
The fact that Merriweather was allowed to share his feelings on Twitter is a significant step because the Iowa players were prohibited from being on Twitter until recently.
One of society's worst woes has festered for years in the Iowa program and Kirk Ferentz now faces his biggest challenge as a head coach.
I'm not sure if Ferentz is up to this challenge, but he deserves the chance to fix things.