By Pat Harty
IOWA CITY, Iowa – Before reports surfaced of racial disparities allegedly occurring within the Iowa football program, there was just one other time when I questioned the culture under Kirk Ferentz.
It was April 2011 when Ferentz announced at the annual Polk County I-Club event that Chris Doyle had been named Iowa's assistant coach of the year.
Doyle was certainly deserving in a lot of ways, considering how the Iowa strength and conditioning program was thriving under his watch.
But there was one problem with awarding Doyle, and that was timing. It couldn't have been worse with the aftermath of the rhabdomyolysis controversy still festering and causing friction.
Doyle was awarded barely three months after 13 Iowa players had to be hospitalized with a muscle disorder following grueling offseason workouts that left them with extreme soreness and discolored urine.
The players were diagnosed with rhabdomyolysis, a stress-induced syndrome that can damage cells and cause kidney damage and even failure in severe cases.
One of the players, former defensive back William Lowe, pursued legal action and ultimately reached a settlement with Iowa of $15,000 in 2016.
I didn't think that Doyle should be fired because of the rhabdomyolysis controversy, but to award Doyle so soon after the players were hospitalized seemed almost as if Ferentz was picking sides and saying don't ever question my strength coach.
It seemed to me like a slap in the face to the players, and a message to Doyle that he was beyond reproach.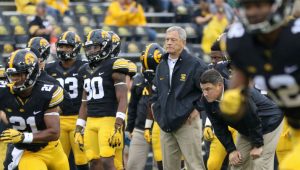 Ferentz also didn't immediately return to Iowa City after the players were hospitalized and that didn't look good from an optics standpoint.
Ferentz's handling of the rhabdomyolysis controversy is one of the few times that I was disappointed with his decision making, and his approach to a delicate situation.
Imagine how empowered Doyle must have felt after being awarded under questionable circumstances, and now look at him.
The same guy who survived the rhabdomyolysis scare with no kind of reprimand couldn't survive multiple former Iowa players having accused him of building a culture in which racial disparities and bullying were common, and mostly at the expense of black players.
Doyle and Iowa reached a financial agreement that will pay Doyle $1.1 million and provide medical benefits for 15 months, and all Doyle has to do is just walk away and agree not to pursue legal action.
Iowa clearly wanted to avoid a legal battle, and the horrible publicity that would have come with it.
The last time Iowa went to court against a former athletic employee didn't end well for Iowa in 2017 as it had to pay $6.5 million after a jury ruled that former Iowa field hockey coach Tracey Griesbaum and former UI athletic administrator Jane Meyer had been discriminated against.
So it made sense why Iowa Athletic Director Gary Barta, even with an independent review underway, would cut ties with Doyle as quickly as possible in order to start moving forward.
"I knew that the independent review is going to occur, but I also knew that we needed to think of things that made sense, that were thoughtful and sensible to move forward," Barta said Monday. "And that was one of the things that I felt – and we're in strength and conditioning time right now, volunteer work – and I just decided that it made sense, it was sensible, and it was just a move forward.
"I decided, and again, Kirk and I were in full agreement on that being a step. And I started having conversations with Chris and I just decided that was a step."
Iowa football and the 51-year old Doyle both now face massive rebuilding jobs from a perception standpoint.
Doyle probably could have had his picks of jobs in his field prior to the accusations because there is no denying his talent and influence.
For over two decades, Doyle turned countless unheralded recruits into heralded college players, and in many cases, future NFL players, both black and white players.
You still can appreciate what Doyle accomplished, while also supporting the players and the need for change.
Doyle pushed his players to the physical edge on a routine basis because that's what strength and conditioning coaches do in a sport that is brutal, violent and physically demanding.
But somewhere along the way, the line between demanding and demeaning was crossed too many times, and often at the expense of black players.
Kirk Ferentz has been the face of Iowa football since 1999, but the weight room was clearly Doyle's domain, and that point was reinforced in the spring of 2011 when Ferentz awarded Doyle.
It felt like Doyle was untouchable, and if I felt that way, imagine how Doyle must have felt.
It was his way or the highway, and his way was the Iowa way, which has been described by some of the former black players as rigid and controlled.
Some of the former black players said they were forced to lose their identity and adapt to the Iowa way or risk being ridiculed and called out by Doyle.
Kirk Ferentz now faces without question his biggest challenge as the head Iowa coach, while Doyle faces an uncertain future.
Ferentz lost 18 of his first 20 games as the Iowa head coach, but he stayed the course, trusted his approach and eventually lifted the program back to respectability.
But this is a different kind of challenge, one that doesn't involve blocking or tackling or devising a game plan.
This challenge is about repairing a serious flaw within your culture, a flaw that was allowed to fester by Ferentz, and that will take a long time and an incredible amount of effort and understanding to fix.