By Pat Harty
IOWA CITY, Iowa – It was recently brought to my attention that Iowa quarterback Spencer Petras, much like myself, is a fan of the Grateful Dead.
Petras didn't have the pleasure of seeing the Dead play with the legendary Jerry Garcia featured on guitar, because sadly, Garcia died in 1995, and more than four years before Petras was even born.
But the Grateful Dead's music will live on forever, and will continue to gain new fans like the 20-year old Petras, who grew up near where it all started for the Grateful Dead in the northern California town of San Rafael in Marin County.
The day when I can talk with Petras about our mutual interest in the Grateful Dead is something I very much look forward to, whenever that might be with the Big Ten Conference having cancelled the fall season due to health concerns about the Coronavirus.
Petras would have been in high demand if Iowa had held its annual media day event in August because he is considered the front-runner to start at quarterback, a job that Nate Stanley had in each of the past three seasons.
There is always high interest surrounding a new starting quarterback because it is arguably the most important, and most influential position in all of team sports.
That also helps to explain where Petras is ranked on the list of Iowa's 10 most indispensable players for the 2020 season. It has everything to do with the position he plays, and nothing to do with his great taste in music.
I had planned on publishing this list sooner, but then the 2020 season went from being at risk of being cancelled for several weeks to finally being cancelled on Aug. 11, and that made the list seem irrelevant.
But we still can pretend and hope that the 2020 season will be played at some point this coming winter, or in early spring 2021, and that Iowa's current roster will stay intact.
This list is based on those two things happening.
It isn't necessarily the 10 best players on the team, or the 10 best NFL prospects, but rather the 10 most important players based on their talent and on the role they're expected to play.
I gave serious consideration to having a punter on the list due its importance with field position, but ultimately chose not to because of the uncertainty at punter, and because Iowa has had success before with an average punter.
Spencer Petras, quarterback 6-5, 230, soph. – Again, this top ranking is based on the importance of the position more than anything else. Petras hasn't played enough for Iowa to know how he rates as a Big Ten quarterback.
But he is in position to be the starter, so that alone is enough to rank Petras as the most indispensable player on the team.
Should Petras fail to win the starting job, then whomever gets the nod would top this list based simply on the quarterback position being the most important position in team sports.
It's hard to think of a season in which Iowa has had success despite its quarterback struggling.
Petras certainly looks the part in terms of size and arm strength.
He was highly productive in high school, passing for over 4,000 yards and 50 touchdowns as a senior.
In fact, his passing yards and touchdowns as a senior broke his school's single-season records that were previously held by current NFL quarterback Jared Goff.
2. Keith Duncan, kicker, 5-10, 180, Sr. – Iowa has a history of playing in close games under Kirk Ferentz, as we were reminded again last season, so to have arguably the top kicker in college football is a huge advantage.
A native of Weddington, N.C., Duncan set Iowa and Big Ten Conference single-season records in 2019 with 29 field goals, which ranks sixth all-time in the NCAA. He also led the nation with 29 made field goals last season, and connected on his first nine field-goal attempts of the season before an initial miss.
Duncan connected on 29-of-34 field-goal attempts last season, including 14-of-18 from 40 yards and beyond, and he made 12-of-13 attempts on the road, including the game winner at Nebraska.
3. Tyler Goodson, running back, 5-10, 200, Soph. – The Suwanee, Ga., native became the first true freshman last season to lead Iowa in rushing with 638 yards on 134 attempts.
And he did it despite having started the season no higher than fourth on the depth chart. Goodson had to beat out three experienced juniors to become the starter, and he did just that by earning the trust of the Iowa coaches and by making big plays.
Goodson made his first career start in the 10th game against Minnesota and responded with 94 rushing yards and one touchdown on 13 carries.
Goodson is also a threat as a receiver and finished with 24 catches for 166 yards last season.
He is capable of running between the tackles, but seems at his best in open field where he often left defenders grabbing for air last season.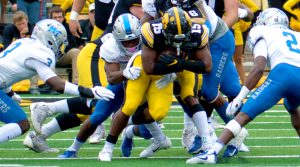 4. Chauncey Golston, defensive end, 6-5, 270, Sr. – The Detroit native played in the shadow of A.J. Epenesa last season, but also showed signs of stardom, using his size and athleticism to be disruptive.
Golston started all 13 games last season and finished with 47 tackles, three sacks and seven quarterback hurries.
Offenses were often designed to contain Epenesa at the other defensive end position, and Golston took advantage of that by making plays.
However, Golston won't have that luxury this season with Epenesa having moved on to the NFL. Golston might even discover that offenses will be designed to contain him.
5. Alaric Jackson, left tackle, 6-6, 320, Sr. – The importance of his decision to return for his senior season instead of declaring for the NFL Draft can't be understated.
Jackson is poised to become the first four-year starter at left tackle under Kirk Ferentz, and it's hard to think of any other four-year starters at that position in program history.
The Detroit native has the responsibility of protecting the quarterback's blindside, and that has to be reassuring to Petras and the other quarterbacks.
The coaches named Jackson third-team All-Big Ten last season even though he missed three games because of knee injury. He also was named second-team All-Big Ten by the coaches, and by the media as a sophomore in 2018
6. Ihmir Smith-Marsette, receiver/kick returner, 6-1, 183, Sr. – He ended his junior season in spectacular fashion by being named the offensive MVP in the Holiday Bowl.
In addition to returning a kick 98 yards for a touchdown in the second quarter, Smith-Marsette also had a 12-yard touchdown reception and a 6-yard scoring run during Iowa's 48-24 victory over the University of Southern California.
The New Jersey native returned two kicks overall for touchdowns last season and led Iowa with 722 receiving yards. Smith-Marsette also led the Big Ten, and ranked fourth nationally with a 29.6 kick return average last season.
7. Tyler Linderbaum, center, 6-3, 286, Soph. – The Solon native has been a quick learner since switching from defensive tackle near the end of his true freshman season.
Kirk Ferentz saw something in Linderbaum that made him believe that Linderbaum could be a force at center, and Ferentz was obviously correct.
Linderbaum started every game at center last season as a redshirt freshman and performed well enough that the league's coaches named him honorable mention All-Big Ten.
Linderbaum's reputation has continued to grow as several preseasons magazines have named him preseason first-team All-Big Ten. That includes Athlon Sports, which also has Linderbaum as a third-team preseason All-America selection.
8. Matt Hankins, cornerback, 6-0, 180, Sr. – The Lewisville, Texas native has played extensively at cornerback since joining the team, and has 18 career starts, including all 10 games in which he appeared last season.
Hankins is solid in pass coverage, steady against the run and has enough experience to be a leader in the secondary, which has to replace two starters.
9. Sam LaPorta, tight end, 6-4, 249, Soph. – The Highland, Ill., native has shown signs of being Iowa's next great tight end.
He saw action in 12 games last season as a true freshman with two starts. He had 15 receptions for 188 yards , including a career-best six catches for 44 yards in the 2019 Holiday Bowl.
10. Djimon Colbert, linebacker, 6-1, 225, Jr. – He started all 13 games at weakside linebacker last season and excelled against both the run and pass.
He recorded 61 tackles, including 34 solo stops and 2.5 tackles for loss. He also had one interception and four pass break-ups.