By Pat Harty
IOWA CITY, Iowa – Okay, now comes the hard part, making it work.
The Big Ten Conference did the easy part on Wednesday by announcing that it would play an eight-game football schedule over eight weeks, beginning on the weekend of Oct. 23-24.
That starting date would allow enough time to play a Big Ten title game on Dec. 19, which is the day before the college football playoff field is to be announced.
So timing was very important in this decision.
The Big Ten so desperately wants to be a part of the college playoff, and that's understandable.
Big-time college football is big business and the money it raises helps to pay a lot of bills throughout the conference.
"This is welcome news for all of our players, coaches and fans," Iowa head coach Kirk Ferentz said in a release. "Our focus is now to train and prepare to compete on October 24, recognizing the health and safety of our players is our No. 1 priority.
"I am proud of the attitude and work ethic our players have displayed over the past several weeks of uncertainty. The players are very excited to play and the coaches are excited to coach them. Go Hawks!"
The Big Ten has taken a beating from a public relationship standpoint, and some of it's been well deserved.
To cancel the season just six days after having released a revised schedule in early August, and to have done so with little transparency was horrible optics.
It made the Big Ten look indecisive, impulsive and easily influenced.
It also made Big Ten Commissioner Kevin Warren look bad, even though he didn't appear to have any say in the decision to play or not to play.
Warren was just the messenger, and sometimes, it's easier to attack the messenger.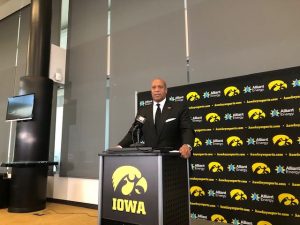 I'm sure I'll get attacked for saying that the Big Ten acted in good faith when it canceled the season in August, but that's how I truly feel.
The Big Ten's handling of this delicate and potentially dangerous situation hasn't been perfect, but it has been carried out with good intentions. The safety and welfare of the student-athlete has been the top priority from the beginning.
Some are convinced that the Big Ten had ulterior motives, including being influenced by politics.
To me, that narrative seems to have been caused by frustration, helplessness and grief, and from the need to blame somebody for canceling football.
At this point, though, why look back?
Why dwell on what is now old news?
Fall football is back, and that's one step to returning to normal.
It'll be far from normal, however, as it was also announced on Wednesday that fans will not be permitted to attend the games.
That just shows how fluid and delicate the situation is right now.
The only way the season will survive is if the student-athletes act responsibly at all times, and never let down their guard.
But that's a lot to ask a kid in college where acting irresponsibly is easy, and sometimes hard to resist.
The coronavirus still is out there, and still is highly contagious.
Texas Christian University canceled its Sept. 11 season opener against Southern Methodist University after some TCU players and support staff tested positive for the virus.
Arkansas State also postponed its game for this coming weekend against Central Arkansas until Oct. 10 due to not having enough players available to fill a two-deep depth chart.
Kevin Warren said Wednesday that daily testing will occur for all of the conference's fall sports athletes.
Northwestern lead physician, Dr. Jeff Mjaanes, also said that in addition to rapid testing, the other "big game changer" was getting the Big Ten schools access to cardiac MRI testing that it didn't have previously.
That reportedly helped to ease concerns and uncertainties around myocarditis.
"The seriousness of the pandemic is still very real, but I'm pleased for our student-athletes, coaches, and fans that we've been able to create a path forward," said Iowa Athletic Director Gary Barta. "The medical professionals at every Big Ten institution have worked tirelessly to create strong protocols that can be consistently applied to every campus.
"The frequency, availability, and reliability of daily testing was a game changer. This announcement has been much anticipated as it relates to football, but the path forward approved by our Presidents and Chancellors was important for all sports.  I'm thankful for the time President (Bruce) Harreld, and every Big Ten campus leader, dedicated to this resolution."
What happens during the season will go a long way in determining what happens in other sports.
And with Iowa having one of its best men's basketball teams on paper in quite a while, along with being the favorite to win the NCAA national title in wrestling, there is much to look forward to, and to be excited about besides football.
But if football fails, the other sports, including men's basketball, will be at risk.
There still will be a shortage of money with fans not attending the games, but the goal now is to cash in from a television standpoint. Something is better than nothing, especially when it comes to television revenue.
This is just the beginning of a surreal journey through unchartered territory.
Assuming all the games will be played outside, the weather will undoubtedly be a factor since most of the schedule will be played in November and December.
Dealing with Mother Nature will be yet another obstacle for teams to overcome.
But it sure beats the alternative.