By Pat Harty
IOWA CITY, Iowa – A very strong case could be made for receiver being the best position on the Iowa football team.
That rarely has been the case under Kirk Ferentz, but the top four receivers return from last season, and each of them had at least 400 receiving yards, including Brandon Smith, who missed four games because of an injury.
Throw in sophomore tight end Sam LaPorta, who showed signs last season of being Iowa's next great player at that position, and it's fair to say that Iowa is well-stocked with proven pass catchers.
It would help if another tight end emerged this season, and there is uncertainty at quarterback where sophomore Spencer Petras is expected replace three-year starter Nate Stanley.
But whomever wins the quarterback job will have the luxury of throwing to one of the best group of pass catchers under Kirk Ferentz.
Some might even say it's the best group of receivers under Ferentz, but I'm not ready to go that far, at least not yet.
The current group of receivers certainly belongs in the conversation, but the 2002 group still sets the standard, thanks in large part to Dallas Clark's productivity at tight end, and to Brad Banks' ability at quarterback.
Clark had 43 catches for 742 yards and four touchdowns, but his impact went far beyond just numbers. Clark also had a knack for making big plays at pivotal times and his flair for the dramatic helped him win the John Mackey Award in 2002 as the nation's top collegiate tight end.
But it was junior Maurice Brown who actually led Iowa in receiving in 2002 with 48 catches for 966 yards and 11 touchdowns, while senior speedster C.J. Jones finished with 38 catches for 468 yards and nine touchdowns.
Marvin McNutt and Derrell Johnson-Koulianos also formed one of the most productive one-two punches at receiver in program history in 2009 and 2010, combining for 178 receptions, 3,030 receiving yards and 22 touchdowns during those two seasons.
What makes Iowa's current group of receivers unique, though, is that there are four of them who are extremely productive.
Even the 2002 squad didn't have that kind of depth.
Tyrone Tracy Jr. finished fourth on the team last season with 36 catches, but that matched what Ed Hinkel and Clinton Solomon combined for in receptions in 2002.
Tracy also finished with 589 receiving yards last season, while Hinkel and Solomon combined for 377 receiving yards in 2002.
So from a depth standpoint, Iowa's current group of receivers could be the best under Ferentz, especially if you don't include the tight end position.
Brandon Smith and Ihmir Smith-Marsette are similar to Maurice Brown and C.J. Jones in that Brandon Smith is a big, physical receiver, much like Brown was as a Hawkeye, while Smith-Marsette has blazing speed and also excels as a kick returner, as was the case with C.J. Jones, who returned the opening kick for a touchdown in the 2003 Orange Bowl.
Iowa will face Purdue in the 2020 season opener on Oct. 24 in West Lafayette, Ind., and both teams are loaded at receiver, with the Boilermakers featuring the dynamic duo of Rondale Moore and David Bell.
Bell shredded Iowa for 13 catches for 197 yards and one touchdown during a 26-20 loss at Kinnick Stadium last season.
He also had Iowa among his top schools during the recruiting process before signing with Purdue.
If Iowa's top four receivers match or surpass what they did last season, it would be hard not to rank them as the best under Ferentz, especially if Iowa has success as a team.
It could come down to depth versus star power.
None of Iowa's current receivers have reached the level of stardom that McNutt, Brown and Johnson-Koulianos achieved in college, but that is partly due to having to share the stage.
But one thing is certain; Iowa is loaded at receiver and has an emerging tight end in LaPorta and a talented running back in sophomore Tyler Goodson to share the workload.
So it might be hard for any one player to emerge as a star due to all of the depth and experience, but what a problem to have.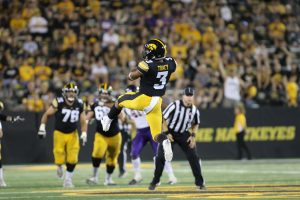 Elite pass catchers
2019
Name, receptions, yards-per-catch, touchdowns
Ihmir Smith-Marsette, 44, 722, 16.4, five
Tyrone Tracy Jr. 36, 589, 16.4, three
Nico Ragaini, 46, 439, 9.5, two
Brandon Smith, 37, 439, 11.9, five
Sam LaPorta, 15, 188, 12.5, 0
2002
Maurice Brown, 48, 966, 20.1, 11
Dallas Clark, 43, 742, 17.3, four
C.J. Jones, 38, 468, 12.3, nine
Ed Hinkel, 22, 218, 9.9, one
Clinton Solomon, 14, 159, one
2009
Derrell Johnson-Koulianos, 45, 750, 16.7 two
Marvin McNutt, 34, 674, 19.8, eight
Trey Stross, 31, 414, 13.4, one
Tony Moeaki, 30, 387, 12.9, four
Allen Reisner, 14, 143, 10.2, one
2010
Marvin McNutt, 53, 861, 16.2, eight
Derrell Johnson-Koulianos, 46, 745, 16.2, 10
Allen Reisner, 42, 460, 11.0, two
Colin Sandeman, 21, 227, 10.8, two
Keenan Davis, 11, 131, 11.9, one