By Pat Harty
IOWA CITY, Iowa – So many words come to mind when describing Iowa basketball player C.J. Fredrick.
Words like determined, confident, consistent, poised, scrappy and gifted all fit in his case.
Hawkeye fans witnessed that last season when Fredrick, as a redshirt freshman guard, averaged 10.2 points per game and shot a Big Ten-best 46.1 percent from 3-point range.
He missed five games because of a foot injury, but when healthy, Fredrick showed that no moment was too big for him.
Fredrick is the only player from a major conference dating back to 1993 to have compiled at least 65 assists, 32 or fewer turnovers, and shoot 46 percent or better from 3-point range.
So yes, Fredrick showed signs of being special last season, and much will be expected from him this coming season.
But the word that seems most fitting in his case, the word that best describes who Fredrick is as a person, and in some ways, as a player, is family.
Because without the inspiration, support and tough love from his family, particularly, from his uncle Joe Fredrick, it's hard to envision C.J. Fredrick making it this far as a basketball player.
C.J. Fredrick is gifted in many ways, and fortunate to have grown to 6-foot-3, but he also has made sure not to waste his gifts, and his uncle Joe has always been right there to push him, to encourage him and critique him like only an uncle can do.
"He was just so instrumental for me and my basketball and I can't thank him enough," C.J. Fredrick said Monday as a guest on the HawkFanatic-KCJJ radio show and podcast.
Joe Fredrick was also a guest on Monday's show and was listening when his nephew thanked him for his support.
For Joe, it was a proud moment.
But Joe was also quick to deflect the praise to his nephew, and to Joe's older brother Chuck Fredrick, who is C.J. Fredrick's father and an inspiration in his own way.
"C.J. deserves all the credit," said Joe Fredrick, who played basketball at Notre Dame when Fran McCaffery was an assistant coach for the Fighting Irish. "I just think because I played, and I played at Notre Dame and was fortunate enough with Fran being on staff, I get probably too much of the credit.
"Honestly, it was kind of payback. C.J.'s father was an unbelievable player. A lot of people don't realize just how good his dad was. He was the Cincinnati Player of the Year, and I was seven years younger and was the tag-along little brother. He spent countless hours with me and to really develop me. And now I get the chance."
C.J. Fredrick by definition is Joe Fredrick's nephew, but Joe doesn't necessarily see it that way.
"I don't have a little brother," Joe Fredrick said. "And honestly, even though he's my nephew, he has more of a feel of a little brother to me than he does a nephew. He's kind of like a little brother to me.
"And he worked like no kid I've ever been around, just his work ethic. And C.J. will tell you, I have really difficult eyes. I see the game at the high level and you've got to do everything right."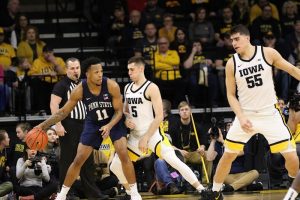 Joe Fredrick pushed his nephew to get better because Joe knew that C.J. could handle it, and because Joe knew it's what C.J. wanted more than anything else.
C.J. Fredrick wanted to be pushed and challenged and inspired because basketball means that much to him.
"He put all the time in and he deserves all the success that comes his way," Joe Fredrick said. "I (worked) that kid like he was Rocky Balboa."
Joe Fredrick compared his influence on C.J. Fredrick to the impact Frank Garza has had on his son, Iowa's 6-11 All-America center Luka Garza.
"It was very similar to what C.J. and I did all those years," Joe Fredrick said.
C.J Fredrick has shown all throughout his basketball career that he thrives under pressure and looks forward to taking the big shot.
He was named the Kentucky Gatorade Player of the Year in 2018 and led Covington Catholic High School to a state championship as a senior. He scored 111 points during the state tournament, including two 32-point performances, while shooting 63 percent from the field.
C.J. Fredrick then was redshirted as a true freshman at Iowa, and that allowed him to get stronger, and to observe the game close up.
And by his redshirt freshman season, C.J. was ready to make an impact. He earned a starting position, and took on an even bigger role as a clutch shooter after guard Jordan Bohannon was lost for the season after 10 games due to a hip injury that required surgery.
"It's just kind like the family thing," C.J. Fredrick said of handling pressure. "You can't be scared of the moment. And that's kind of what my uncle told me. If you want to make it to the next level, there's got to be something different about you. You can't just be a little stand-still shooter. You've got to be different.
"And for me, that different was kind of my edge. I knew if I wanted to be good I had to do some things that not a lot of people playing against me would like. That's just kind of what I had to do, and I would say my family instilled that."
The edge to which C.J. referred dates back to his grandfather, Charlie Fredrick, who played football at Notre Dame and spent almost four decades in coaching and sport administration in Greater Cincinnati.
"My grandpa, who passed away, he was just big on that," C.J. Fredrick said. "To not being fazed, and being ready for every opportunity that comes your way. That just kind of carried along to my dad and my uncle and then they kind of carried it to me."
C.J. Fredrick also has learned from his family to stay hungry and driven regardless of the circumstances.
He is part of a deep and talented Iowa team that is considered among the best in the Big Ten, and in the nation.
Luka Garza became a dominant force last season and is considered the preseason favorite for National Player of the Year, while Bohannon is healthy and ready to resume his role as a clutch shooter.
"The most important thing is what happens in the gym," Joe Fredrick said when asked what advice he could C.J. at this stage. "And the one thing none have to worry about with (C.J.) is the grind. He embraces the grind. He loves the grind. There have been a lot of kids throughout the years when they get that attention and they start getting all that recognition, the grind slows down for them.
"I think the key is the grind has got to pick up. And he's got a great example in Luka Garza. I mean as talented and the better he's played, it seems like he even puts more work in. And that's what the really, really good one does."
Iowa will start practice officially on Wednesday, and part of the challenge, besides trying to get better each day, will be to stay safe during a global pandemic.
Approximately half of the team already tested positive for the coronavirus at one point this fall, but now everyone is healthy according to Fran McCaffery.
And speaking of Fran McCaffery, his influence on C.J. Fredrick's decision to be a Hawkeye can't be understated.
Joe Fredrick considers Fran McCaffery a close friend after having played at Notre Dame with Fran as an assistant, and Joe wanted nothing more than for C.J. to play for Fran McCaffery at Iowa.
"We knew that was the right place, and I had to really kind of back off C.J., and C.J. will tell you, I wore him out on Iowa and Fran McCaffery," Joe Fredrick said. "It was always, have you talked to Fran lately?"
"C.J. will tell you, I think he got tired of me pushing Iowa on him. But I just knew this was the perfect spot for him."
And in the case of C.J. Fredrick, family always seems to know what is best for him.