By Pat Harty
IOWA CITY, Iowa – For the first time since 1991, I will not be on the road to cover Iowa football games this season.
It just doesn't seem feasible under the current circumstances.
The threat from and obstacles caused by COVID-19 has pretty much eliminated any face-to-face contact with players and coaches, and only a select number of visiting media will be given credentials.
Iowa will face Purdue in the season opener on Oct. 24 in West Lafayette, Ind., and Iowa also plans to have zoom conferences with head coach Kirk Ferentz and select players after each of its four homes games at Kinnick Stadium.
A limited number of media will be given game credentials and allowed to watch from the press box in Kinnick Stadium, but there will be no face-to-face interviews.
So this new normal got me to thinking about life on the road in the Big Ten after having covered football games for nearly three decades.
For me, it started with the 1992 season opener against North Carolina State in the Kickoff Classic at the Meadowlands in East Rutherford, N.J.
The game was kind of boring and disappointing as Iowa lost 24-14, but I kept wondering who was possibly buried under the playing surface.
I've covered close to 150 road games and most of them are fuzzy at best from a recollection standpoint.
Road trips to Champaign, Ill., Bloomington, Ind., and West Lafayette, Ind., don't stay etched in your mind for obvious reasons. They can be lumped together as highly predictable, low in excitement and long in hours.
But there are some road trips that have stood out for good, and for bad reasons.
My first trip to Bloomington in November 1992 stands out because when my travel party, which consisted of myself and a photographer, checked into a hotel that will not be identified as a show of mercy, we were told that the heat still had be turned on and it would take about 30 minutes for our room to get comfortable.
It was suggested that we get something to eat, but we still checked into the room in order to drop off our luggage and work equipment.
Upon entering the room, I quickly-noticed a reddish-brown stain on my bed spread, and started to wonder, in between gagging, what it could be, because with those two colors, few of the possibilities were good.
I also remember my first trip to Champaign in 1992 for the simple and pathetic fact that I gorged myself at a steakhouse, knowing that the meal would be paid for by my employer, which was the Iowa City Press-Citizen at the time. And all I can really say is thank goodness for sweat pants, Rolaids and enough time to recover.
There was the road trip to Miami (Ohio) in 2002 in which myself and two co-workers from the Press-Citizen drove straight through both ways, which was just under 20 hours if memory serves me correctly.
That trip also stands out because the press box wasn't air-conditioned, and because on the way back we saw a man getting arrested and being somewhat combative in the parking lot of a gas station in Galesburg, Ill., well after midnight.
Road trips to Penn State have a tendency to stand out just because of the distance traveled. However, the 1996 game was extra special because Iowa prevailed 21-20 without Sedrick Shaw playing, and on a weekend in which it literally rained non-stop in State College, Pa.
There was the disastrous road trip to Arizona in 2010 that stands out because I remember walking into the stadium, along with some Iowa fans, and being mocked, cursed and taunted by Arizona fans.
One fan noticed my press credential and then started ripping me for being part of the "wussy" Iowa media.
Iowa would go on to lose to the Mike Stoops-coached Wildcats 34-27, and the loss was made worse by running back Jewell Hampton having suffered a season-ending knee injury during the game.
The misery continued on the trip back home as our flight from Denver to Cedar Rapids was canceled. The earliest we could get another flight was in two days, something I still don't understand to this day, so we decided to rent a car and drive home instead.
All I remember about the trip home, besides my co-worker Andy Hamilton driving the entire way, was that I slept all the way through Nebraska, and that's the most fun I've ever had in Nebraska.
My trip to the 2016 Rose Bowl was mostly enjoyable, except for the game itself. What I remember about the game is missing the first touchdown by Stanford running back Christian McCaffrey because I was putting my computer bag below my seat, and by the time I looked up, McCaffrey was crossing the end zone.
The week-long trip to the 2003 Orange Bowl was epic for lots of reasons that won't be discussed in this column in order to protect the guilty and innocent.
My first trip to the Outback Bowl following the 2003 season stands out because I still remember watching a fellow media member eat an entire 'Bloomin' Onion before kickoff. This appetizer has more than 800 calories, 58 grams of fat and 22 grams of saturated fat, plus 1,520 milligrams of sodium. These numbers don't include the dipping sauce, which is also loaded with fat, calories, and sodium.
I got heartburn just watching this person devour the onion before 10 a.m.
There was the road trip to Minnesota in 2002 when traffic got so backed up in downtown Minneapolis that one of my co-workers, whose identity won't be revealed, had to urinate in a pop can in the back seat of the car to avoid soiling himself.
And there is no way I could forget my first road trip to Wisconsin in 1995 because there were Badger fans, including a lady who had to be in her 80s, lined up on the streets in Dickeyville, Wis., and holding signs that basically said that Iowa and Hayden Fry both sucked.
The trip to Madison is now mostly four-lane highway, so Hawkeye fans are spared from having to weave through the hateful streets of Dickeyville and Mineral Point.
It would be remiss of me not to mention the many road trips to Purdue and Indiana in which the high point was eating at the legendary Beef House off Exit 4 in Covington, Ind. Sweat pants and time to recover are always necessary after eating at the Beef House.
My first road trip on Highway 74 also stands out, because on the way home from Illinois, I missed the exit near Bloomington and didn't realize for about 30 miles that I was headed to Chicago instead of to Peoria.
There was the time coming back from Iowa's 49-35 victory at Purdue in 2016, which, of course, included a visit to the Beef House, when I was stopped for speeding just outside of Peoria, Ill. Tyler Devine was riding shotgun and we were in a rental car, so it took the female police officer longer than usual to check my identification.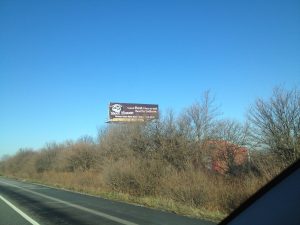 Meanwhile, the Chicago Cubs were in a hotly contested playoff game in which they won while we were pulled over, and the officer could hear us cheering loudly from the car.
She ultimately only gave me a warning, partly because she realized we were Cubs fans.
I've made every trip to Ames but one since 1993, and they've all been a grind, especially last year's trip that included a near three-hour lightning delay, and a parking lot that looked and smelled more like a Grateful Dead concert.
There was also the time on the way to Ames when traffic got so backed up on Highway 30 that people were having to relieve themselves on the side of the road. One group even went as far as to set up a table for playing cards.
There was a time in Minneapolis while walking from my car to the stadium when I was approached by a man wearing a blazer and tie who asked me for $22 so he could get something to eat. It was awkward enough being approached by a stranger, but even stranger when he asked for such an odd and specific amount.
Iowa's 2000 season opener against Kansas State in Arrowhead Stadium in Kansas City stands out for being by far the hottest road trip I've ever experienced. It was so hot and humid to where that's all I really remember besides it also being the debut of Bob Sanders.
I know several Hawkeye fans who said they couldn't even drink alcohol that day because it was too hot. And these are fans who always make alcohol consumption a huge part of their tailgating experience.
My hope is to be back on the road for Big Ten football games in 2021, and to be back at the Beef House gorging myself in sweatpants.
Sometimes, it's the small victories that make life memorable.