By Pat Harty
IOWA CITY, Iowa – On Oct. 8, members of the Iowa football team's coaching staff, and support staff, met with the media at Kinnick Stadium.
It was sort of like a media day event minus players, and during a global pandemic.
Iowa offensive coordinator Brian Ferentz stole most of the headlines by issuing a public apology for any role he had in causing multiple former black players to accuse the Iowa program of having racial disparities.
It was a powerful moment as the son of Iowa head coach Kirk Ferentz seemed to speak from his heart, and he seemed sincere.
But there was another moment that really struck me, and it occurred when I asked Iowa defensive line coach Kelvin Bell what junior defensive tackle Daviyon Nixon had to do to take his game to the next level.
"Be a good teammate," Bell said. "That is set an example and that is holding others accountable like him. If he can do those two things, the sky's the limit. Be a good teammate."
I then asked Bell if being a better leader would help make Nixon a better teammate.
"The leadership role, that's above being a good teammate," Bell said. "I want him to be a good teammate."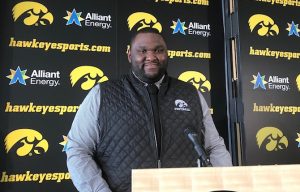 I wasn't quite sure how to take Bell's comments because they were sort of evasive.
Some might interpret what Bell said as meaning that Nixon has to improve as a teammate.
But I didn't see it that way.
To me, it was Bell's way of encouraging Nixon to embrace the grind, and to focus and realize that he has a chance to be special.
And if Nixon's performance against Purdue this past Saturday is any indication, Bell's message is being heard loud and clear because Nixon was arguably Iowa's best player on defense.
He finished with seven tackles, including 2.5 behind the line of scrimmage, and assisted with a sack during the 24-20 loss at Ross-Ade Stadium in West Lafayette, Ind.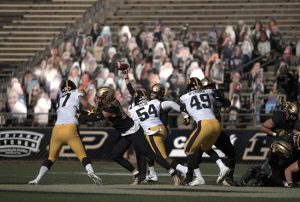 Nixon was a disruptive force throughout the game, and he played with high energy, and with a purpose.
He also played well enough that Purdue used double teams against him in the second half.
"Individually, I feel like I played a good game, but it just wasn't enough to get us the win," Nixon said Tuesday on zoom conference. "So personally, I just feel like a lot of the blame is on me as well.
"I just didn't do good enough to get the win for the team."
Nixon is probably judging himself too harshly, but that's better than pointing fingers or making excuses or basking in his own personal success despite a loss.
Nixon came across as good teammate during his 10-minute zoon conference, and that's just what Iowa needs as it tries to bounce back against Northwestern on Saturday at Kinnick Stadium.
Of course, it also needs the 6-foot-3, 305-pound Nixon to keep playing as he did against Purdue.
Iowa had to replace both starting defensive tackles from last season, but it seems pretty apparent that Nixon is up to the challenge.
"I thought he did a really good job," Kirk Ferentz said of Nixon's performance against Purdue. "I thought he was disruptive and, you know, every player can play better obviously and clean some stuff up. That's our first game, we expect that. But I thought he did a lot of good things. He brought really good energy and impacted the game.
"He's been practicing really well, so, just really happy about that. I know he played last year and he started a couple games, I believe. But right now, he's a starter, right? So, he's been doing a good job and I'm hopeful everybody on our team keeps player better week in and week out. That's really the goal, it always is every year."
Nixon played a key role last season as a reserve, but more is being asked of him this season. He played more than twice as many snaps against Purdue than he had in any previous game, but he held up well.
"It's not my first time starting in football, so I've got to go out there and just do what's best for the team, even though it might be best for me," said Nixon, who is from Kenosha, Wis.
Nixon said there were times when he became fatigued against Purdue, but he just found a way to keep making an impact.
"At t the moment when you're in the game, your blood is rushing and your adrenaline is running, so you've just got to keep going whether you're tired or not," Nixon said. "You've just got to catch your second gear."
Nixon knows all too well what it means to keep going.
He wanted to attend Iowa directly out of high school, but he didn't qualify and then spent one season at Iowa Western Community College in Council Bluffs.
Nixon improved as both a student, and as a player, then joined the Iowa program in the spring of 2018.
He also resisted a scholarship offer from Alabama while in junior college, and that said something about his loyalty.
Iowa stuck with Nixon during his time in junior college, and Nixon stuck with Iowa.
And now both sides are benefitting from it.
Nixon's rise on the field coincides with his rise as a student.
He was asked on the zoom conference about being rewarded the 2019-20 African American Studies Cultural Appreciation Award based on exceptional performances in his classes and whether it carries much meaning.
"It does," Nixon said. "With my major, African American Studies, there's so many things that I never thought I would learn about my culture and my people and my past. It just really an awesome major, especially coming from this school.
"It does mean a lot because I've always struggled with my grades and things like that. So just to be recognized for something like that, it means a lot. But I've got to strive to be better."
Nixon's answer about striving to get better would almost certainly bring a smile to Bell's face because that seems to be the ongoing message.
Nixon always seems to be smiling, and in a good mood, when he interacts with the media. He's polite, funny and approachable.
Nixon grew up in Illinois before moving to Kenosha to attend high school.
Kenosha has been the scene of protests and civil unrests in the wake of police shooting Kenosha resident Jacob Blake this past August.
Nixon returned to Kenosha last winter to speak with students at a middle school. He was asked about that experience during the zoom conference.
"I feel like me going to talk to those kids is just putting out extra effort and letting them know that even though a lot of people have troubled pasts, and have a hard life growing up, you can always make something of yourself if you remain humble and just keep fighting and keep pushing through," Nixon said. "And that's basically what Kenosha as a whole is doing now.
"There are so many terrible things that have happened over the simmer. But at the end of the day, you've just got to keep pushing."
That answer is just another example that Kelvin Bell's message seems to be coming through loud and clear, on and off the field.