By Pat Harty
IOWA CITY, Iowa – Approximately two hours before the start of last season's game against Rutgers at Kinnick Stadium, I rode the elevator with Iowa defensive back Kaevon Merriweather.
He was on crutches and his right foot was in a boot.
I asked what happened and Merriweather said the injury occurred late in practice on Friday, the day before.
He was relieved that he didn't need surgery, and he expected to be out a week, maybe two.
Merriweather had started at free safety in the season opener against Miami (Ohio) the week before, and made five tackles, including two solo stops, during the 38-14 victory.
Merriweather returned from the injury a few weeks later.
However, by that time, Jack Koerner had solidified himself as the new starter at free safety, and Koerner never has relinquished his starting position.
Merriweather only made one other brief appearance in a game last season, so it could be said that he lost his starting position due to an injury.
Some players might have resented being demoted under those circumstances and transferred during this transfer-crazy time.
But Merriweather chose to stay at Iowa and fight for playing time. He used last season as a learning experience, and as a chance to grow as a player.
And now Merriweather is being rewarded as a third-year sophomore for his loyalty, and for his perseverance, by playing a significant role in Iowa's secondary, this time alongside Koerner at strong safety.
"I kind of looked past that and used that year as a way for me to grow mentally as a player," Merriweather said Tuesday on a zoom conference. "Just seeing the things that we're going on on the field during the game, and also going back and looking at the film.
"I think that year actually helped me more than I thought it would. I think it definitely prepared me for this year."
Merriweather also chose to stay at Iowa despite a tumultuous offseason in which multiple former Iowa black players accused the program of having racial disparities.
Chris Doyle lost his job as the Iowa strength and conditioning coach as part of the fallout, and the players held a team meeting in June that was described as highly emotional and heated at times, but also productive.
Iowa's Leadership Group now has more black players, including Merriweather, than white players for the first time ever under Kirk Ferentz, and players also are allowed to kneel during the National Anthem, with around 30 players, including Merriweather, having knelt so far this season.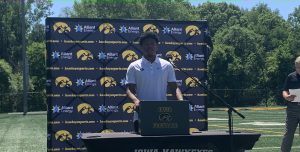 Merriweather was also very outspoken on social media during the summer about his intentions to kneel during the National Anthem.
"It's been a lot of positive steps that have been taken towards the racial discrimination in this program," said Merriweather, who is from Belleville, Mich. "I think a lot of those steps that we've taken as a program has really helped us, just having that open line of communication between all of our coaches. I think that's also a part of our program that's been a positive thing, just allowing us players to go in and talk to our coaches about any issues we may have and that we see as wrong."
If you think you could possibly call yourself an Iowa Football fan and you can not agree with what I said and what this team is standing on. Then stop calling yourself a fan, IMMEDIATELY‼️ BECAUSE I CAN PROMISE YOU THAT WE DO NOT CARE‼️👎🏾 pic.twitter.com/DgYFY56ojv

— Kaevon Merriweather (@Kaevon02) June 8, 2020
After starting the season with losses to Purdue and Northwestern by a combined five points, Iowa has since defeated Minnesota and Michigan State by a combined 70 points.
Iowa's defense ranks third in the Big Ten in scoring defense (14.8) heading into Saturday's game at Penn State, and the Hawkeyes also have had at least one interception in each of the past 11 games dating back to last season.
Merriweather gives much of the credit to defensive coordinator Phil Parker, whose meticulous approach and attention to detail always has the players prepared and ready for just about anything that might happen on the field.
"It definitely helps on the field, you can definitely see it with interceptions," Merriweather said. "Every inch, every centimeter, every step and every yard counts."
Parker's formula for success is simple, according to Merriweather.
"We're in the film room pretty much all the time, especially as DBs," Merriweather said. "We put in extra hours in the film room and coach Parker does a great job of breaking down the other teams' offenses and knowing what can potentially hurt us. So we pretty much go through everything throughout the week."
Iowa coach Kirk Ferentz was asked about the his team's interception streak during a zoom conference on Tuesday.
"Certainly pleased about it, but I don't know if we have any magic potion or pixie dust or anything like that," Ferentz said. "Guys are doing a good job. Some guys, I'll also say this, some guys just have a knack of doing things."
The 6-foot-, 205-pound Merriweather is big for a defensive back and he uses his size to be physical. He already has had several bone-jarring tackles this season.
"Me being a little bigger DB, I pride myself on being physical," Merriweather said. "I think, sometimes, I'm probably a bit too physical. I know I had couple missed tackles out there on the field that I need to clean up, wrapping up the ball carrier.
"But I do pride myself on being a little bit more of a physical DB."
Phil Parker also used to take pride in being a physical defensive back during his career at Michigan State, where he made first-team All-Big three times as a safety in the 1980s.
"We joke with coach Parker all the time about his playing days and about how a hard of a hitter back in the day they say he was," Merriweather said.
Merriweather was sort of late bloomer in high school when it came to football.
He was known more for his basketball prowess, and for being high riser who could dunk with the best of them.
Merriweather had chances to pursue basketball in college, but he chose football despite having only played for two seasons in high school because he felt he had more potential.
Iowa became involved with Merriweather late in the recruiting process and he accepted a scholarship offer.
"When I decided to play football, I came in here just ready to learn, just learn as much as I could," Merriweather said. "Mentally, I just wanted to be able to understand the game of football and understand the game as much as I could."
Merriweather's high school football coach encouraged him to ask questions when he first arrived at Iowa, and now nearly three years later, Merriweather still is asking questions and trying to gather as much information as he can.
"I'm still asking questions to coach Parker about little things on the field that he may see,' Merriweather said.
Merriweather also had the luxury of playing behind two future NFL safeties at Iowa in Amani Hooker and Geno Stone. He latched on to Hooker right away as a freshman in 2018 and watched his every move, on and off the field.
"Geno and Amani, they were two great people I could look to," Merriweather said. "My freshman year, Amani, every time I had chance to ask him a question about something I didn't know he was right there to help me. And he always would tell me, just watch what I'm doing, especially in practice. And everything he did I put that in the back of my brain, the way he played and the way he's able to see things, especially the way he watched film."
Merriweather takes great pride in being a Hawkeye defensive back and is emerging as a leader on and off the field.
It's easy to see why with his loyalty and with his willingness to overcome adversity by competing rather than by whining or complaining, or by transferring to a different school.
Because the way a person handles adversity says a lot about that person.