By Pat Harty
IOWA CITY, Iowa – Quarterbacks usually get too much credit during good times and too much blame during bad times, except for in the case of Spencer Petras.
The Iowa football team has won three games in a row with Petras at quarterback, and yet, Petras is getting hardly any credit for the success.
The team is winning in spite of Petras, some will say.
Petras isn't getting any better, others will say.
Some have even said that it's time for 3-2 Iowa to make a quarterback change heading into Friday's game against Nebraska at Kinnick Stadium.
But I say it's time for the Petras bashers, and those who always feel the backup quarterback is the solution to a problem, to settle down and let this story develop some more, because right now, there isn't a problem.
Without question, Petras has to improve in every facet, except for maybe his command of the huddle where he seems to thrive.
He still is struggling with accuracy and touch on some throws, and failing to connect on deep throws. Petras also, at times, locks in on one receiver, or is slow with his progressions.
But to say that Iowa is winning in spite of the 6-foot-5, 230-pound Petras, and that he isn't getting better, seems a bit harsh and inaccurate.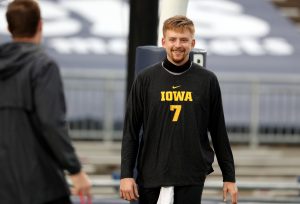 Petras has been average, but that's about what I expected him to be with five career starts under his belt, and with no spring practice to get better, and with preseason practice having been far from typical.
He has completed 90-of-162 passes for 945 yards and three touchdowns in five games. That's an average of 189 passing yards per game, which again, is average.
Petras also has thrown four interceptions, and was lucky to have avoided throwing number five against Penn State this past Saturday.
So the numbers clearly show that he has to get better, but Petras has earned the chance to get better, because for one, his team is riding a three-game winning streak, and two, the cavalry isn't coming.
Nothing against backups Alex Padilla and Deuce Hogan, but they have little experience in the case of Padilla, and no experience in the case of Hogan, who was in high school at this time last year.
Padilla, a redshirt freshman, also didn't have the chance to compete with Petras in the spring because practice was canceled due to health concerns with the COVID-19 global pandemic.
One of them might ultimately prove to be better than Petras, but that doesn't appear to be the case right now based on how committed the coaches are to Petras, and have been since the end of last season.
From the moment last season ended, the starting quarterback job has been Petras' to lose, or so it seems.
Some fans will say that's the problem.
They'll say that Iowa offensive coordinator Brian Ferentz, with his father's approval, decided way too early to make Petras the starter, and that Brian and Kirk Ferentz are both too stubborn to make the switch.
But that seems unfair since Iowa has won three games in a row, and since quarterbacks have been benched before under Kirk Ferentz.
Just ask Jake Christensen or Jake Rudock.
Besides having the same first name, they both were benched after having started multiple games at quarterback for Iowa.
Christensen lost the job to Ricky Stanzi during the 2008 season, while Rudock was supplanted by C.J. Beatherd just days after the end of the 2014 season.
The difference in both of those cases is that Christensen and Rudock both started for at least one full season, and two seasons in the case of Rudock.
Stanzi was also a third-year sophomore when he became the full-time starter in 2008, while Beathard was a fourth-year junior when he finally replaced Rudock in 2015.
I'm not suggesting that Petras is above being replaced at some point, maybe even this season.
But it's just not the right time with Petras only having five starts under his belt, or the right circumstance with Iowa having won three games in a row.