By Pat Harty
IOWA CITY, Iowa – A 3 p.m. Wednesday tip-off in a mostly empty arena, and with Fran McCaffery dressed casually and wearing a mask is all part of the weirdness that is 2020.
If this strange and surreal year has taught us anything, it's to expect the unexpected because anything can happen.
I reminded myself of that when the fifth-ranked Iowa men's basketball team trailed a quick and scrappy North Carolina Central squad 19-16 midway through the first half at Carver-Hawkeye Arena.
But I also figured it was only a matter of time before Iowa would assert its dominance.
And that's exactly what happened in the latter stages of the first half as Iowa broke open a close game and then cruised to a 97-67 victory in the much-anticipated season opener.
Redshirt freshman forward Patrick McCaffery helped to ignite the rally by scoring eight momentum-changing points during his first appearance off the bench. He finished with 16 points overall.
It was the first significant minutes for Patrick McCaffery since he started playing for his father at Iowa last season.
Patrick McCaffery only appeared in two games last season due to having some residual effects from a malignant tumor that was removed from his thyroid in 2014. He struggled to gain weight during high school, and as a true freshman last season, but Patrick McCaffery now weighs over 200 pounds for the first time in his life and he showed with Wednesday's performance that he is ready to contribute.
"Energy was a big thing," Patrick McCaffery said. "I felt like our energy was maybe a little lacking and so I just wanted to come out there and just provide energy and be a little spark plug off the bench. I feel like that's my role on this team is to try to provide energy and get those baskets on the break, offensive rebounds, just provide a spark and that's what I was trying to do."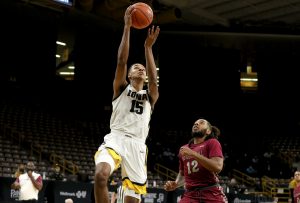 True freshman forward Keegan Murray, who is the son of former Iowa basketball player Kenyon Murray, also provided a boost off the bench in the first half when the game still was in doubt, and would go on to finish with 12 points in his Hawkeye debut.
"I try to be as versatile as I can," Keegan Murray said. "Whether it's defending, getting after rebounds, hitting shots when I'm open. And I feel like when I saw the first one go down, it built a confidence that I could see the ball go through the hoop and that just ended up having me make the second one."
And, of course, the star players did their part, too, as senior center Luka Garza picked up where he left off last season by scoring 26 points, grabbing 10 rebounds, blocking three shots and making two steals.
It was Garza's 21st double-double as a Hawkeye.
However, Garza seemed more interested in talking about the contributions from his two freshmen teammates.
"I'm really proud of those guys, first of all. I think both of them did a terrific job tonight," Garza said. "When you look at it, Patrick, he's such a skilled offensive player. But also, on the defensive end when we're running that press, he's up there, he's got long arms and he can make the guards nervous of there, which helps us.
"Keegan, that's what we see from him every single day. He's a guy who plays with a lot of effort. (He) gets to the glass every time and is able to get us second shots. But he can also score the ball really well, and you saw that with those back-to-back threes. He's an energy guy. Both of those guys are going to come in and have an effect on the game. Those are the kind of guys you need off your bench when you're trying to beat big teams."
Keegan Murray's twin brother, freshman forward Kris Murray, also made his Hawkeye debut in Wednesday's game.
"Having (Kris) on the court with me was a dream come true," Keegan Murray said. "We watched Iowa basketball growing up. Running our of the tunnel with him is something I'll remember for the rest of my life."
Iowa struggled early with North Carolina Central's quickness, but the Eagles eventually had no answer for Iowa's size, experience or depth.
Senior guard Jordan Bohannon made his return after only appearing in 10 games last season because of a hip injury that required surgery. And while he only made 2-of-8 field-goal attempts, both of which were 3-pointers, and finished with six points, it didn't matter because Iowa simply had too much firepower for the Eagles.
Fran McCaffery emptied his bench and used all five of his true freshmen in Wednesday's game.
Iowa has now won 10 consecutive season openers and 14 of its last 15 games at Carver-Hawkeye Arena dating back to last season.
Wednesday's season opener addressed more than just basketball, however, as the Iowa players and coaches also used it as an opportunity to promote racial equality.
The Iowa players all had the word "equality" printed on the back of their uniform and just underneath their number. They also wore t-shirts during pregame warmups that had the words "Peace", "Love" and "Equality" printed on the front.
And the players and coaches knelt as a team while a statement was read over the loudspeaker about racial equality just prior to the National Anthem being played.
However, none of the Iowa players or coaches knelt during the National Anthem.
A moment of silence also was held in honor of Dr. Mark Nunge, who passed away suddenly this past Saturday morning at the age of 53.
Mark Nunge is the father of Iowa junior forward Jack Nunge, who is home in Indiana right now with his family.
Jack Nunge's absence led to more playing time for the 6-foot-9 Patrick McCaffery and for the 6-8 Keegan Murray.
And they both rose to the challenge.
Iowa will return to action Friday against Southern University. Tip-off is scheduled for 4 p.m. at Carver-Hawkeye Arena.