By Pat Harty
IOWA CITY, Iowa – The problem with having enormously high expectations, and the hype that comes with it, is that some people tend to overreact, or panic, at the first sign of trouble.
That was apparent in the wake of the Iowa men's basketball team's 102-95 loss at Minnesota last Friday in Minneapolis.
Iowa had a seven-point lead with less than one minute left in regulation, but still failed to close the deal and would go on to lose in overtime.
Iowa coach Fran McCaffery called his team's defense unacceptable, and the response on social media was harsh, some saying that Iowa was overrated, and that McCaffery should change his starting lineup.
Iowa will look to get back on the winning track against Northwestern on Tuesday at Carver-Hawkeye Arena, but it could be a daunting task.
Northwestern is 3-0 in the Big Ten for the first time since the 1967-68 season, and Tuesday's game will be the first time in the 180-game series history that No. 10 Iowa and No. 19 Northwestern will play with both teams ranked in the Associated Press top 25.
Iowa fell six spots in the AP poll after having entered the Minnesota game ranked fourth nationally.
The glow has certainly faded some in regard to Iowa, especially from a defensive standpoint.
But is it time to panic or make lineup changes?
Not even close.
Iowa (7-2, 1-1) is only two games into the 20-game Big Ten grind.
Of course, the team has to improve on defense, but the players understand that, and the players also seem to have identified at least part of the problem on defense.
"We've done a really good job of locking in on our home court, but obviously, in our two losses we haven't locked into the game plan," said junior swingman Joe Wieskamp. "I think early on in games, maybe they make a run or we just do some uncharacteristic-like things and we kind of just continue to make mistakes and we can't let one mistake become two.
"We've got to lock in and really correct those mistakes early on in games. That way it's not affecting us in late-game situations."
Iowa's other loss was a 99-88 setback against top-ranked Gonzaga on Dec. 19th in Sioux Falls, S.D.
So maybe there is something to Wieskamp's theory about struggling on defense away from home.
Or maybe Iowa is struggling to handle the pressure of high expectations, although, Wieskamp disagrees with that theory.
"No, I don't this so," Wieskamp said. "We take it one game at a time like I've been saying all year."
Whatever the case, should Iowa lose to Northwestern on Tuesday, the naysayers will be out in full force saying that Iowa is overrated.
"I think the biggest thing for us is just realizing how long of a season it is," Wieskamp said. "The Big Ten is so tough that one loss isn't going to hurt us in the end. I think, obviously, it's disappointing for us to lose this one early on in the season.
"But we know there's a lot of season left and we can't dwell on it because we've just got to focus on the next one because we've got a really good Northwestern team coming in here tomorrow night."
Northwestern hardly resembles the team that finished just 3-17 in conference play last season. The Wildcats (6-1, 3-0) are shooting better, playing much better on defense and playing with more confidence compared to last season.
Wieskamp also has noticed something else about Northwestern.
"I think one of the biggest things is they're playing like they have something to prove," Wieskamp said. "Obviously, they didn't have as good of a season last year as they would have hoped. But they have a lot of guys that are playing really well right now, and shooting the ball really well.
"And you can just tell from watching film that they're connected. Obviously, I'm not in their locker room, or at their practices. But you can just tell that the way they're playing defensively, the way that they're moving the ball on offense, they're playing connected and they're playing like they have something to prove."
Iowa, on the other hand, didn't play like that against Minnesota on defense.
The question is why?
Could it be that the high expectations have made the Iowa players not as hungry as before?
Or is Iowa struggling with being the hunted rather than the hunter?
Those are fair questions to ask, but it's just too early to have an answer.
Iowa performed well on defense during the 70-55 victory over Purdue in the Big Ten opener at Carver-Hawkeye Arena, and there was hope that it was a sign of things to come.
But the defensive debacle at Minnesota has caused some of that hope to fade.
Wieskamp and his cohorts would be wise to learn from Northwestern because Iowa also should have something to prove.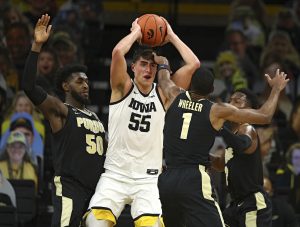 Even with senior center Luka Garza's rise to dominance, Iowa still has won just one NCAA Tournament game with the current players on the roster, and the Hawkeyes also combined to finish 21-17 in the Big Ten over the past two seasons, which is good, but hardly elite.
And while Garza's presence has helped to fuel the high expectations, preseason hype only carries so much weight, as was shown against Minnesota.
The challenge for Iowa is to make sure that the Minnesota loss doesn't linger and become two losses.
"I think when you have the kind of game we had the other night, I think the guys take responsibility for that," said Fran McCaffery. "I haven't seen a lot of finger pointing, blaming the coaches, blaming each other, the refs. I think it's accountability. We as coaches and we as players, we accept that collectively and then we try to improve and get better.
"I think that's what we've always tried to do, and I think that's what's happened the last couple days. Guys in the locker room have been very professional, as you would've expected and that's what you kind of expect that they'll be able to understand what we can't do and what we should have done and make the necessary correction the next time we take the floor, and then consistently execute them."
In other words, this is hardly time to panic.
The loss at Minnesota was hard to accept because of how it unfolded.
But it was just one loss, and it won't hurt nearly as much if Iowa defeats Northwestern on Tuesday.
It's all about staying the course, blocking out the noise and playing as if you have something to prove.
Because in light of what happened at Minnesota, Iowa does have something to prove.
Iowa vs. Northwestern
When: Tuesday, 8:07 p.m.
Where: Carver-Hawkeye Arena
TV: FS1
Radio: Iowa Radio Network
Series: Iowa holds a 119-60 advantage over Northwestern in the series. The Hawkeyes have won
11 of the last 14 meetings, including four straight. Iowa holds a dominate 69-18 advantage in games played in Iowa City, including a 29-4 record in Carver-Hawkeye Arena. The Hawkeyes have won the last six contests played
against the Wildcats in Iowa City, dating back to 2013. Iowa's 29 wins over Northwestern in Carver-Hawkeye Arena are the most over any other opponent.