By Tyler Devine
IOWA CITY, Iowa – The top-ranked Iowa wrestling team must clear a massive hurdle if it wants to win its first NCAA team title since 2010 but it's not an opponent on the mat, it's a global pandemic.
The Hawkeyes were on pace to do so last March after winning their first Big Ten team title since 2015, but the outbreak of COVID-19 caused the cancelation of the national tournament.
Now, with daily testing and strict protocols, head coach Tom Brands is adamant that wrestling can work under the current circumstances and said the key is making it to the NCAA Tournament.
"Really we have to get to the end," Brands said. "We have to get to the national tournament. Are you listening, NCAA? Are you listening? These are young people that aspire to things. They're in an age demographic that is not as risky. It's always risky. It's risky when I drive from here to the arena, I might get sideswiped by a bus because I'm not looking.
"We have to get to the end this year. Then we have to get to Tokyo. I'm passionate about that. It cannot go down the way it went down a year ago. So here we are in January. We're starting. We thank the Big Ten. We have a schedule, and away we go."
Story continues below video
Iowa returns nine All-Americans from last year's team, including Dan Hodge Trophy winner and two-time national champion 125-pounder Spencer Lee.
Lee went 18-0 last season in dominant fashion, outscoring his opponents 234-18 and was named the NCAA Most Dominant Wrestler.
Iowa also added 141-pound Missouri transfer and three-time All-American Jayden Eierman.
Lee, Eierman and 174-pounder Michael Kemerer all are ranked No. 1 nationally in their respective weight classes.
Lee, a native of Murrysville, Penn., said that he and his teammates being together so frequently because of COVID protocol has brought an already tight-knit group even closer that holds itself accountable.
"Yeah, I mean, we're like in a bubble, right?" Lee said. "I wouldn't say we're closer because I don't know how you get much closer than our team is now. We had to be around each other more because you can't really go out and do anything. You've got to be smart. You've got to be prepared to take those I wouldn't say risks, but it's hard to not put yourself out there.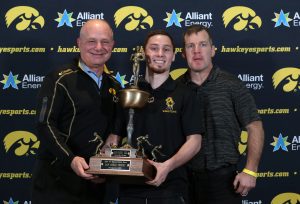 "We're pretty much going from home to practice back home. Only time we really go out is if we want to go out to eat. Then we're together. We're still together. We know that's what's best for us because we don't want to take any risks to hurt our teammates. We're a family, so one person runs out, it's not like he's outcasted, right? He affects everyone. Everyone knows their place and their part. That's to do the best they can, work as hard as they can to make sure they stay healthy, keep everyone healthy."
As far as wrestling during a pandemic, Brands said the sport has been ahead of the game with regard to sterilization and cleanliness for a long time, and that wrestling shouldn't be compared to other sports.
"You sterilize the mats on a daily basis, more than one time a day if you're on the mat more than one time a day," Brands said.
"We've been doing that before the pandemic. Wrestling is way ahead. It's a one-on-one sport with a referee. It's not five-on-five or 11-on-11.
"Here's the thing. To compare us to other sports, silliness. To compare other sports to other sports, silliness. Wrestling has a lot of experience of being very, very clean."
Iowa