By Pat Harty
IOWA CITY, Iowa – It was fun while it lasted and a source of pride for those who made it happen over the course of 42 games.
The Iowa women's basketball team lost on Wednesday for the first time in 43 games at Carver-Hawkeye Arena as 15th-ranked and unbeaten Ohio State escaped with an 84-82 overtime victory.
Iowa's last home loss was against Nebraska, 92-74, on Jan. 28, 2018. The three-year, 42-game home-winning streak was the second-longest in school history, and was the second longest active winning streak.
"It's significant," Iowa head coach Lisa Bluder said of the winning streak, which dates back to Megan Gustafson's junior season at Iowa. "It had been almost three years. I feel like we let a lot of people down. We let down the fans. We let down the people who played her the last three years. We will start a new one Monday night."
To help put Iowa's home winning streak in perspective, Luka Garza was a true freshman and still searching for stardom when the streak started in 2018.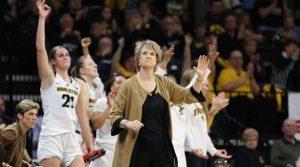 Not only is the winning streak significant as Bluder said, it's an incredible accomplishment because it only takes one bad game, or one real good opponent, or one bad bounce to end a winning streak.
For nearly three years, the Iowa women's basketball team found ways to win at home. The longer the streak lasted, the bigger the target was on Iowa's back.
Winning streaks are built with focus, toughness, consistency, and of course, talent and coaching.
For the Iowa women's basketball team to have won 42 games in a row at home is a testimony to the program's stability under Bluder. It took resolve, resiliency and some luck for the streak to last as long as it did.
Perhaps the only good thing about losing on Wednesday is that the Iowa players no longer have to carry the weight from the winning streak. They can now focus on trying to start a new winning streak, but without the same amount of pressure.
Iowa's next game is against Purdue on Monday at Carver-Hawkeye Arena.
The Boilermakers will certainly be motivated to play well against one of the conference's top teams, but they won't have extra incentive since the winning streak is over.
Look no further than the free line to see why Iowa lost to the Buckeyes. Iowa only made 15-of-24 free throw attempts and was 0-7 from 3-point range in the second half.
Iowa also committed 18 turnovers, including six in the fourth quarter.
"Turnovers were the biggest thing," said freshman guard Caitlin Clark, who scored a game-high 27 points and registered her third career double-double with 10 rebounds. "We made some bad decisions on the press break. Some of the shots we usually make didn't go down. All of that added up."
Clark has been spectacular throughout the season, along with junior center Monika Czinano.
And while they hated to see the winning streak end, the reason it lasted for so long is because the players always moved on to the next challenge.
It almost got to the point where you took it for granted that Iowa would win at home.
The Iowa players and coaches never took it for granted, however, and that's another reason why the home winning streak lasted for nearly three years.