By Pat Harty
IOWA CITY, Iowa – With his sustained dominance this past season, Daviyon Nixon joined a select group of Iowa football players, who in just one spectacular season achieved stardom under Kirk Ferentz.
After being a top reserve in 2019, Nixon became arguably the best defensive tackle in all of college football in 2020, and he only needed eight games to earn that distinction.
His one-year rise to stardom, while rare, isn't unprecedented at Iowa.
Here are my top five one-year stars in 22 seasons under Kirk Ferentz:
Brad Banks: In just one season, the Belle Glade, Fla., native became one of the greatest quarterbacks in program history.
After playing as Kyle McCann's backup in 2001 and appearing in 10 games, Banks became the starter in 2002, and to say that he seized the opportunity would be an understatement.
Banks led Iowa to a a school-record 11 victories, including 8-0 in the Big Ten, and finished runner-up for the 2002 Heisman Trophy.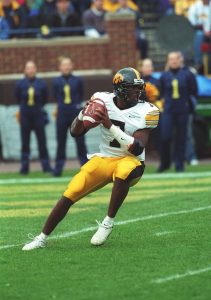 He is one of few dual-threat quarterbacks to have played for Iowa, and his ability to run and throw made him a force on offense.
Banks passed for 2,573 yards and 26 touchdowns in 2002, and also had 423 rushing yards and five scores.
In addition to finishing runner-up for the Heisman Trophy, Banks was named the Associated Press Player of the Year in 2002, the Big Ten Most Valuable Player and the Davey O'Brien Award winner.
2. Shonn Greene: The Sicklerville, N.J. native won the Doak Walker Award as the nation's top collegiate running back in 2008, his only season as a starter.
Greene showed flashes early in his career as a Hawkeye, but then he left school and spent one year in junior college before returning to Iowa prior to the 2008 season.
He won the starting position and then rushed for at least 100 yards in each of Iowa's 13 games.
Greene used his bruising running style to amass a school single-season record 1,850 rushing yards in 2008. He also scored 20 touchdowns and averaged 6.0 yards per carry.
3. Daviyon Nixon: A native of Kenosha, Wis., Nixon was a disruptive force throughout the 2020 COVID-19 shortened season as he became the ninth unanimous consensus All-America selection in school history. Linebacker Josey Jewell was Iowa's most recent unanimous All-American selection in 2017.
Nixon is also Iowa's sixth consensus All-American in the last seven years and 27th player in school history to be named a consensus All-American and 29th overall (Calvin Jones (1954, '55 and Larry Station (1984, '85) were honored twice).
Nixon led the conference in tackles for loss (33), tied for the conference lead in sacks (5.5), and had the most tackles by a Big Ten defensive lineman (41).
He has since declared for the 2021 NFL Draft as a junior and is considered a likely first-round pick.
4. T.J. Hockenson: After playing in the shadow of fellow tight end Noah Fant in 2017, Hockenson soared to stardom in 2018, winning the John Mackey Award as the nation's top collegiate tight end.
Hockenson led the team with 760 receiving yards on 49 receptions and was second on the team with six touchdowns.
The Chariton native also excelled as a blocker and performed at such a high level during the 2018 season that he was selected in the first round of the 2019 NFL Draft by the Detroit Lions as a redshirt sophomore.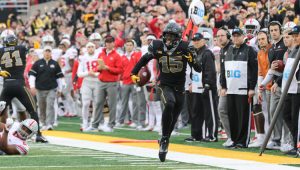 5. Josh Jackson: It took a while for Jackson to become a full-time starter but when he finally did as a fourth-year junior in 2017, he soared to stardom.
The Corinth, Texas native was a unanimous consensus first-team All-America selection at cornerback where he led the nation with eight interceptions and had 18 pass break-ups.
Jackson scored both of Iowa's touchdowns in a 38-14 loss at Wisconsin on pick sixes from 43 and 52 yards.
Prior to the 2017 season, Jackson had only started one game for Iowa.
He also briefly switched to receiver early in his Hawkeye career in hopes of getting on the field quicker before switching back to defense.
Jackson now plays for the Green Bay Packers.