By Tyler Devine
IOWA CITY, Iowa – Michael Myslinski and Deavin Hilson took vastly different paths to become Iowa football players.
Myslinski grew up in Jacksonville, Fla., and Hilson grew up in Des Moines.
Myslinski once was a Texas verbal commit, while Hilson's only Power Five scholarship offer came from Iowa.
The two paths converged Wednesday as both players signed their national letters of intent.
"We are pleased to have both those guys join the class; that brings us to a class of 19," head coach Kirk Ferentz said on Wednesday. "We think they are both excellent prospects and will bring something to this class, needless to say. We are excited to have them join what we think is already a strong class. We think they pushed it even higher."
Myslinski, a 6-foot-3, 290-pound center, comes to Iowa as a three-star prospect, according to Rivals.com, who had nearly 30 scholarship offers.
Myslinski had Iowa on his list of top five schools before verbally committing to Texas last August.
But just days before the early signing period in December, Myslinski reopened his recruitment, eventually pledging to the Hawkeyes on Jan. 23.
Ferentz said Wednesday that, despite the commitment to Texas, the Iowa coaching staff never ceased contact with Myslinski.
"It was a pleasure to recruit him all along," Ferentz said. "He was very engaged through the entire process. He and his family are fantastic. They come from an athletic family, so this is not a totally new arena to them certainly. He was always very deliberate, always very honest and did a great job of letting us know what information he needed. From day one, we've been very impressed with him. Our intent was to continue to recruit him until he told us otherwise.
"We just feel fortunate that things opened back up and we had the opportunity to continue on. Just really excited about Mike's commitment. I think he's a really good football player. His mentality and skillset really match up with what we look for in a center."
Iowa has recruited in Florida in the past but has typically looked in the Tampa or Miami area.
Ferentz said Myslinski reached out to Iowa, instead of vice versa, and the relationship grew from there.
"We recruit and scan and all that kind of stuff. But the biggest thing was he showed some interest in us. We don't spend a lot of time in Jacksonville, but one thing led to another there. Mike's background, there's some ties there. It just kind of opened the door. So, it was a really good thing for us certainly. If a player shows interest in our program from anywhere that's sincere interest we're going to follow up and try to see what we can do about continuing that interest and that relationship."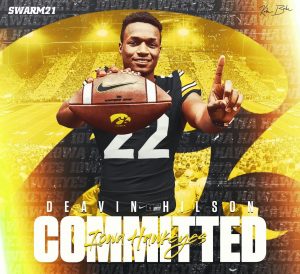 On the other hand, Iowa recruits the Des Moines area heavily, but rarely Des Moines public schools.
Hilson, a 6-foot-1, 200-pound running back, is believed to be the first Des Moines North product to play for a Power Five program since the 1970s.
He also had a scholarship offer from Northern Iowa.
And while Myslinski stood out on the football field, Ferentz's first impression of Hilson came on the basketball court.
A good thing for Hilson, because he only played two football games last fall at Des Moines North.
"I probably saw more potential just watching him play basketball, but not knowing anything about him as a person, those types of things, just looking at him as an athlete," Ferentz said. "Now, you come forward a little bit, we only had two games to look at and evaluate. That's not easy. They were working under tough circumstances like everybody. But I think the more we learned about Deavin, learned about his mom, spoke with his mom, she's a super impressive lady.
"We did a lot of work with the people that have worked with Deavin over the last couple of years, and the message was very consistent. It was very positive and everybody that he's been around really believes in him."
Hilson also had to overcome academic issues before he was offered a scholarship by Iowa, and promptly committed, the week before signing day.
But it wasn't just grades the Iowa coaches saw, it was Hilson's perseverance to achieve the necessary grades that was impressive.
"It's not an uncommon story but it's a commendable story," Ferentz said. "When I was in ninth and tenth grade I had no idea one thing about college, that's for sure. So, that's not unusual. He dug a little bit of a hole for himself, and I think when he figured out there were better opportunities beyond high school that's when he really got in gear. To me, that's certainly a positive. That's what we're looking for is that effort, that commitment to getting something done and going after a goal and achieving it."