By Pat Harty
IOWA CITY, Iowa – As I was saying on Wednesday, the University of Iowa will expand beer and wine sales at athletic facilities.
It became official Thursday morning as Iowa issued a release that said beginning this fall beer and wine will be available for purchase throughout Kinnick Stadium, with the exception of areas immediately adjacent to the respective student section.
Athletic events at Carver-Hawkeye Arena, Duane Banks Field and Bob Pearl Field will also be included in what Iowa is calling the pilot program during the 2021-22 school year.
As part of the pilot program, 30 percent of net alcohol sales will go toward research-based initiatives supported by the UI Alcohol Harm Reduction Committee, a group formed in 2009 to decrease high-risk drinking.
"We have been working with our campus partners on this for some time now and we are committed to maintaining a safe and enjoyable game day environment,' said Iowa Athletic Director Gary Barta. "While there is an opportunity for increased revenue, this decision was based on enhancing the fan experience and providing an additional amenity to our fans.
"At the conclusion of the 2021-22 academic year, we will work with our campus partners to review this pilot program."
Don't let Barta's politically correct statement confuse or mislead you.
Iowa is expanding the sale of beer and wine at athletic events in order to make money at a time when the university, and the athletic department, both are struggling financially due to budget shortfalls caused by the COVID-19 global pandemic.
To put it under the guise of a pilot program, and saying it's a way to enhance the fan experience, is Iowa's way of trying to control the optics, and the message.
It's just seems awkward that a certain percentage of net alcohol sales will go towards fighting high-risk drinking.
That is sort of like an all-you-can-eat restaurant giving a percentage of its food sales to fight obesity.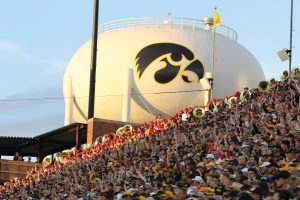 Iowa seems concerned about sending the wrong message when it shouldn't have to be concerned because there is nothing wrong with expanding alcohol sales at sporting events, especially under the unique circumstances.
Iowa joins seven other Big Ten schools that currently sell beer and/or wine in public areas at home football games.
Approximately half of the schools from Power 5 conferences will sell beer and/or wine at their home football games this fall.
College sports at the Power 5 level is big business, but right now the business model is suffering due to the pandemic.
The sale of alcohol won't come close to fixing all the financial problems, but it will help.
This decision will almost certainly cause some backlash because that often happens when a college athletic department devises a way to make money. It's viewed by some as being greedy or hypocritical, especially when it involves alcohol sales.
Iowa fans have been asking for expanded alcohol sales for years, and right now the athletic department is bleeding money.
This decision seems a no brainer from a business standpoint, and long overdue.
Why it would be considered controversial, or viewed in a negative light, makes no sense.
But that often is the case in college sports where an athletic department's attempt to make money sometimes is viewed with suspicion.
I applaud Iowa for finally making this decision, and would've felt the same even without the pilot program.
There is no need for nobility in this case.
This is simply a way to make money.