By Pat Harty
IOWA CITY, Iowa – The arguments against student-athletes being paid for their name, image and likeness make no sense unless you fear change, support double standards and hypocrisy, and fail to understand its value and purpose.
Very few college administrators were in favor of NIL, while the NCAA basically told schools and states to figure it out themselves, and then finally caved only because of new state laws that went into effect on July 1, and because of the 9-0 beat-down from the Supreme Court.
One argument is that NIL will widen the gap between the haves and the have-nots in big-time college sports, which is kind of like saying selling beer at college sporting events would cause some fans to consume too much alcohol on game day.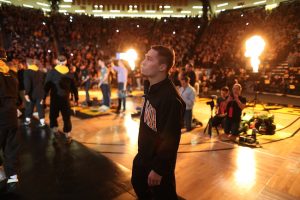 The gap between the haves and the have-nots, especially in football, already is as wide as the gap between Iowa wrestler Spencer Lee and his competition at 125 pounds.
The four-team college football playoff, which started in 2014, has turned into a showcase for four programs with Alabama, Clemson, Ohio State and Oklahoma having filled 20 of the 28 spots.
Alabama and Clemson also have combined to win five of the last seven national titles, and only once has Alabama failed to make the four-team playoff, with that occurring in 2020 when Louisiana State, Oklahoma, Clemson and Ohio State made up the field.
The lack of parity actually starts in recruiting as evidenced by 20 of 34 five-star football recruits in 2021 having signed with five schools: Alabama, Clemson, Georgia, Ohio State and Oklahoma.
So to worry about NIL widening the gap is just silly.
If anything, it could lessen the gap because a developmental football program such as Iowa might have a better chance of keeping a mega-recruit at home if the recruit believes he could really cash in from having local connections and relationships.
A program like Iowa also might have a better chance of landing a recruit who would normally pick a traditional power if the recruit believes he could play sooner at Iowa.
Because the quicker you play, the quicker you would get paid from name, image and likeness.
Another argument that makes no sense is that student-athletes will now have perks, privileges and opportunities that other students don't have.
That's just not true.
There are no rules preventing a business student on scholarship or a music student on scholarship from cashing in on their skill, and it's been that way forever
Another argument that seems silly and misguided is that NIL will cause corruption and scandal because the student-athletes will be running the asylum from having too much power and influence.
Well, the adults having been running the asylum forever, and unfortunately, scandal and corruption are as much a part of the college landscape as rivalries and trophy games.
And as shown with Hunter Dickinson's decision to withdraw from the 2021 NBA Draft in order to return to Michigan for his sophomore season, name image and likeness should help keep some of college sports' brightest stars in college for a while longer.
"NIL had a factor into my decision," Dickinson said. "Being able to make a little extra money and not have to worry about my financial situation while at school is definitely a pro. I'm glad the NCAA did the right thing and allowed students to make money off their brands."
This isn't to say that NIL will go on without a hitch. It would be naïve to think that.
But with time, the free market will determine who cashes in, and who doesn't, and schools will learn to adapt, as will student-athletes as they gather more information.
Student-athletes have entered uncharted territory and still have much to learn about how best to handle this new frontier.
Iowa All-America point guard Caitlin Clark figures to benefit significantly due to her success and popularity.
But she also has to be careful to not let it become and burden or a distraction. That's why Clark plans to be picky when choosing what opportunities to pursue
"I don't have the time to do everything, and I don't want to do everything," Clark said. "And, obviously, my focus is basketball. I want to take the team to a Final Four. And I still have school to go to.
"So it's just adding another thing on top of everything else I'm already doing. But I have a lot of help behind me, and I'm super grateful for that."
There is no turning back now because name, image and likeness is here to stay, and it should've happened a long time ago.
Big-time college sports is big-business with some coordinators in football now making over $1 million annually, and with NCAA revenue surpassing $1 billion on an annual basis.
It was long overdue to start allowing student-athletes to get paid for their name, image and likeness, and the arguments against it, again, are misguided, inaccurate and kind of silly.