By Pat Harty
IOWA CITY, Iowa – I have a confession to make.
The NBA Draft never has been very interesting to me.
Until now.
This year's draft is different because two former Iowa Hawkeyes, two guys that represented the Iowa men's basketball program and their school with class, both have a good chance of being selected in the two-round NBA Draft on Thursday.
Joe Wieskamp helped his cause by performing well at the NBA Combine, while Luka Garza helped his cause by being arguably the greatest player in the history of the Iowa program.
Neither is expected to be selected in the first round, but it only takes one team to like you.
And with Wieskamp and Garza, there is plenty to like, on and off the court.
Talent and potential are obviously the two biggest factors in the draft, and with Wieskamp, you have a shooting guard who stands almost 6-foot-7, has a 6-11 wing span and a 42-inch vertical leap, which tied for the fourth highest among the players who participated in the combine, and tremendous accuracy from 3-point range.
But with Wieskamp also comes a stereotype that he shattered at the combine.
"I'm a white shooter, right," Wieskamp said Wednesday on the Hawk Fanatic radio show and podcast. "People don't think I'm the most athletic, so when they saw those types of numbers, even on the sprints and lane agility and different things like that, my numbers were right there at the top with everyone, and with some of the best athletes that are in this draft.
"So I feel like I'm right up there and I think just preparing so hard for those different opportunities is what got me to that point."
With Garza, you have a solidly built 6-11 center who has a variety of post moves, a reliable 3-point shot and a motor that never stops.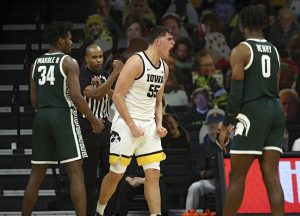 Off the court, Wieskamp and Garza are almost too good to be true.
Wieskamp already has graduated from Iowa, and did so in just three years. He also said during Wednesday's interview that he never has consumed alcohol.
That's not to suggest that drinking alcohol makes someone a bad person, but it just isn't Wieskamp's thing.
The soft-spoken Muscatine native is so focused and determined to achieve his dream of playing in the NBA that there is no place for alcohol in his life.
Wieskamp's body-fat percentage was measured at 4.1 at the combine, and that was another sign of a young man on a mission.
Wieskamp made sure that he was in the best shape possible while preparing for the draft, while Garza did the same thing by losing nearly 30  pounds since he last played for Iowa in March.
"This process has been amazing," Garza said Wednesday. "From the transition of losing 27 pounds to the combine, and to the 12 workouts, I had so much fun and learned a lot."
Wieskamp pretty much knew when Iowa's season ended in March in the second round of the NCAA Tournament that his career as a Hawkeye was over as a junior. He convinced himself even more that he was ready for the next level by performing well at the combine, and while working out for 12 NBA teams.
"My decision was fairly easy for the most part," Wieskamp said. "My mindset as soon as the season was over was that I'm going to do this thing. I felt that I was ready. I knew that I was graduating and ready to make this next step in my life."
It's so easy to root for Wieskamp and Garza because they're both good guys and character counts, even in professional sports.
Both are the kind of young men that you'd want your daughter to marry, and for Mark and Ann Meyer from Mason City, they know exactly what I'm talking about because their daughter, former Iowa women's basketball player Makenzie Meyer, is engaged to Wieskamp.
Fran McCaffery rebuilt the Iowa program with high-character guys, and now it's so satisfying to see two of his best players, on and off the court, being rewarded for their hard work.
And while it's good for the ego to be taken high in the draft, finding the right fit is what matters the most as Wieskamp pointed out during Wednesday's interview.
"Finding the right fit is so important," Wieskamp said.
There is a chance that three former Hawkeyes could be on NBA rosters next season with forward and former teammate Tyler Cook a member of the Detroit Pistons.
Cook didn't get drafted in 2019, but he refused to let that stop him. He stayed the course, worked his butt off, dealt with rejection and now he's being rewarded for his perseverance and resolve.
And just like with Wieskamp and Garza, Cook is also a young man of high character who comes from a good and supportive family.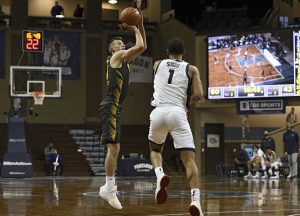 Sometimes, it's easy to overlook a family's influence, but Wieskamp, Garza and Cook wouldn't be where that are now without the support of their families.
"My family has been so supportive throughout this whole thing," Wieskamp said. "Even going back to middle school and high school, they took me to all thee AAU tournaments across the country, just the sacrifices they've made to give me all those opportunities. You know, it's not cheap to play on those AAU teams and pay for all the flights and travel and the hotels."
There is clearly a mutual respect and admiration between Wieskamp and Garza, and it's neat that they're in this draft together after having played for three seasons together at Iowa.
They have stayed in contact while preparing for the draft, and worked out together for the Detroit Pistons.
"It's been really cool to go through this process with Luka, and to have a teammate that I'm that close to just going through a lot of the same things, all the training, and all the uncertainties," Wieskamp said. "We've stayed in touch throughout this whole process. We've checked in pretty much every week and even this week, we'll check in probably every day.
"So it's just cool that he's going through this, too, and we'll both end up in a really good spot, hopefully."
Garza echoed the sentiments of his close friend and former teammate.
"Being able to talk to Joe about this process, and also being in similar positions, it really helps with the process," said Garza, who finished his college career as Iowa's all-time leading scorer. "Not many people understand what goes on throughout this process, and it helps to have someone going through it with you."
Garza's close relationship with his father, Frank Garza, has been well documented. Frank was a fixture at Iowa games despite living half way across the country near Washington D.C. Frank also has worked closely with Luka with conditioning and skill development.
"My family supporting me throughout means the world to me," Garza said. "They motivate me to do anything and everything to reach my goals."