By Pat Harty
IOWA CITY, Iowa – Football is often called the ultimate team sport because it takes the effort and performance of so many players on offense, defense and special teams to have success.
But even with that being the case, some positions are more important than others, and that was a factor when ranking the five most indispensable players on the 2021 Iowa football team.
All five of the players on my list were picked largely due to the position they play, and because of the circumstances related to that position.
These aren't necessarily the five best players on the team, although, one of the players who made the list would also fit under that category.
These are five players whose performances will go a long way in determining Iowa's success on offense, defense and special teams.
Spencer Petras, Jr., quarterback: The northern California native tops the list simply by being the starting quarterback. If either Alex Padilla or Deuce Hogan were the starting the quarterback, they would top the list.
That's both the luxury and the burden with being a starting quarterback. It brings with it a ton of pressure and responsibility.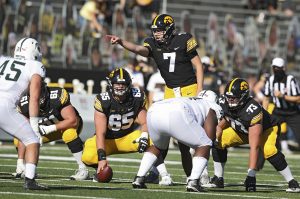 Petras played well enough for Iowa to have finished 6-2 last season after having started 0-2. But he also struggled with accuracy and with touch on shorter passes, and still is very much a work in progress.
It's hard to envision Iowa having a successful season if Petras struggles. It's also hard to remember a season in which Iowa had success despite having a starting quarterback who struggled.
Padilla hardly has any game experience, while Hogan has none.
Petras would really have to struggle out of the gate for Iowa coach Kirk Ferentz to make a change at quarterback.
But with Iowa facing Indiana and Iowa State in the first two games, Petras won't have the luxury of feasting on two vastly inferior opponents. He will be tested early and often, and how he responds will have a huge impact on the season.
2. Caleb Shudak, Sr., kicker: The sixth-year senior from Council Bluffs fills the number two spot also largely due to the position he plays as Iowa's starting kicker.
Iowa has a history of playing in close games in which field goals sometimes are the difference.
Just ask Nebraska and Michigan fans, who probably are thrilled that Keith Duncan has moved on.
Duncan had a knack for making game-winning field goals dating back to his true freshman season in 2016 when he made a field goal to beat Michigan 14-13 in the closing seconds at Kinnick Stadium. He also made a field-goal to defeat Nebraska 27-24 in the final seconds in 2019 in Lincoln, Neb.
Should Shudak struggle, Iowa could be in trouble because it's reasonable to think that most of Iowa's games will be close this season.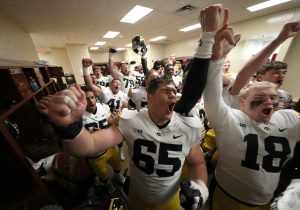 3. Tyler Linderbaum, Jr., center: The Solon native is widely regarded as the top center in college football, and perhaps the best offensive lineman overall. He has to live up to that lofty status in order for the Iowa running game to be productive.
The fact that three starters have to be replaced on the offensive line will put even more pressure on Linderbaum, but he also can't do it alone.
Petras, like a lot of pro-style quarterbacks, is at his best when he can use play action, but it's hard to use play action with a sputtering running game.
A strong case also could be made for whomever replaces four-year starter Alaric Jackson at left tackle. But it's uncertain who that will be at this stage.
And the thought of the offensive line not having Linderbaum at center for an extended time is scary because he's that good.
4. Jack Campbell, Jr., middle linebacker: A strong case always could be made for putting Iowa's starting middle linebacker amongst the five most indispensable players on the team.
But that's the case even more so this season due to the situation on the defensive line where three starters have to be replaced, including 2020 Big Ten Defensive Player of the Year Daviyon Nixon and first-team All-Big Ten defensive end Chauncey Golston.
One of the best ways to compensates for a young and developing interior defensive line is for the middle linebacker to perform at a star level.
The 6-foot-5, 243-pound Campbell, who is from Cedar Falls, has shown flashes of brilliance, but now he has to show that on somewhat consistent basis because there could be some growing pains up front, especially early in the season.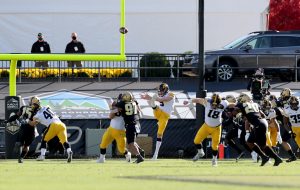 5. Tory Taylor, soph., punter: Iowa is fortunate to have arguably the top punter in the Big Ten, because while field position is important for every team, it seems to have added significance for Iowa due to playing in so many close games.
Taylor's ability to flip the field was one of Iowa's biggest strengths last season.
So again, these aren't necessarily the five best players on the team, although, Linderbaum would also make that list.
These are the five most indispensable players, because should any of them struggle, Iowa could suffer from it.
Iowa special teams coach LeVar Woods traveled a long ways to recruit Taylor, who is from Melbourne, Australia. But it was worth the time, effort and expense, considering how well Taylor performed as a freshman last season. Taylor was named the Big Ten Punter of the Year after having averaged 44.1 yards on 40 attempts. He also placed 18 of his 40 punts inside the 20-yard line and nine inside the 10, with one touchback, 20 fair catches and six returns for 31 just yards.
Taylor punted in stadiums that were mostly empty last season due to the global pandemic, so it'll be interesting to see how he responds to having more fans in the stands this fall.