By Pat Harty
Ames, Iowa – In 1981, the Iowa football team had a breakthrough season under Hayden Fry in which it relied mostly on the punting of Reggie Roby and a stifling defense to win a Big Ten title.
And now 40 years later, a similar script could be playing out based on what happened Saturday at Jack Trice Stadium.
No. 10 Iowa, powered by its defense, and by the punting of Tory Taylor, defeated ninth-ranked Iowa State 27-17 for its sixth straight win in the series.
The Iowa offense had its moments in Saturday's game, but this victory was made possible by Phil Parker's opportunistic defense, and by Taylor's ability to shift field position.
Iowa finished with three interceptions for the second game in a row, including two by senior cornerback Matt Hankins, while Taylor averaged 51.1 yards on eight punts, with his longest punt covering 69 yards. Five of Taylor's punts were also downed inside the Iowa State 20-yard line.
Iowa also had three interceptions in last Saturday's 34-6 victory over Indiana, including two pick sixes by cornerback Riley Moss.
"In 81 we got to the Rose Bowl from having a guy able to put a punt wherever with a great defense," said Iowa head coach Kirk Ferentz, who was in his first season as the Iowa offensive line coach in 1981. "It's a great combination when you have a guy like that and great defense that's opportunistic."
Iowa State's offense performed so poorly that head coach Matt Campbell benched three-year starting quarterback Brock Purdy early in the fourth quarter.
It was a shocking development for a veteran Iowa State squad that many believe is poised to have a special season.
Purdy has been a key piece to Iowa State's rise under Campbell, but Purdy has struggled in his two starts against Iowa, especially with turnovers.
And while Campbell has lifted Iowa State to unprecedented success, including its first January Six bowl win last season in the Fiesta Bowl, his record fell to 0-5 against the Hawkeyes.
"I want to give credit to Iowa, especially defensively," Campbell said. "They made some great plays on the ball.
"I'll certainly take the blame for this one. Somewhere along the line I failed this team as a coach. We are looking forward to the challenge ahead of us."
Kirk Ferentz also lost his first five games against the Cyclones from 1999 to 2002. But Iowa's current six-game winning streak is the longest against Iowa State since Fry led the Hawkeyes led the Hawkeyes to 15 straight wins in the series from 1983-97.
Fry also had a highly acclaimed defensive coordinator named Bill Brashier who was the architect of the 1981 defense. And now Ferentz has the same with Phil Parker, who is an original member of Ferentz's coaching staff dating back to 1999.
Iowa quarterback Spencer Petras has now won eight consecutive games as a starter, and he in some ways is similar to Iowa's 1981 starting quarterback Gordy Bohannon.
Petras didn't stuff the stat sheet on Saturday, completing only 11-of-21 passes for 106 yards, and was also sacked four times.
But the California native just keeps winning games, much like fellow California native Bohannon did for Iowa 40 years ago despite having modest statistics.
Petras praised the Iowa defense after Saturday's victory, and deservedly so.
"I'm so proud of those guys on the defensive side," Petras said.
And though the game has changed dramatically since 1981, a team still can go a long way with a top-notch defense, and with a dynamic punter.
The Iowa offense without question has to get better, but the Hawkeyes still are 2-0 with both victories over ranked opponents.
"The best we can be right now is 2-0 and so I'm super proud of this team right now," Petras said.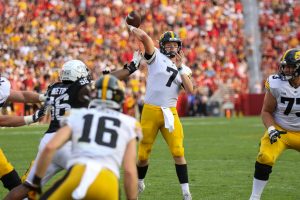 Iowa State's offense sputtered for most of the first half, but then finally came to life late in second quarter when Purdy connected with Darren Wilson for a 49-yard gain to the Iowa 4 with 12 seconds left before halftime.
Breece Hall then scored on a 4-yard run with seven seconds remaining. Iowa State made the point-after kick to trim the deficit to 14-10 at halftime.
Phil Parker probably was steaming at halftime because his defenses rarely get burned by big plays.
But Wilson was able to get free in the secondary, and Purdy had enough time in the pocket to find him.
It was a huge shift in momentum after Iowa had built a 14-3 lead.
After a shaky first quarter, Petras settled down in the second quarter and made some impressive throws, highlighted by a 26-yard scoring strike to Charlie Jones with 4: minutes, 34 seconds left in the second quarter.
Petras placed the ball perfectly between two defenders and then Jones did the rest.
The momentum was clearly on Iowa's side at that point, and you figured the defense would close out the first half without allowing a big play because that is usually what happens under Parker.
Iowa State deserves credit for responding under pressure, and for making a big play when it absolutely had to while trailing by 11 points.
Iowa's best player in the first half was Taylor, who punted three times for a 51.3 average. Taylor helped to shift the field position right away, and in a game like this, the importance of field position can't be overstated.
Iowa's defense regrouped at halftime, as you would expect under Parker, and then made up for its breakdown late in the second quarter by forcing a fumble that linebacker Jack Campbell returned six yards for a touchdown.
Sophomore linebacker Jestin Jacobs forced the fumble, and then Campbell scooped up the football and scored with 5:08 left the third quarter. Caleb Shudak converted the point-after kick to give Iowa a 21-10 lead.
On Iowa State's next possession, Iowa linebacker Seth Benson intercepted a pass from Purdy that was deflected, giving Iowa a first down at the Cyclone 25.
"Each and every week we are trying to raise the standard," Jacobs said. "We know every week there is room to improve. Coaches said it would be a challenge. My coach preached to me all week I need to be physically locked in, mentally locked in."
Iowa's offense failed to capitalize on the field position, losing eight yards on three plays.
Shudak then made a 51-yard field goal to expand the lead to 24-10, and the Cyclones were clearly in trouble.
This game had so much to live up to from a hype standpoint with both teams not only ranked for the first time ever heading into the game, but also ranked in the top 10.
It's the kind of script that you wouldn't believe without seeing it for yourself.
The game figured to be a defensive struggle, and it was for the most part.
Iowa only had 173 yards on offense, and Saturday's victory marked just the fourth time since 2016 that a team won with 173 or fewer yards.
"For us, it's all about building a team," said Kirk Ferentz. "It's one of 12 (games) every time we step out there. You still have to go out there and play a whole schedule."
Iowa State scored a touchdown late in the fourth quarter, but the outcome was all but decided at that point.
Phil Parker's defense rose to the occasion once again, while the 24-year old Taylor, who is from Melbourne, Australia, made his usual impact as a punter.
He was named the 2020 Big Ten Punter of the Year despite having never punted in a football game before joining the Iowa team last summer.
It's an incredible story that just keeps getting better.