By Pat Harty
IOWA CITY, Iowa – Something historical could happen at Kinnick Stadium on Saturday, but don't count it.
Because for it to happen, Colorado State (1-2) would have to pull off what would be arguably the biggest upset during the Kirk Ferentz era, which dates all the way back to 1999.
The Rams would have to figure a way to score enough points against an Iowa defense that leads the Big Ten in scoring defense, allowing just 10 points per game.
The Rams would have to withstand Kinnick Stadium's hostile environment and withstand whatever the fifth-ranked Hawkeyes throw at them.
The Rams would have to withstand an Iowa defense that leads the Big Ten and is tied for second nationally with six interceptions.
The Rams would have to withstand an Iowa team that has won nine straight games dating back to last season, and that is ranked the highest among all Big Ten teams.
The Rams would have to withstand an Iowa team that has outscored its last nine opponents 305-113, averaging 33.9 points per game and allowing just 12.6 points per game during that stretch.
The Rams would have to withstand an Iowa team that has played 25 straight games without surrendering 25 points.
It would likely take a mistake-free, herculean effort by the Rams, while Iowa would have to self-destruct with turnovers to feed the upset script.
Stranger things have happened, but still, don't count on seeing an upset because this Iowa team is too talented and to locked in and focused to allow for it to happen.
Colorado State raised some eyebrows by winning at Toledo 22-6 last Saturday, and that's the same Toledo team that nearly upset Notre Dame on Sept. 11 in South Bend, Indiana.
Steve Addazio is in his second season as the Colorado State head coach, and he's familiar with Iowa after having coached against the Hawkeyes in the 2017 Pinstripe Bowl as the head coach Boston College.
Addazio's approach is similar in some ways to Kirk Ferentz's approach in that both want to establish the running game in order to control the tempo and be balanced on offense.
"Colorado State is coming off a really impressive win, a good win, over Toledo, who took Notre Dame to the wire the week before that. So, it was a good road win for them certainly, their first road trip," said Kirk Ferentz. "Their staff is a really good staff. Coach Addazio was up at Boston College when we played them in the Pinstripe Bowl. So, certainly familiar with his past.
"And you see a lot of similarities between what they were doing at Boston College and what they're doing at Colorado State, not only in terms of scheme, but also the way their guys play. They're a big team, physical team, especially up front. They do a good job there. They've got a big running back; BC had a good running back, a big physical guy last time we played them."
Saturday's game will be the first meeting between Iowa and Colorado State and Colorado State's 13th matchup against a Big Ten opponent. The Rams are 1-11 against Big Ten teams and 2-13 against Associated Press top 10 teams.
Nobody ever said making history would be easy.
This will be Iowa's final nonconference game, and a victory would keep the momentum soaring heading into next Friday's game at Maryland.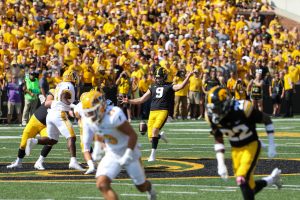 Saturday's game will also showcase two of the top punters in college football in Colorado State senior Ryan Stonehouse and Iowa sophomore Tory Taylor.
Stonehouse is a two-time All-American (2018, 2020) and is currently the NCAA's all-time career leader in punt average with a 47.0 mark, while Taylor is the reigning Big Ten Punter of the Year and is currently averaging 49.7 yards per punt. Taylor has nine punts of 50 yards or more this season, including a career-long 69-yard punt against Iowa State.
Colorado State also has one of the most accomplished tight ends in the country in senior Trey McBride, who turned a chance to leave early for the NFL.
The 6-foot-4, 260-pound McBride has combined for 30 catches for 339 yards and one touchdown in the first three games, and he has 1,318 career receiving yards.
"He's really good," Kirk Ferentz said. "And a couple things about him. He does everything well. He blocks well. They pull him a lot. Bring him across the formation, that type of thing. And then it's interesting, the offensive coordinator now was at Wisconsin, played at Wisconsin, was up there. And they've done a nice job the last couple of decades of what they do to feature good tight ends. So, you see some of that thinking in there, too, some of the screen passes they run and little things they do that are a little bit unique. So you can see that flavor being integrated into the offense.
"But, yeah, they're going to get him the ball. They're going to put it in his hands. And he's a really good blocker. He's a big physical guy, but also a really good runner, too. And they're going to make sure he gets the ball, which that is good coaching."
Iowa also likes to feed its tight end as junior Sam LaPorta leads the team with 13 catches for 169 yards and one touchdown. No other player on the team has more than 75 receiving yards.
Iowa quarterback Spencer Petras has yet to throw an interception this season, and has only been picked off twice in the last nine game games.
Iowa's vertical passing attack still is very much a work in progress, so don't be surprised if Iowa offensive coordinator Brian Ferentz tries to work on that during Saturday's game.
Also look for Iowa to try to establish the run early in order to create play action for Petras.
Upsets are always possible, and Kinnick Stadium has been the setting for some big upsets, including some at Iowa's expense.
Iowa has lost to four opponents from the Mid-American Conference with Kirk Ferentz as head coach, but none of those Iowa teams would go on to win more than eight games, and one finished 4-8 in 2012.
The current Iowa team looks better than an eight-win team, but still has to prove it.
It's hard to picture a scenario in which Colorado State would prevail on Saturday, outside of Iowa just unraveling with turnovers and penalties.
The challenge for Iowa is to avoid being on the wrong side of history.
Prediction: Iowa 35, Colorado State 12
Iowa vs. Colorado State
When: Saturday, 2:35 p.m.
Where: Kinnick Stadium (69,250)
TV: FS1
Radio: Hawkeye Radio Network
Series: This is the first meeting between Iowa and Colorado State.