By Pat Harty
IOWA CITY, Iowa – This is one of those times when Iowa fans might have to be reminded that there is no such thing as a bad win.
The fifth-ranked Iowa football team entered Saturday's game against a 1-2 Colorado State squad favored by 23 ½ points and showing early signs that it could be special.
But what many figured to be an easy path to 4-0 for the Hawkeyes was anything but that as the pesky Rams refused to wilt in a hostile environment at Kinnick Stadium.
Iowa held on to win 24-14 despite only rushing for 54 yards, despite allowing three sacks, despite only converting on 4-of-13 third-down plays and despite having trailed 14-7 at halftime.
"I think you've heard me say it before, winning is never easy, and that certainly was the case today," said Iowa coach Kirk Ferentz. "First and foremost, we are happy to get the victory, and finish the month 4-0.
"Proud of our guys; they've done a good job that way. Our goal each and every week is to win the game first and foremost and then hopefully improve."
The Iowa defense, led by junior linebacker Jack Campbell, was spectacular in the second half, holding the Rams scoreless and forcing a key turnover.
The Iowa offense had its moments, but still struggled with consistency caused largely by the inability to sustain a rushing attack.
Junior quarterback Spencer Petras improved to 10-2 as a starter and he also completed two impressive deep throws to freshman receiver Keagan Johnson in the first half.
But the offense still is very much a work in progress and that's reason for concern with a dangerous Maryland team up next on Friday in College Park, Maryland.
The Terrapins have a quick-strike offense, powered by some explosive skill players, and will be playing a Friday night game at home.
It'll be a huge challenge for the Iowa defense, especially if the offense continues to sputter.
Petras passed for 224 yards and two touchdowns in Saturday's game, but he also threw his first interception of the season in the second quarter that helped set up a Colorado State touchdown.
So, he probably didn't do enough to silence his critics.
But again, there is no substitute for winning, and right now Iowa is winning with Petras directing the offense.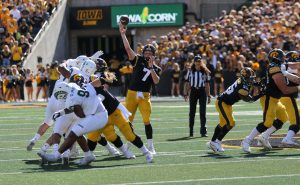 "We knew it wasn't going to be easy," Petras said. "We knew it was going to be a dog fight. And yeah, certainly that interception at the end of the first half that I threw and then they went right down and scored, that's huge adversity when you're down seven at the half.
"But I thought we kept fighting. It wasn't pretty, but that's football. That's going to happen. But I'm just really happy and proud of our team with how we bounced back and were able to come out with the win."
The 6-foot-5, 241-pound Campbell was sensational from start to finish as he finished with a career-high 18 tackles.
Iowa's defense struggled at times in the first half. But when it really mattered in the second half, Campbell and his cohorts rose to the occasion.
Iowa's defense has had a knack for making big plays this season and that continued on Saturday as Campbell recovered a fumble at the Ram 6-yard line with 8 minutes, 34 seconds left in the third quarter.
Receiver Tyrone Tracy Jr. then scored on the first play from scrimmage on a 6-yard sweep. It was Tracy's first touchdown this season and just his second touchdown since the 2019 season.
Caleb Shudak made the point-after kick to even the score at 14.
The Iowa defense forced a 3-and-out on Colorado State's next possession, and then Charlie Jones had a 38-yard punt return, giving Iowa a first-down at the Colorado State 41-yard line with 6:52 left in the third quarter.
The momentum clearly had shifted to Iowa's side, and it continued to shift when Petras found tight end Sam LaPorta wide-open over the middle for a 27-yard scoring strike with 6:01 left in the third quarter.
Shudak made the point-after kick, giving Iowa a 21-14 lead.
However, Iowa was penalized 15 yards for unsportsmanlike conduct apparently due to LaPorta having spun the ball in the end zone.
Shudak's kickoff then rolled out of bounds, giving Colorado State a first down at the 50-yard line.
The Iowa defense came through again, though, stopping Colorado State on 4th-and-1 near midfield.
Shudak then made a 45-yard field goal to give Iowa a 24-14 lead with 12:32 remaining.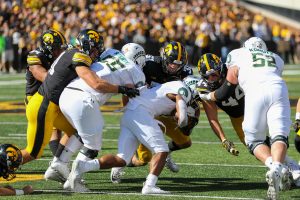 "We definitely didn't play great football in the first half," said Iowa senior defensive end Zach VanValkenburg. "But I think we did a good job in the second half. So, it's good lesson to be learned."
For Petras, the first half was a mixed bag as he made two beautiful throws to freshman receiver Keagan Johnson, the first being a 43-yard scoring strike at the beginning of the second quarter, followed by a 49-yard completion to Johnson later in the second quarter.
However, after his second completion to Johnson, Petras was intercepted four plays later when trying to complete a tunnel screen to Tracy.
It was an ill-advised throw as Tracy was blanketed on the play.
Colorado State returned the interception 62 yards to the Iowa 27-yard line.
Quarterback Todd Centeio then completed a 3-yard touchdown pass to tight end Gary Williams with 24 seconds left before halftime.
The Rams made the point-after kick and led 14-7 at halftime.
Some of the Hawkeye fans showed their displeasure by booing as the teams headed for the locker room at halftime.
That's part of the burden with being the fifth-ranked team in the country because fans expect more, especially against a huge underdog.
Probably the biggest concern with Iowa's performance is that the Iowa running game failed to produce.
Iowa wants to be balanced on offense, and Petras needs the running game in order to have play action.
The concern is that Iowa ultimately will pay a heavy price if the running game continues to sputter.
But again, there is no way to be better from a record standpoint after four games then being 4-0, and that's Iowa right now.
Iowa is also 57-21 since the start of the 2015 season, so there is plenty to like once you get past the close score on Saturday.
Some of Iowa's best teams under Kirk Ferentz had games that were closer than expected, including the 2002 team, which finished 11-2, hanging on to win 29-24 at Miami (Ohio), and the 2009 squad that also finished 11-2 having to block two field goals in the closing seconds to defeat Northern Iowa 17-16 at Kinnick Stadium.
It still counts as a win no matter the final score, and Iowa has won 10 straight games dating back to last season, including nine wins by double figures.
It marks the third time that Iowa has won 10 straight games under Kirk Ferentz.
"I'm happy we won, but we have so much room for improvement," Campbell said.
That's the best way to look at Saturday's game.
Be happy for the win, while understanding that Iowa still is very much a work in progress.