By Pat Harty
IOWA CITY, Iowa – The Iowa football team hasn't lost to Minnesota at Kinnick Stadium since Kirk Ferentz's first season as head coach in 1999.
But even that game was close as Minnesota hung on for a 25-21 victory against an Iowa team that would go on to finish just 1-10 in 1999.
Both teams enter Saturday's game with a 4-2 record in conference play, but the Gophers are trying to bounce back from a disastrous 14-6 loss to Illinois last Saturday in Minneapolis.
P.J. Fleck has rebuilt the Minnesota program in impressive fashion, but he is 0-4 against Iowa, including a 35-7 shellacking last season at home.
The Gophers are also a 7-point underdog heading into Saturday's game, and it makes sense when you breakdown which team has the advantage at nine different positions, which was the purpose of this article.
Quarterback: This matches a three year starter in Minnesota junior Tanner Morgan versus a player getting ready to make his first career start in Iowa sophomore Alex Padilla.
The Gophers without question have the advantage in experience with Morgan, who set program records with 3,000 passing yards and 30 touchdowns in 2019. Morgan hasn't come close to matching those numbers this season, but he still has led Minnesota to a 6-3 record.
And though his statistics for this season, which includes an average of just 150.78 passing yards per game, are far from spectacular, it's still hard to ignore, or dismiss, Morgan's advantage in experience over Padilla, who will make his first career start on Saturday with Spencer Petras injured.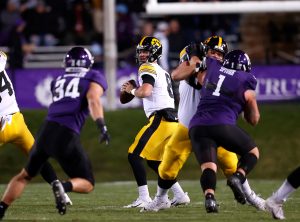 Padilla provided a spark off the bench against Northwestern by leading three scoring drives that helped Iowa escape with a 17-12 victory last Saturday in Evanston, Illinois.
But it's hard to evaluate Padilla due to a lack of playing time.
Morgan, on the other hand, has played in numerous big games, and there is no substitute for experience.
Advantage: Minnesota
Running back: This is a difficult choice because the Gophers have a much better ground attack than Iowa, but they're also down to their fourth-team running back due to injuries, while Iowa is relatively healthy at this position.
Minnesota is ranked third in the conference in rushing, averaging 207.44 rushing yards per game, while Iowa is ranked 11th in the conference with a 113.67 average.
But again, the Gophers are down to their fourth-team running back, and it's hard to believe that Minnesota's fourth-team running back has an advantage over a healthy Tyler Goodson, whose average of 83.78 rushing yards per game is eighth best in the conference.
This would be a no-brainer if Minnesota's running backs were healthy. But they're nowhere close to being healthy.
Iowa senior Ivory Kelly-Martin is questionable for Saturday's game due to a foot injury. But he was replaced as the backup running back by redshirt freshman Gavin Williams after mishandling a handoff in the loss at Wisconsin.
Advantage: Iowa
Receiver: Neither team has a receiver ranked in the top 10 in the conference in receptions or receiving yards. So this is another close call.
Chris Autman-Bell leads Minnesota with 24 receptions for 300 yards and two touchdowns, while Nico Ragaini leads Iowa with 22 receptions for 274 yards an one touchdown.
Minnesota's top three receivers – Autman-Bell, Daniel Jackson and Dylan Wright – have combined for 45 catches for 733 yards and five touchdowns. However, the production at receiver drops off significantly after them.
Iowa's top five receivers have combined for 78 catches for 916 yards and six touchdowns, giving Iowa the edge in depth. Freshman Keagan Johnson is ranked second amongst the Iowa receivers with 282 receiving yards on just 13 catches. His 21.7 yards-per-catch average is by far the best on either team.
Advantage: Iowa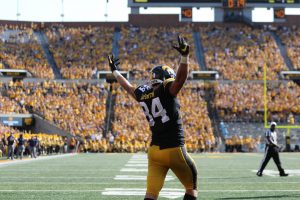 Tight end: Iowa junior Sam LaPorta is one of the most productive tight ends in the conference with a team-leading 34 catches for 391 yards and two touchdowns. Freshman backup Luke Lachey only has four catches for 57 yards, but he excels as a blocker.
Brevyn Spann-Ford is Minnesota's most productive tight end with 15 catches for 161 yards and one touchdown.
Advantage: Iowa
Offensive line: Minnesota has one of the most experienced and one of the biggest offensive lines in all of college football, highlighted by sophomore tackle Daniel Faalele, who is listed at 6-foot-8 and 379 pounds.
The Gophers are averaging nearly 100 more rushing yards per game than Iowa, and that is a direct reflection on the big guys in the trenches.
Iowa has the most celebrated offensive lineman in junior All-America center Tyler Linderbaum, but the offensive line still has struggled with run blocking and with pass protection, while Minnesota's offensive line has performed well in those two areas.
So, even with Linderbaum playing for Iowa, this really isn't that close.
Advantage: Minnesota
Defensive line: Minnesota defensive linemen Boye Mafe and Thomas Rush are ranked eighth and 10th in the Big Ten in sacks with six and 5.5, respectively. Mafe also ranks 12th in the conference with eight tackles for loss.
Iowa, on the other hand, doesn't have a player ranked in the top 10 in the conference in sacks, or in the top 20 in tackles for loss.
Clemson transfer Nyles Pinckney also has been a valuable addition at defensive tackle for the Gophers.
Iowa probably has the edge in depth based on a rotation that goes eight or nine deep, but the Gophers have been more productive at these positions.
This is almost to close to call, considering Iowa and Minnesota are ranked second and third, respectively, in the conference in rushing defense, which says a lot about both of these units.
The choice ultimately comes down to Iowa's depth.
Senior defensive end Joe Evans, for example, doesn't start for the Hawkeyes, but he still is ranked second on team with four sacks and six quarterback hurries.
Freshman defensive tackle Lukas Van Ness also doesn't start, but he leads Iowa with five sacks for a minus-33 yards.
Advantage: Iowa
Linebacker: Three of Iowa's top four tacklers are linebackers, led by junior Jack Campbell, who has a team-leading 83 tackles, to go along six pass breakups, three quarterback hurries and two fumble recoveries, including one that he returned for a touchdown against Iowa State. Campbell's average of 9.22 tackles per game also ranks fifth in the Big Ten.
Junior Seth Benson is second on the team with 66 tackles, while sophomore Jestin Jacobs is fourth on the team with 38 tackles despite only playing part of the time since Iowa often uses five defensive backs and just two linebackers.
Minnesota's leading tackler is middle linebacker Mariano Sori-Marin, who has 65 stops in nine games.
Advantage: Iowa
Secondary: Iowa leads the country in interceptions (19) and takeaways (24), and will receive a boost with the return of senior cornerback Riley Moss, who has four interceptions despite missing the last three games due to an injury.
Junior safety Dane Belton also has four interceptions, including two in last Saturday's win at Northwestern, while senior cornerback Matt Hankins has three interceptions. Senior free safety Jack Koerner is also ranked third on the team with 61 tackles.
Minnesota doesn't have a player ranked in the top 10 in the conference in interceptions.
Iowa also leads the conference in pass efficiency defense, while Minnesota is ranked ninth.
Advantage : Iowa
Special teams: Iowa has the edge at punter, kicker and in the return game, although, Minnesota's Mar'Keise Irving is averaging 28.83 yards on six kick returns.
Iowa punter Tory Taylor is averaging 45.78 yards on 58 punts, while Minnesota punter Mark Crawford is averaging 43.21 yards on 33 punts.
Iowa kicker Caleb Shudak also has made 12-of-14 field-goals attempts, and has been far more accurate than Matthew Trickett, who has only converted on 10-of-17 field-goal attempts for Minnesota.
Charlie Jones also gives Iowa arguably the top return specialist in the conference. He is averaging 23.93 yards in kick returns and 10.42 yards in punt returns. Jones is the only player in the Big Ten to rank in the top three in average yards per kickoff return and punt return.
Advantage: Iowa