By Pat Harty
IOWA CITY, Iowa – It was conservative at times.
It was sloppy and ineffective at times.
And it was boring and predictable at times.
The performance of the Iowa offense against Illinois on Saturday left much to be desired from an execution and productivity standpoint, but as so often has been the case this season, the Hawkeyes still found a way to prevail.
Iowa overcame a 10-0 deficit, thanks largely to four field goals by Caleb Shudak, 172 rushing yards, a 100-yard kick return for a touchdown by Charlie Jones in the first quarter, and another solid performance by the defense to win 33-23 on Senior Day at Kinnick Stadium.
Sophomore quarterback Alex Padilla led Iowa to a third consecutive victory and improved to 2-0 as a starter.
But his performance also left something to be desired, although, in fairness, he also was hurt by at least six dropped passes.
Padilla only completed 6-of-17 passes for 83 yards and one interception.
Iowa compensated for its passing woes by moving the chains on the ground as junior Tyler Goodson led the way with 132 rushing yards.
Junior quarterback Spencer Petras, who had started 17 straight games before missing the Minnesota game last Saturday, was in uniform against Illinois and participated in pre-game warmups.
But Iowa head coach Kirk Ferentz stuck with Padilla, and while it resulted in a win, Padilla wasn't nearly as effective as he was in the victories over Northwestern and Minnesota.
"We grind it out," Padilla said when asked how Iowa keeps finding ways to win. "We know that every game is going to be a tough game, there's no easy games in the Big Ten. We played great defense. We played a lot of complementary football today. Special teams did a great job. Obviously, the return by Charlie was huge."
Some fans had grown impatient with Petras as the starter and were clamoring for Padilla to get a chance.
However, Iowa's passing attack didn't look any better with Padilla behind center on Saturday.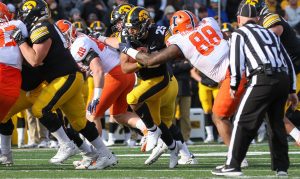 Take away the running game and Iowa's offense was virtually non-existent, producing just 255 yards.
Iowa offensive coordinator Brian Ferentz was conservative with his play calling in Saturday's game. But that probably was partly due to the running game having success and the passing game sputtering.
Iowa will close out the regular season against Nebraska on Black Friday in Lincoln, Nebraska.
It'll be interesting to see who Kirk Ferentz starts at quarterback because Padilla did little to help his cause in Saturday's game. His receivers also didn't do much to help him.
The first question asked to Kirk Ferentz during his post-game press conference was whether Padilla is now the full-time starter since Petras was in uniform on Saturday but didn't play.
"Officially, today he was, yeah, absolutely," Kirk Ferentz said of Padilla. "That's how he's the guy out there."
"We assessed it during most of the week and it just makes common sense and we'll talk about it tomorrow and keep pushing forward. But I feel, like I did last week, or two weeks ago, that we have two guys that we can win with. So, we'll take a look at it and go from there."
Petras has been criticized for performances that were better from a statistical standpoint compared to what Padilla produced in Saturday's game.
The passing game looked out of sync against Illinois, which was playing without head coach Bret Bielema on the sideline due to Covid-19 health concerns.
The combination of receivers not getting open, dropped passes and Padilla missing his targets caused the passing game to sputter over and over. And that made it hard for the offense to finish drives.
Padilla completed four of his first five passes, but was just 2-for-12 the rest of the way.
And that has to be a concern.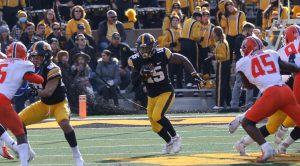 Kirk Ferentz compared this season to the 2004 season when Iowa won a share of the Big Ten title despite having hardly any rushing attack due to a rash of injuries at running back. The 2004 squad relied mostly on defense , the passing of Drew Tate and special teams to win games.
"The real common bond there is we find a way to win, and that's still what the game is about," Kirk Ferentz said. "Talk about style points, and that's important at some point. But it's about trying to find a way to be successful whatever the different situations are, and in football, it's how to predict what that's going to be.
"I think most of our challenges have been fairly predictable. At least when I look at it and analyze I can see where our issues were going to be and where our challenges would be. And I think we're growing."
Illinois had a 4th-and-3 at the Iowa 46 with 5 minutes, 37 seconds left to play when tight end Luke Ford dropped a pass from quarterback Brandon Peters.
Iowa then took over on offense and Goodson and backup running back Gavin Williams both had runs that gained first downs and moved the ball deep into Illinois territory.
But as so often was the case in Saturday's game, the offense stalled and Iowa settled for a field goal by Shudak, this one coming from 30 yards that expanded Iowa's lead 26-16 with 1:55 remaining.
Junior linebacker Jack Campbell then erased all doubt by returning an interception 31 yards for a touchdown with 1:36 left to play. It was Iowa's fourth pick-six of the season.
Iowa improved to 9-2 overall and has won nine games for the ninth time in 23 seasons under Kirk Ferentz.
A Big Ten West Division title also still is within reach for Iowa heading into the final week of the regular season.
But it's also clear that Iowa still has issues on offense.
The running game certainly did its part on Saturday, but it also has sputtered this season, especially in the losses to Purdue and Wisconsin.
Very few times this season has the offense clicked on all cylinders.
Padilla has provided a spark, but he also showed in Saturday's game that he has plenty of room for improvement.
He made a few ill-advised throws and was sacked two times.
Much of what hurt Iowa on offense in Saturday's game is also what hurt the offense with Petras behind center.
The good news is that Iowa now has two quarterbacks with starting experience, but the bad news is that offense continues to struggle.
Illinois took the opening kick and drove 75 yards for a touchdown on 12 plays, chewing 6:23 off the clock.
Brandon Peters completed 6-of-7 passes for 68 yards on the drive, including a 13-yard touchdown pass to tight end Luke Ford.
Iowa drove t o the Illinois 43 on its first possession, but the drive stalled, forcing Iowa to punt.
However, the snapped was low and the ball squirted between Tory Taylor's legs and then rolled to the Illinois 29 where Taylor fell on the ball.
The Iowa defense stiffened this time, holding Illinois to zero yards on three plays.
McCourt then made a 46-yard field and Iowa trailed 10-0 with 3:20 left in the first quarter.
A wave of concern spread throughout Kinnick Stadium, but then Charlie Jones quickly shifted the momentum by returning the ensuing kick 100 yards for a touchdown.
"That was a designed play and we had great blocking," said Jones, who is just the third player in program history to return a kick and a punt for a touchdown. "That's how we draw it up."
Jones caught the ball in the far corner near the Iowa end zone and then worked his way across the field toward the Iowa sideline. He picked up a key block from Henry Marchese and then outraced several Illinois players to the end zone.
Illinois only ran three players before punting to Jones, who then returned the punt 13 yards to the 50.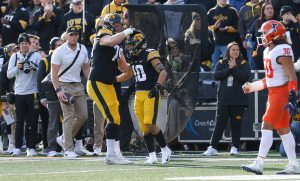 By then, the momentum had clearly shifted to Iowa's side, and it continued to shift when freshman receiver Arland Bruce gained 13 yards on a sweep on first down.
Padilla then connected with Bruce on a 28-yard pass on the final play of the first quarter, giving Iowa a first down at the Illinois 8.
Bruce capped the drive by scoring on a 2-yard jet sweep with 14:08 left before halftime.
Shudak made the point-after kick to give Iowa a 14-10 lead.
So, in about four minutes of playing time, Iowa had gone from trailing by 10 points to leading by four points.
Both teams then exchanged field goals making the score 17-10 in Iowa's favor late in the second quarter.
Iowa safety Dane Belton then made his team-leading fifth interception of the season with 55 seconds left in the second quarter, giving Iowa a first down at the Illinois 41.
The offense only gained two yards on three plays and then Shudak missed a 58-yard field goal with 36 seconds left before halftime.
Iowa led 17-13 at halftime despite only gaining 134 yards in the first two quarters.
The offense showed good balance in the first half with 68 rushing yards and 66 passing yards, but Iowa only had two plays that gained more than 20 yards in the first two quarters.
Iowa offensive coordinator Brian Ferentz was somewhat conservative with his play calling in the first half as Padilla only attempted nine passes, completing five.
The Iowa defense settled down after having allowed a touchdown on Illinois' first possession, holding Illinois to just 52 rushing yards in the first half.
Illinois only had 64 rushing yards overall, while Iowa more than doubled that total.
"The guys up front did a good job with getting to the guys they needed to get in order for the running backs to gain yards," Goodson said. "It's not always an explosive drive. Sometimes, it's getting those tough yards. That's what the game is about."
The game is also about gaining yards through the air, and that's where Iowa struggled on Saturday with Padilla behind center.
Iowa has two quarterbacks that Kirk Ferentz feels comfortable using at critical times.
But Iowa also has two quarterback that still are very much a work in progress, and sometimes, a slow work in progress as evidenced by Padilla's performance on Saturday.
Illinois 10 3 3 7 – 23
Iowa 7 10 3 13 – 33
IL – Luke Ford 13 pass from Brandon Peters (James McCourt kick)
IL – McCourt 46 FG
I – Charlie Jones 100 yard kick return (Caleb Shudak kick)
I – Arland Bruce 2 run (Shudak kick)
I – Shudak 51
IL – McCourt 45 FG
I – Shudak 48 FG
IL – McCourt 53 FG
I – Shudak 29 FG
I – Shudak 30 FG
I  Jack Campbell 32 interception return (Shudak kick)
IL – Isaiah Williams 16 pass from Peters (McCourt kick)