IOWA CITY, Iowa – Junior running back Tyler Goodson has played his last game with the Iowa football team.
The Georgia native announced Friday on Twitter that he will bypass playing in the Citrus Bowl on New Year's Day in Orlando, Florida against Kentucky in order to prepare of the 2022 NFL Draft.
Goodson became a starter for Iowa late in his freshman season in 2019 and would go on to become the first true freshman to lead Iowa in rushing with 638 yards. He also made first-team All-Big Ten as a sophomore in 2020 and third-team this season.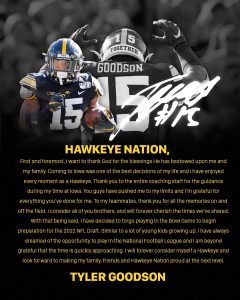 Goodson is currently Iowa's leading rusher this season with 1,150 yards in 13 games this season, and he finished his career with 2,551 rushing yards.
"Tyler has been a valuable member of our program throughout his career, and we wish him nothing but success as he pursues his next phase in life and football," Iowa coach said Kirk Ferentz in a statement. "Tyler enjoys the game of football. His passion and energy are evident on a daily basis, and we are appreciative of his many contributions to our program. It has been a pleasure having Tyler and his family as part of our program."
Goodson's decision to skip the bowl game likely means that redshirt freshman Gavin Williams will start at running against Kentucky, which is coached by former Iowa defensive back Mark Stoops.
Fifth-year senior Ivory Kelly-Martin had been Goodson's backup for most of the season at running back until injuries and fumbling issues created an opportunity for Williams.
Goodson is the only player for Iowa so far to announce that he will skip the bowl game to prepare for the NFL draft.
All-America junior center Tyler Linderbaum, who also won the Rimington Trophy that goes to nation's top collegiate center, said Sunday that he will play in the bowl game.
Linderbaum is considered a likely first-round pick in the 2022 NFL draft should he decide to skip his senior season.