By Pat Harty
IOWA CITY, Iowa – The nation's leader in total tackles during the 2021 season, and Iowa's leading receiver from this past season both will be back in an Iowa uniform this coming fall.
Linebacker Jack Campbell and tight end Sam LaPorta both announced Wednesday that they will return to Iowa for their senior seasons.
Campbell, a Cedar Falls native, finished the 2021 season with a 14o total tackles, while LaPorta led Iowa with 53 catches for 670 yards and three touchdowns.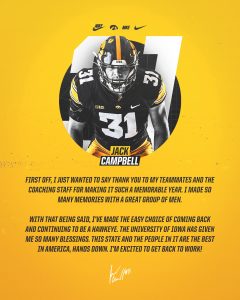 "First off, I just want to say thank you to my teammates and the coaching staff for making it such a memorable year," Campbell said. "I made so many memories with a great group of men.
"With that being said, I've made the easy choice of coming back and continuing to be a Hawkeye. The University of Iowa has given me so many blessings . This state and the people in it are the best in America, hands down. I'm excited to get back to work."
LaPorta also released a statement in which he said "there is nowhere else I'd rather be than the University of Iowa. I hope one day to pursue another dream of playing in the NFL, but until then, I will return to Iowa for the 2022 season. I expect to make my senior year the best.
"I am eager to get back to work and cannot wait until we Swarm again. Go Hawks!"
Iowa won the Big Ten West Division and finished 10-4 overall this past season thanks mostly to its defense and special teams, and to LaPorta's consistency.
The Illinois native capped his junior season with seven catches for 122 yards and one touchdown in Iowa's 20-17 loss to Kentucky in the Citrus Bowl on New Year's Day in Orlando, Florida.
LaPorta was asked during his post-game interview about the possibility of declaring for the draft, and he said he wanted to consult with his parents before making a decision.
Neither Campbell nor LaPorta were redshirted at Iowa and they both have been in the program for just three seasons, and have been key contributors since joining the team in 2019.
Campbell is the second defensive starter to announce that he will return next season.
Senior cornerback Riley Moss will take advantage of his free Covid year to return for a fifth season. Moss was named the Big Ten Defensive Back of the Year this past season despite missing three games due to a knee injury.
Iowa returns three starters on the defensive line, two starters at linebacker and four defensive backs with starting experience.
That's a big chunk from a 2021 defense that ranked among the best in the Big Ten.
Iowa did suffer a blow when junior safety Dane Belton announced that he will declare for the 2022 NFL draft. Belton led Iowa with five interceptions this past season.
Fifth-year senior safety Jack Koerner also announced that he will bypass his free Covid year to enter the draft.
With Campbell now returning, Iowa will have its top three linebackers back for next season with senior-to-be Seth Benson and junior Jestin Jacobs also having played key roles on defense.
Iowa still is waiting to about the status of All-America junior center Tyler Linderbaum and senior receiver Charlie Jones.
Linderbaum is expected to declare for the 2022 NFL draft and projects as a first-round pick.