By Pat Harty
IOWA CITY, Iowa – As I watched Caitlin Clark and the Iowa women's basketball team dismantle Penn State on Tuesday, the great Ralph Miller came to mind oddly enough.
I thought about how much he would've enjoyed watching Clark and her cohorts play because the way they push the ball up the court, share the basketball, space the floor and make shots in transition is similar in some respects to how Miller's men's basketball teams at Iowa used to play according to those who watched them play over 50 years ago.
Miller's legendary Six Pick averaged over 100 points per game during the 1969-70 season and finished 14-0 in Big Ten play.
John Johnson led the team in scoring as a senior forward with a 27.9 per-game average, but he was hardly a solo act as five players averaged in double figures for Iowa that season.
Clark leads the Iowa women's basketball team in scoring with a 25.4 per-game average, but the sophomore point guard also has a talented and productive supporting cast led by All-Big Ten senior center Monika Czinano, who is averaging 20.4 points per game and shooting an incredible 64.8 percent from field.
And while Clark is a prolific scorer and a heavy volume shooter, she doesn't hunt for shots, and she is a willing passer as evidenced by her performance against Penn State as Clark set a Big Ten record with 17 assists during Iowa's 107-79 victory.
The way in which Iowa shredded Penn State's transition defense was beautiful to watch, and was almost a carbon copy to how Iowa destroyed Minnesota in transition during a 105-48 drubbing on Jan. 20 in Minneapolis.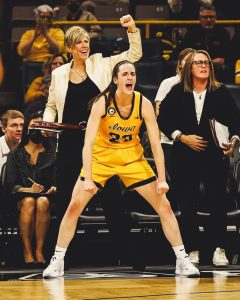 Most of Iowa's fastbreaks on offense start with Clark getting an outlet pass and then dribbling up the court at a high rate of speed, but also under control, and with her eyes always focused on what's in front of her.
Of all of Clark's talents, which are many, her vision might rank near the top, along with her ability to use both hands while dribbling in transition and through traffic.
She is capable of scoring 30 to 40 points on any given night, and has had to, sometimes, for Iowa to prevail.
But it's Clark's all-around game that has really stood out during this current run of success, which has Iowa riding a six-game winning streak heading into Friday's matchup at Northwestern.
Clark has been named the Big Ten Player of the Week in each of the past four weeks and is currently averaging 8.5 rebounds per game and has 122 assists in 16 games.
In Iowa's win over Minnesota, Clark registered her second-consecutive, fourth of the season and fifth career triple-double with 35 points, 13 rebounds and 11 assists. Clark is the only Big Ten women's basketball player to record a triple double in back-to-back games and four triple-doubles in a single season and the first NCAA Division I player (male or female) to record back-to-back 30-plus point triple doubles since 2000.
Clark is making triple-doubles almost look routine, and she's doing it for a team that is performing at a high level under veteran head coach Lisa Bluder.
Bluder's teams always seem to have fun because her style of play is fun and because she and her assistant coaches create a fun atmosphere that is built on trust and respect.
Of course, winning helps, but a healthy environment leads to winning, and a healthy environment is what Bluder has built and solidified over the past two decades.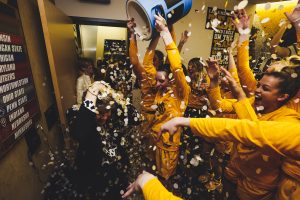 The longer Bluder stays at Iowa, the better she seems to be with this being her 22nd season as head coach.
The final two years under All-America center Megan Gustafson were legendary and something Iowa fans will cherish and remember forever.
It was easy to assume that Iowa would take a step back after Gustafson moved on.
But that hasn't been the case.
Bluder deserves praise for convincing Clark to be a Hawkeye when Clark, a former West Des Moines Dowling star, had her pick of schools, and now they both deserve praise for making it work in spectacular fashion.
Iowa still has some difficult games left to play against opponents that won't surrender points and fast-break layups as easily as Penn State and Minnesota did.
But the way in which this Iowa team has overcome multiple distractions, including having six games postponed due to health concerns related to Covid-19, and multiple injuries to perform at this high level is quite impressive.
A cynic might say that Iowa has only defeated teams that it should beat, teams like Minnesota, Penn State, Illinois and Nebraska.
But isn't that also part of being a good team, beating teams that are considered inferior?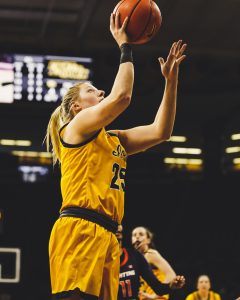 And Iowa isn't just beating these teams, it's crushing them with all but one of the victories during the current six-game winning streak by double figures.
Iowa won its last three games against Penn State, Illinois and Minnesota by margins of 28, 26 and 54 points, respectively.
So much goes into a building a successful team, including the ability to make free throws, and the Iowa women's basketball team excels in that area.
Clark and Czinano are shooting 89.7 and 86.9 percent from the free throw line, respectively, while Iowa is shooting a blistering 85.9 percent as a team.
Iowa still hasn't played some of the Big Ten's top teams, namely, Indiana, Michigan and Maryland, and depth is also a concern, caused mostly by injuries. But the way this team has persevered and cleared one hurdle after another is a tribute to the players and coaches.
Iowa looked vulnerable after it lost to IUPUI 74-73 on Dec. 21 at Carver-Hawkeye Arena and to Northwestern 77-69 on Jan. 6, and also at home.
But it's a long season filled with peaks and valleys, and good teams ultimately figure a way to navigate through rocky waters.
It takes being unselfish and well connected, and it helps having a special talent like Clark leading the way.