By Pat Harty
IOWA CITY, Iowa – Kirk Ferentz will be 67 years old when the 2022 college football season starts.
That would be young if Ferentz were a member of the Rolling Stones, but as a college football coach, 67 is getting up there.
But Ferentz seems determined to prove that age is just a number and that he is fully capable of performing his duties as the Iowa head coach as well, or even better, than he did 20 years ago.
Ferentz was asked at a press conference this past Wednesday if dealing with the global pandemic, and with everything else that has occurred over the past few years, has changed his mind about how long he wants to coach.
"I don't know if it changed it, but when all that was going on, you have two choices, just like you do every day, go that way or go this way," Ferentz said. "Invigorating is not the right word, but I think one thing you learn when you do things that are hard to do, I'm not saying — like our job is not hard. Being a policeman or fireman, those are hard jobs. There's a lot of hard jobs out there. But it's challenging. There's a lot of things that challenge you on a — maybe not daily basis but frequent basis.
"As long as you enjoy — enjoy is probably not the right word, but I guess enjoy in some ways, enjoy trying to figure out the pieces of the puzzle and making things work, then — but probably when I quit enjoying that or if I quit getting nervous about games, it's just a feeling you have, then you probably know it's time to get out because you don't want to ever rob the people that you're working with. You don't want to take away from them.
"I'm not saying it's been heightened, but I feel better than I've felt in a long time quite frankly, physically and mentally. We'll see. We'll see. Just try to get through this next month here and see what happens."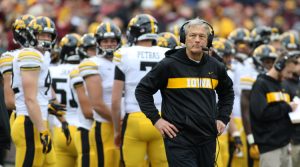 Ferentz hardly sounds like a head coach who is preparing for the inevitable.
Ferentz is healthy. He loves his job, is paid handsomely for it, and still is successful at this stage in his career, having led Iowa to 10 wins in two of the past three seasons.
And the longer he stays at Iowa, the more incredible Iowa's coaching continuity will be in football.
Take this score for example: 94 to 2.
Can you guess what it represents?
And no, it's not the combined score of Iowa's last two Rose Bowl games.
The number 94 represents the number of head coaches that the other 13 Big Ten teams have had since 1979, while the number two is the number of head football coaches that Iowa has had during that time.
Hayden Fry and Kirk Ferentz.
That's it.
Led Zeppelin still was performing when this period started in 1979 with Fry's arrival at Iowa.
Iowa's coaching continuity in football is old news to Hawkeye fans, and to the Iowa media, and is easy to take for granted, but sometimes, it's just worth pointing out the unique circumstance.
Minnesota, Illinois and Minnesota each have had nine head coaches since 1979, and Illinois also has had three interim head coaches.
Michigan State has had eight head coaches since 1979, while Michigan has had six.
Even Penn State, despite Joe Paterno's more than half-century reign, has had more head coaches than Iowa since 1979 with three: Paterno, Bill O'Brien and current head coach James Franklin.
Ferentz recently signed a contract extension that runs through the 2029 season. He would be 74 in the final year of the contract.
Ferentz and Hayden Fry are the only head coaches to lead a Division I football program for at least 20 years, consecutively.
Fry coached the Hawkeyes from 1979 to 1998 and orchestrated one of the greatest turnarounds in the history of college football. Iowa had suffered through 19 consecutive non-winning seasons when Fry arrived and there was a growing sense of hopelessness, and a fear that Iowa never would be competitive again.
But it only took Fry three seasons to lead Iowa to the Rose Bowl as Big Ten champion.
A legend was born.

Fry would go on to win two more Big Ten titles before retiring shortly after the 1998 season.
Ferentz was picked as Fry's successor, and for Ferentz, it would be a return to where he had spent most of the 1980s as the Iowa offensive line coach under Fry. Ferentz had that job from 1981 to 1989, so all together, he has spent more than 30 years coaching at Iowa and just finished his 23rd season as head coach.
Ferentz and Fry both had multiple chances to leave Iowa.
Fry even threatened to leave in the mid-1980s with the University of Southern California in hot pursuit, but Iowa met his demand by building an indoor practice facility known as the Bubble.
Ferentz nearly left after the 2002 season to coach the NFL's Jacksonville Jaguars, while some other colleges, including Penn State and Michigan, have reportedly tried to hire him.
But just like his predecessor and former boss, Ferentz has withstood the temptation to leave Iowa.
He and Fry, who passed away in 2019, had no intention of making Iowa a stepping-stone job because for them, the job provided everything they needed personally and professionally, although, the weather leaves something to be desired.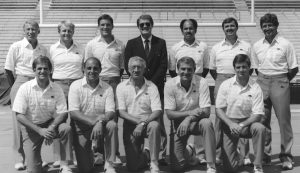 A person doesn't stay in one place for two decades without feeling happy and fulfilled.
Both sides deserve praise; Iowa for how it has treated Ferentz, and for how it treated Fry, and Ferentz and Fry for being loyal and for being good at their job.
This incredible story wouldn't have happened without both head coaches winning enough games to stay the course.
Iowa finished with a losing record in Fry's first two seasons as head coach, while Ferentz lost 18 of his first 20 games as the Iowa head coach.
But they both ultimately met the challenge and have set a standard for loyalty and coaching continuity that we might never see again.
Number of Big Ten head football coaches since 1979
Iowa – 2
Penn State – 3
Ohio State – 5
Michigan – 6
Nebraska – 6
Northwestern- 6
Wisconsin – 7
Michigan State – 8
Purdue – 8
Maryland – 8
Rutgers – 8
Illinois – 9
Indiana – 9
Minnesota – 9