By Pat Harty
IOWA CITY, Iowa – For the past two decades, Brad Banks' incredible one-year ascent from backup quarterback to 2002 Heisman Trophy runner-up has ranked in my opinion as the greatest, and the most improbable, individual success story in all my years of covering Hawkeye athletics.
And that's saying a lot, considering the list of candidates from which to choose in multiple sports.
Just in football alone, the list of candidates is long and distinguished; Bob Sanders, Dallas Clark and Tyler Linderbaum just to name a few.
But it's hard to top Banks' sudden and improbable rise to stardom, although, that could be on the verge of changing due to the incredible rise of Iowa sophomore forward Keegan Murray, who is the only player in the country averaging at least 23 points and eight rebounds per game heading into Thursday's game against Michigan.
Keegan Murray has gone from being a key reserve last season to an almost certain All-America selection this season. He is also one of the leading candidates for Big Ten Player of the Year, but that could depend on where Iowa finishes in the conference standings.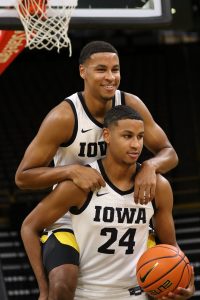 Keegan Murray's story gets even better when you factor in that his father is former Iowa basketball player Kenyon Murray, and that his twin brother, Kris Murray, is also a sophomore forward for Iowa and the team's fourth leading scorer and third leading rebounder.
This is a story about perseverance, commitment and defying the odds, which the Murray twins have been doing since graduating from Cedar Rapids Prairie High in 2019.
Their decision after high school to attend a prep school in Florida for one year at the encouragement of Iowa coach Fran McCaffery was a life-changing event for both brothers as they both would go on to earn a scholarship to Iowa.
Keegan Murray is now one the best players in the country, and the most versatile player in the Big Ten according to Nebraska coach Fred Hoiberg, and is considered a potential NBA lottery pick, while Kris Murray is emerging as an impact player.
Keegan Murray is coming off a week in which averaged 33.5 points per game in lopsided wins over Maryland and Nebraska.
And he made it look so easy, the way in which he scored at all three levels, and the way in which he glided up and down the court and scored in transition.
He struggled early on offense against Nebraska, but he stayed with it and eventually took over the game, scoring 24 of his career-high 37 points in the first half. There was one stretch in the first half in which Keegan Murray scored 10 consecutive points.
"You know what was great about that, he missed his first couple and he looked like he was not quite in rhythm," Fran McCaffery said. "And that's the great thing about him, it doesn't matter. He just keeps going and dominates the game.
"He steals it. He blocks it. He hits threes. Pick-and-pop, pick-and-roll, offensive rebounds, tip-ins, take it coast to coast. There is just so many ways he can hurt you."
In less than three years, Keegan Murray has gone from only have one scholarship offer from Western Illinois coming out of high school to a potential lottery pick.
Keegan Murray and his twin brother both listened to Fran McCaffery's advice about attending prep school for one year, and now all three of them are reaping the benefits.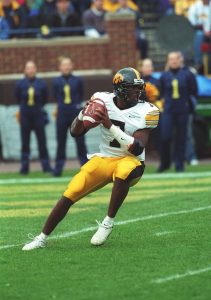 Some might wonder why I would consider Keegan Murray's story to be more spectacular, and more improbable, than Luka Garza's story as a Hawkeye, and that's a fair question.
Keegan Murray gets the nod, because unlike Garza, he wasn't a coveted recruit coming out of high school.
Garza was a four-star recruit and had multiple Power 5 scholarship offers from schools that included Indiana, Notre Dame, Virginia Tech, Louisville, Georgia, Georgetown, Nebraska, Penn State, Northwestern, Pittsburgh and South Carolina among others.
Garza also started for four seasons at Iowa and averaged in double figures in scoring in all four seasons.
The story of Bob Sanders also ranks near the top for obvious reasons, including the fact that Ohio was the only other school besides Iowa to offer him a scholarship to play college football.
But Sanders was a force as a bone-jarring safety from the moment he put on a Hawkeye uniform and he just kept getting better over four seasons. He made first-team All-Big Ten as a sophomore, junior and senior.
Keegan Murray, on the other hand, attended prep school for one year because he didn't have any better options, played as a reserve his freshman season at Iowa and now is having one of the greatest individual seasons in program history, and for a team that has won three games in a row and is 17-7 overall and 7-6 in the Big Ten.
Stardom didn't come right away for Keegan Murray, but it has come suddenly, and in spectacular fashion, this season.
There was no way to have seen it coming, much like with Banks in 2002.
It almost defies logic the way in which Keegan Murray has ascended to stardom.
One advantage that Banks had  in 2002 was that Iowa finished undefeated in the Big Ten and 11-2 overall that season. He was the leader of one of the greatest offenses in school history, while Keegan Murray is the leader for an Iowa team that is fighting and scrapping to make the NCAA Tournament.
The one-year rise of running back Shonn Greene in 2008 also ranks among the best individual stories I've covered, but Greene was recruited far more heavily than Keegan Murray was in high school.
Defensive back Josh Jackson also made a miraculous ascent in 2017 from being a reserve defensive back the season before to a consensus All-America selection. A case could be made for Jackson's rise being as improbable as any other.
And, of course, Caitlin Clark's story is truly spectacular and she is well on her way to becoming the greatest player in the history of the Iowa women's basketball program, and one of the greatest in Big Ten history.
But Clark was also a five-star recruit coming out of West Des Moines Dowling, and most figured she was destined for stardom.
Nobody had Keegan Murray destined for stardom when he graduated from high school, or when he finished prep school.
His rise shows that anything is possible with hard work, patience, perseverance and persistence.
It also helps to have talent, and to be lucky, and to have good blood lines because who knows where Keegan Murray would be if he hadn't grown to 6-foot-8 and filled out to 225 pounds.
His father was a multi-year starter for Iowa from 1992-96 and a force on defense as a 6-5 small forward.
Kenyon Murray was also a McDonald's All-American in high school, and the Michigan Player of the Year, and he picked Iowa over a long and distinguished list of schools that included Michigan, Kentucky and UCLA.
Keegan Murray, on the other hand, picked Iowa, but only after having shown in prep school that he deserved a scholarship offer.
He and his twin brother took it upon themselves to attend prep school for one with the hope of earning a scholarship to Iowa.
Their success and their determination shows that it doesn't matter how a person gets to college.
What matters is how a person faces adversity and rejection, and how much a person is willing to sacrifice to achieve a goal.
Keegan Murray's path to stardom hasn't been easy, even though he sometimes makes it look easy on the court.