By Pat Harty
IOWA CITY, Iowa – Imagine if somebody back in the fall of 2019 had predicted that on Feb. 22, 2022, Luka Garza would have his jersey No. 55 formally retired and that Keegan Murray would be the nation's third leading scorer heading into a game against Michigan State.
That person would've had a hard time convincing anybody except for maybe Luka Garza and his father because the odds of those two things happening would've seemed slim to none in 2019.
Garza was entering his third season as Iowa's starting center, and while he had played well as a freshman and sophomore, averaging double figures in points in both seasons, there still wasn't much reason to be believe that he was on the verge of becoming arguably the greatest player in program history and Iowa's all-time leading scorer.
Keegan Murray was beginning his first year at a prep school in Florida in the fall of 2019 with the hope of proving to Iowa coach Fran McCaffery that he and his twin brother, Kris Murray, were worthy of a scholarship offer.
He and his twin brother both accomplished that goal, and now the 6-foot-8 Keegan Murray is considered a potential lottery pick just two years later, while Kris Murray is showing signs of star potential.
Garza and Keegan Murray both have defied the odds and now the recent past and the present will be on display and celebrated together on Tuesday.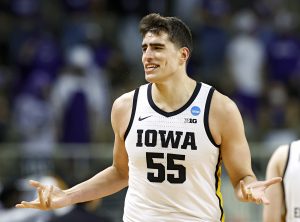 Garza's No. 55 will be retired at halftime of Tuesday's game versus Michigan State. The UI athletics department will also be retiring the jerseys of former Hawkeye greats Charles "Chuck" Darling, Roy Marble and Murray Wier prior to the game.
Iowa has won four its last five games and is now ranked for the first time this season in the Associated Press poll at No. 25.
Michigan State, on the other hand, has lost four of its last five games under legendary head coach Tom Izzo.
But the Spartans still are dangerous, while Izzo is one of the most successful head coaches in Big Ten history.
"They have a lot of similarities to all of Tom's teams," Fran McCaffery said. "They compete. They defend. They're physical. They're deep. They move the ball. They push the ball. A lot of things that they've consistently done well for a very long period of time."
Garza's presence should serve as inspiration for his former Hawkeye teammates.
His success at Iowa, coupled with his work ethic and team-first mentality made him popular with both his teammates and fans.
"He's an inspiration just to see what he had to tgo hrough to get here," said junior point guard Joe Toussaint. "He's not the fastest. He's not the tallest, not the most skilled. He just works hard, and he inspired me.
"I work hard and come in here and work on my game every single day. And he was a person who inspired me to do that, even if he wasn't talking to me. Seeing how hard he worked, I just added that to my life and I want the same thing for myself."
Keegan Murray's path to success is different than what Garza traveled as a former four-star recruit who had multiple scholarship offers coming out of high school in Washington D.C.
Keegan Murray only had one scholarship offer from Western Illinois coming out of Cedar Rapids Prairie High School in 2019.
That's why he and his twin brother both took Fran McCaffery's advice to attend prep school for one year.
The atmosphere should be electric inside Carver-Hawkeye Arena on Tuesday, even if there are some empty seats.
Garza didn't have the chance to play in front of fans as a senior last season due to Covid-19 health and safety protocols.
One of the greatest individual seasons in program history was played before mostly empty arenas, and that was unfortunate.
But now fans will have a chance to pay their respects to a Hawkeye legend at halftime of Tuesday's game, while cheering on a Hawkeye legend in the making during the game.
It's the kind of circumstance Hawkeye fans might never see again.
All four of Roy Marble's children, including former Iowa All-Big Ten guard Devyn Marble, will attend Tuesday's game to honor one of the greatest players in program history, who sadly, passed away from cancer in 2015 at the age of just 48.
"Devyn is one of my favorite players I've ever coached," Fran McCaffery said. "Very close with him. He was in my first technically recruiting class. I didn't sign him but I had to re-recruit him a couple times. He was a star pretty much from midway point of his freshman year on.
"But Roy was one of the first people I reached out to when I got to town. He was a good friend of mine and a big-time supporter of me when I got here. We remained very close right up until the time he passed. He was great with Devyn, he was great with my boys who were younger at the time. He was a basketball person. He was everywhere in the community when it came to basketball, and he would pull my guys aside, Connor and Patrick, and talk to them about the game and things like that.
"I always appreciated that about him. He had a great way about him, and he deserves to be up there in the rafters."
Michigan State vs. Iowa
When: Tuesday, 6 p.m.
Where: Carver-Hawkeye Arena
TV: ESPN
Radio: Hawkeye Radio Network
Records: Michigan State is 18-8 overall and 9-6 in the Big Ten. Iowa is 18-8 and 8-7.
All-time series: Michigan State holds a 76-57 edge over Iowa in the series. The Hawkeyes swept the Spartans last season, winning in Iowa City (84-78) and East Lansing (88-58). It was just their second regular season sweep over Michigan State since the 1993-94 season (2015-16). The Spartans have won 14 of the last 19 overall meetings, dating back to 2011. Iowa holds a 36-26 advantage in games played against Michigan State in Iowa City. The teams have split the last six meetings in Carver-Hawkeye Arena, with the Hawkeyes winning the last two (2020 and 2021). Michigan State, in 1983, won the first basketball game ever played in Carver-Hawkeye Arena (61-59). The Hawkeyes returned the favor in East Lansing, 75-57.