By Pat Harty
IOWA CITY, Iowa – The Iowa men's basketball team has shown that it can perform well on defense, and even win games behind its defense, as was the case against Ohio State this past Saturday in Columbus, Ohio
Iowa held the then-18th-ranked Buckeyes to 24 points in the second half and prevailed 75-62 for its fourth win in the last five games.
It was the latest case in which Iowa suddenly picked up the intensity on defense and went from being shredded in the first half to being dominant on that end of the floor in the second half.
This team could end up being one of Fran McCaffery's best defensive teams at Iowa, which isn't saying a lot, but is saying something.
Fran McCaffery is considered more of an offensive coach, and the numbers would suggest that as Iowa consistently ranks at or near the top of the Big Ten in scoring.
He gives his players the freedom to shoot, and he likes to push the pace on offense.
Scoring points hasn't been the problem under Fran McCaffery, stopping other teams from scoring has been the problem.
There have been times when Fran McCaffery just hasn't had enough quality defenders, or he's had so much offensive firepower that he was willing to sacrifice just a little on defense.
His current team, however, is different.
With players such as point guards Joe Toussaint and Ahron Ulis, and shooting guards Tony Perkins and Connor McCaffery, and the Murray twins at the forward positions, Iowa has players who can defend.
Toussaint is one of the quickest players in the Big Ten and excels at the defending the point of attack.
Perkins is also athletic and uses his length as a 6-foot-4 shooting guard to clog passing lanes and to disrupt a shooter's rhythm.
The next step is becoming more consistent because there still are times when Iowa reverts to the team that is satisfied with winning in spite of its defense.
Iowa is 4-1 since Jordan Bohannon moved from shooting guard to point guard, or you could say Iowa is 4-1 since Toussaint started coming off the bench.
Toussaint has handled losing his starting position with class and with maturity, and his presence gives Iowa an edge on defense that seems even more apparent with him coming off the bench.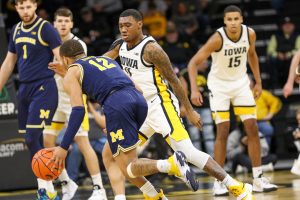 Nobody is ready to anoint Iowa as an emerging force on defense, but the second half against Ohio State showed what Toussaint and his cohort are capable of on that end of the floor.
"Just looking at ourselves in the mirror and saying we're going to get some stops, we're going to be the tougher team," Toussaint said Monday when asked about the improvements on defense. "In the beginning, we all said we were a better defensive team, but we really didn't show it.
"But now I just feel like everybody is taking pride and guarding their own yard and helping each other out."
That's exactly what happened in the second half against Ohio State and it's also what Iowa will have to do against Michigan State on Tuesday.
The Spartans are struggling with four losses in their last five games, but they are fully capable of winning if Iowa doesn't bring the intensity on defense.
Michigan State head coach Tom Izzo praised Iowa on Monday for leading the conference in scoring, which has been typical under Fran McCaffery. But Izzo also mentioned Iowa's defense.
"They've been better defensively than maybe some of the Iowa teams, and they're the league-leading scoring offense," Izzo said.
Sophomore forward Keegan Murray gets most of his praise for what he produces on offense, and deservedly so, as the nation's third leading scorer.
But Keegan Murray at 6-8 is also a versatile defender who works hard on defense, and who cares about defense.
That's a big part of playing good defense, caring about it and taking pride in getting stops.
Of course, it's fun to score points and to see the ball go in the basket.
But it also can be fun keeping other teams from scoring points, and this Iowa team is starting to show signs that it is serious about playing defense.
That was the narrative at Iowa's annual media day event back in October, but then sort of got lost in translation once the season started.
Iowa is well on its way to making the NCAA Tournament, but how far it advances in postseason will depend perhaps on defense more than anything else.