By Pat Harty
IOWA CITY, Iowa – On a night when Hawkeye greatness from the recent and distant past was honored, the current Hawkeyes continued to surge in the right direction.
Sophomore forward Keegan Murray was sensational yet again, scoring 28 points, and his supporting cast did its part as No. 25 Iowa led Michigan State almost from start to finish while cruising to a 86-60 victory on Tuesday at Carver-Hawkeye Arena.
Iowa (19-7, 9-7 Big Ten) has now won five of its last six games, while Michigan State has lost five of its last six games.
Iowa is peaking at the right time with just four games left in the regular season, and the fans showed their appreciation by nearly packing the area on Tuesday despite the less-than-desirable weather conditions,
One of the most incredible things about Tuesday's game is that it never felt as if Iowa's double-digit lead in the second half was in jeopardy.
Keegan Murray and his cohorts had an answer for everything that Michigan State tried to do on both ends of the floor.
Iowa was clearly the better team on Tuesday, and the team headed in the right direction with a game at Nebraska up next on Friday, while Michigan State is the unusual position of searching for answers under legendary head coach Tom Izzo.
Tuesday's lopsided score probably said a lot about how each team is playing right now.
It also was the prefect way to pay tribute to former Iowa All-America center Luka Garza, whose No. 55 was formally retired during halftime of Tuesday's game.
Iowa also retired the jerseys of former Hawkeye stars Charles Darling, Murray Weir and and Roy Marble.
"It felt more like an ambush," Izzo said. "I thought the place was hopping. When you retire a jersey of a guy who's given so much to this program, and more than one. I have a lot of respect for the guys, Marble, everybody that got their jersey retired.
"I thought the players and the fans both did an unbelievable job of rallying to that."
Izzo had extremely high praise for Iowa's current star player Keegan Murray, who made 10-f-15 field-goal attempts and 6-of-7 free throws.
"You got to give Keegan Murray credit, I thought a couple of his first several shots I thought were decently defended," Izzo said. "He was unbelievable, as good as any player as I've seen in this league for a while."
Izzo wasn't finished with his praise for Iowa as he also spoke highly of Fran McCaffery's coaching performance.
"When you start talking about player of the year, and you start talking about coach of the year, I think it might reside in Iowa City," Izzo said.
"I thought Fran did a great job with his team. He just keeps reeling people in there and they do a good job of just keeping the pressure on you."
After scoring 20 points in the first half against Ohio State last Thursday in Columbus, Keegan Murray followed that up with 18 points in the first half against Michigan State on Tuesday.
It was the kind of stat-sheet stuffing performance that Iowa fans have become accustomed to seeing from Keegan Murray, and it was similar from a statistical standpoint to what Luka Garza often did as a Hawkeye.
So, it was appropriate that Garza was seated at courtside for Tuesday's game, along with former Iowa All-Big Ten guard Devyn Marble, who is the son of Roy Marble.
Keegan Murray looked at the two former Hawkeye stars after making a basket and drawing a foul and then flexed and nodded his head almost as if to say that he did it for them.
"I just felt like that was kind of a momentum-changing play," Keegan Murray said. "And I knew where Luka was sitting an just seeing him back at Carver is just real good to see. I just gave him a little head nod because he's a show-boater, too. He flexes and stuff like that, so I just kind of wanted to  resemble him a little bit."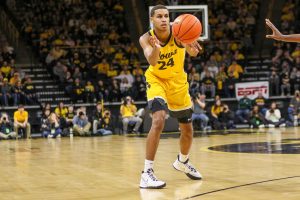 Iowa fans were already in a good mood when the first half ended with Iowa leading 46-32 at the break, and it created the perfect atmosphere for the halftime ceremony in which Garza's No. 55 was formally retired.
Garza told the fans that he loved them and some of the fans yelled the same thing back to him as he addressed the crowd at halftime.
But then Michigan State scored the first four points in the second half and that caused Fran McCaffery to call a timeout barely one minute in the half in which he appeared to tear into his players.
Fran McCaffery's timeout tirades have often had a positive effect and that was the case again on Tuesday as Iowa expanded its lead t0 61-44 when Jordan Bohannon made his second consecutive 3-point basket with 12:55 left to play.
That caused Michigan State coach Tom Izzo to call a timeout, but it had little effect as Iowa continued to have it way on this special night.
Iowa led by as many as 32 points in the second half, and the timeout in which Fran McCaffery yelled at his players was the final turning point.
"I thought we were a little casual," Fran McCaffery said of his message during the timeout. "We tried to run a set and it didn't work. And then we didn't have a great possession and then they were in transition and I wanted them to refocus.
"(The lead) was still 10 and when it's 14 you want to go to 20. You don't want to go from 14 to five. And I though we really locked up defensively after that."
Keegan Murray's twin brother< Kris Murray, helped Iowa pull away in the second half by scoring all 11 of his points in the final 20 minutes. He and Bohannon each led Iowa with three 3-point baskets.