By Pat Harty
IOWA CITY, Iowa – Heading into this season, I felt that the Iowa men's basketball team was far from being considered a lock to make the NCAA Tournament.
In fact, I only gave Iowa about a 20 to 30 percent chance of making the NCAA Tournament because there were just too many uncertainties and concerns about the roster.
Luka Garza was gone, as was Joe Wieskamp, C.J. Fredrick and Jack Nunge.
That left Fran McCaffery with having to replace the national player of the year and Iowa's all-time leading scorer, a two-time All-Big Ten selection, a deadly 3-point shooter and a versatile frontline player.
It just seemed like too much firepower would be missing for Iowa to consistently play at the level that it would take to make the Big Dance.
As it turns out, I was wrong.
Iowa has all but clinched an NCAA Tournament spot with records of 19-8 overall and 9-7 in the Big Ten.
Even though it's not supposed to matter how a team finishes over its final 10 regular season games under the new setup with NET rankings and quad wins, it still matters.
No. 25 Iowa pounded Michigan State 86-60 on Tuesday at Carver-Hawkeye Arena for its fifth win in the last six games.
Up next are two games that Iowa should win against Nebraska on Friday in Lincoln, Nebraska and at home against Northwestern next Monday in the home finale.
Iowa will then close the regular season with road games at Michigan on March 3 and at Illinois on March 6.
It is widely believed that Iowa would make the NCAA Tournament with a 10-10 conference record, so all that would take right now is winning one of the final four regular-season games to have that record.
And while losing three of the last four regular-season games isn't how a team would want to enter the postseason, that scenario just shows how strong Iowa's postseason resume is right now.
Iowa is headed to the NCAA Tournament for the sixth time under Fran McCaffery. It's just a matter of determining under what circumstances.
Credit goes to a lot of people, but it starts with the person in charge, and that's Fran McCaffery.
It could be argued that this has been McCaffery's best season-long performance as the Iowa head coach with the way he has molded, shaped and guided a new-look roster, while also helping to produce another superstar in sophomore forward Keegan Murray.
Michigan State head coach Tom Izzo is certainly impressed with how Fran McCaffery and Keegan Murray both have performed as head coach and star player.
"You start talking about players of the year and you start talking about coach of the year, I think it might reside in Iowa City here," Izzo said during his post-game press conference. "I thought Fran did a great job with his team. He just keeps reeling people in there and they do a good job of just keeping the pressure on you."
One of the biggest duties for a head coach is to build the right chemistry and environment in which to succeed and that happens by getting the players to accept their roles.
Fran McCaffery has excelled in that area this season as Izzo pointed out with how Iowa's guards work so well together for a common goal.
"Their pushing of the ball with those multiple guards, they just bring in guard after guard," Izzo said. "Those guards are playing 10 and 15 minutes, I've got to find out how he keeps them happy because those sub-guards might be the MVP of the team because they do their job and they do it very well."
The sub-guards to whom Izzo was referring are point guards Joe Toussaint and Ahron Ulis, and shooting guards Connor McCaffery and Payton Sandfort.
None of them are double-figure scorers, and their playing time often is determined by matchups and by who is playing well at a certain time, either on offense or defense.
Fran McCaffery has confidence in all six of his guards and he doesn't hesitate to use one over another if he feels that is what's best for the team.
"I've been really impressed with those guys," Fran McCaffery said. "Whichever one of those guys I put in produces. And they play with energy, and they play with intelligence. They execute. They defend. They rebound their position."
Connor McCaffery started in each of the past two seasons, and he played substantial minutes.
But now Fran McCaffery's oldest child comes off the bench and has seen his minutes cut significantly as a fifth-year senior.
Connor has accepted that role because he trusts that his father is doing what he believes is best for the team.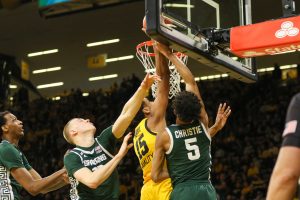 Fran McCaffery's decision to move sixth-year senior Jordan Bohannon back to point guard after having started the first 21 games at shooting guard, and to make sophomore Tony Perkins the starting shooting guard, is now paying huge dividends, considering Iowa is 5-1 since the switches were made.
Bohannon seems more comfortable at point guard, and he also seems to get more open looks from 3-point range while playing on the point.
Bohannon is the worst defender amongst all the guards, and opponents know how to exploit his lack of size and quickness.
But he is also Iowa's best perimeter shooter, and the one guard on the team, besides Sandfort, that defenses always have to account for on the perimeter.
Michigan State let Bohannon get loose and he made two 3-point baskets in the second half that helped to seal the outcome.
Bohannon's presence on the court helps to space the floor, and helps to create more room for Keegan Murray, and for the other frontline players to operate.
Fran McCaffery has excelled with his substitutions and with how he has handled matchups on a game-by-game basis.
There have been situations this season in which Fran McCaffery has based playing time on who is performing the best on defense at that moment.
Fran McCaffery is a master of living in the moment, and even though he has a tendency to lose his temper, especially during timeouts, he is even-keel when it comes to handling the Big Ten grind.
He doesn't get too high after big wins or too low after costly defeats. He just moves forward and keeps working, much like Iowa football coach Kirk Ferentz.
The Iowa players are also unselfish and well-connected on the court.
Defense has been a problem at times this season, but not lately.
They players all seem locked in and engaged, and they all seem happy for each other's success, even the reserve guards whose minutes are limited.
Fran McCaffery was asked why are they happy?
"I hope they're happy," he said. "Ask them. I think everybody that contributes to a team that is having success should be happy. All those guys are doing amazing things. They're buying in. And I think most importantly, they support the guys that are on the floor. If they're put of the game, they're up screaming and yelling for the guys on the court. During timeouts they're supporting each other, hugging each other and high-fiving each other.
"That's great to see as a coach."
Fran McCaffery probably never would say it, but it's also great coaching.
Whether it will be enough to make McCaffery the Big Ten Coach of the Year remains to be seen.
Matt Painter has Purdue ranked among the best teams in the country, while Greg Gard and Steve Pickiell have Wisconsin and Rutgers, respectively, playing at a high level.
But for Fran McCaffery just to be in the discussion after having to replace so many key players from last season is a worthy accomplishment that deserves praise.