By Hawkeyesports.com
IOWA CITY, Iowa — The Carver Circle Campaign, undertaken to build a world-class wrestling training facility adjacent to Carver-Hawkeye Arena for both Iowa men's and women's wrestling programs, recently eclipsed the $25 million fundraising mark.
Tom Brands (92BS), who has led the University of Iowa men's wrestling team to four national championships and five Big Ten Conference titles as head coach, says that the Iowa wrestling community has delivered to help keep Iowa at the top of the podium. The Carver Circle campaign has been fueled entirely by support from wrestling fans, friends, and alumni.
"This facility is a very important piece of Iowa athletics' future, and we are doing it right," says Brands, whose Hawkeyes won the 2021 Big Ten and NCAA championships. "The support for Iowa wrestling is at an all-time high. Our fans are the best fans in the world. Our donors are the best donors in the world. They stepped up, and because of them, we have momentum for building the best training facility in the world."
Today, the Board of Regents, State of Iowa, provided approval to proceed with next steps on the Iowa wrestling training facility.
Construction on the $26.5 million facility is estimated to begin in June 2022. This new 38,500-square-foot training complex next to Carver-Hawkeye Arena—with a tunnel connecting the two facilities—will nearly double the amount of training space for Iowa wrestlers and establish a street-level hall of champions that will properly display the success of Iowa wrestlers of past, present, and future. Iowa's wrestling teams have practiced in Carver-Hawkeye Arena since its opening in 1983.
Since launching the Carver Circle campaign nearly two years ago, a total of 225 donors have given more than $25 million for this new facility.
"The Carver Circle campaign has shown the wrestling world just how dedicated and passionate Iowa wrestling fans are," says Gary Barta, the Henry B. and Patricia B. Tippie Director of Athletics Chair. "We want our student-athletes to be successful in competition, in the classroom, and beyond, and this new facility—with support from so many wrestling fans, friends, and alumni—will honor past successes and allow our men's and women's wrestling teams to build on that championship tradition."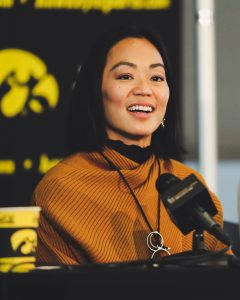 Iowa men's wrestling is one of the most storied programs in all of NCAA athletics—claiming 24 national championships in the past 46 years. Completion of this new facility will provide Iowa's wrestling teams with the resources needed to continue to be a national—and international—leader in wrestling and will strengthen recruiting efforts for both the Iowa men's and newly created women's program.
For Clarissa Chun, Iowa's new women's wrestling coach, she knows this facility will be beneficial as she assembles her first team and works to establish Iowa women's wrestling as the dominant program in Division I athletics.
"Iowa is the crown jewel of wrestling, and I can't wait to have a team assembled and practicing in a facility that matches the championship-caliber expectations that we have here at Iowa," says Chun, who is the first Power 5 women's wrestling coach. "This facility will give our student-athletes all the tools they need to work for and earn titles at all levels."