By Hawkeyesports.com
CORPUS CHRISTI, Texas – Redshirt sophomore Adam Mazur tossed 7 2/3 shutout innings to lead the University of Iowa baseball team to a 3-1 victory over Pepperdine in the opening game of the Kleberg Bank Classic on Friday at Whataburger Field.
The win moves the Hawkeyes to 4-0 for the first time since 2018.
Mazur notched his second straight quality start to improve to 2-0 this season. The right-hander allowed just three hits over 7 2/3 innings, while tying a season high with nine strikeouts against two walks. Mazur, who retired 10 straight during the contest, has allowed one run on four hits over 13 2/3 innings with 18 strikeouts.
"I am happy with how we played," said head coach Rick Heller. "Adam went out and gave us a great start, he filled up the strike zone, which is what you need to do on a cold, wind blowing in day."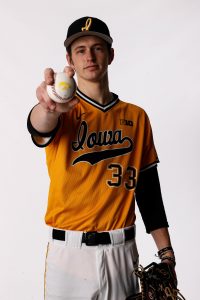 Senior Dylan Nedved got the final four outs en route to recording his second save in as many games.
Offensively, Iowa finished with nine hits, including a three-hit day from sophomore Michael Seegers. The Wisconsin native finished with two singles and drove in two of the team's three runs.
"Our guys were really dialed in and disciplined," said Heller. "We didn't chase Llewellyn's slider many times, and he has a good one. That was a big key and we grinded out some at-bats."
The Hawkeyes got things going in the bottom of the third. Redshirt sophomore Kyle Huckstorf had a one-out walk, stole second and scored on Seegers' RBI single through the left side.
Iowa added insurance runs in the sixth and seventh innings. Peyton Williams hustled for a one-out double and after a a walk and a wild pitch, Tyler Snep's RBI single made it 2-0. In the seventh, Huckstorf tripled to right center with two outs and Seegers made it 3-0 with an RBI single up the middle.
Pepperdine made things interesting in the ninth after Nedved plunked and walked the first two batters of the inning. After the Waves pushed one run across the plate, Pepperdine brough the go ahead run to the plate, but Nedved battled back, fanning the final two batters to secure the save.
"When Dylan came in, he was sharp for one out in the eighth and then struggled with his command and got into a pretty good jam against a team that scored a bunch in the ninth to beat No. 21 UCLA on Tuesday," said Heller. "Like Dylan normally does, he settled down and got us out of the inning."
OF NOTE…
– Iowa had a 1-hitter in game one, a two-hitter in game two, a three-hitter in game three and a four-hitter today, in game four.
– The Hawkeyes finished with 11 strikeouts in the game, their fourth straight game with 10 or more punch outs. The 11 Ks are a season low, and the team's three walks are a season low.
– Seegers' three hit game tied a career high and it was his second three-hit game this season. The two RBIs are a career high.
– Huckstorf had the team's first triple of the season.
– Redshirt freshman Keaton Anthony recorded his second multi-hit game of the season, finishing 2-for-3.
– Iowa did not commit an error for the third straight game.
UP NEXT
The Hawkeyes return to action Saturday, facing Texas A&M Corpus Christi at 4 p.m. (CT) at Whataburger Field. The start time was moved up two hours due to the projected weather forecast.