Pat Harty
IOWA CITY, Iowa – Keegan Murray was a high school sophomore when Jordan Bohannon joined the Iowa men's basketball team in the fall of 2016.
However, oddly enough, they both will almost certainly play in their final game at Carver-Hawkeye Arena on Monday against Northwestern.
In Bohannon's case, it's official.
His sixth season as a Hawkeye will be his last, while Keegan Murray hasn't made it official, but there would seem to be no chance of him returning for his junior season.
Why would he under the circumstances?
Keegan Murray is considered a potential lottery pick in the 2022 NBA draft as a 6-foot-8 sophomore forward, which means he's just a few months from becoming a multi-millionaire.
He will have spent only two years as a Hawkeye, but what a ride it's been, from top reserve as a freshman last season to one of the best players in the country this season.
Unfortunately, for Hawkeye fans, Keegan Murray wasn't meant for Senior Day.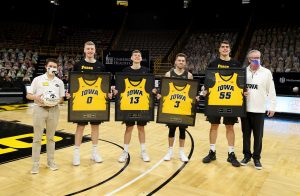 Instead, he will join with his teammates on Monday in honoring Bohannon and senior guards Connor McCaffery and Austin Ash as they all play in what will likely be their final game at Carver-Hawkeye Arena.
It will mark the second Senior Day ceremony for both Bohannon and Ash as they both took advantage of the free Covid year to play another season.
Between the three of them, they have a combined 16 years in the program with Connor McCaffery and Ash both fifth-year seniors.
And though Connor McCaffery still hasn't decided if will use the extra year of eligibility that is available to him, he will participate in the Senior Day ceremony with Bohannon and Ash.
Connor McCaffery, who is the son of Iowa coach Fran McCaffery, has played exceptionally well down the stretch after having struggled as a shooter for much of the season.
He had surgery on both of his hips during the summer and it took him a while to get fully healthy.
Bohannon also has had surgery on both of his hips during his extended stay at Iowa.
"Those surgeries are painful and the rehab is extensive," Fran McCaffery said Sunday. "It takes tremendous commitment to want to get back to doing what you love to do, but to be able to do it at the highest level. Because if you shortcut it, you're not going to be successful when you get back on the court, you're not going to be able to physically do it.
"To watch them both kind of endure and come out the other end successfully, this I think speaks to their character."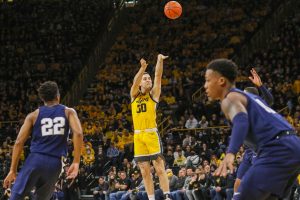 Bohannon will leave Iowa as the most statistically accomplished point guard in program history.
The Marion native is the NCAA's all-time leader in games played at 171. He is the Big Ten's leader in career 3-point field goals with 431. He is Iowa's career leader in assists (687) and free throw percentage (. 887). He has scored 1,938 points, which ranks third behind Luka Garza and Roy Marble on Iowa's career list.
Bohannon and Connor McCaffery have been a part of 118 and 99 wins, respectively, at Iowa.
"Whether I come back or not, it's been an incredible ride," Connor McCaffery said earlier in the season. "I've made friends for life and have been a part of some great wins and some greats moments."
Connor McCaffery and Bohannon both have played key roles for an Iowa team that has won six of its last seven games, and that is now considered a lock to make the NCAA Tournament.
Nobody has played a bigger role, though, than Keegan Murray.
The son of former Iowa basketball player Kenyon Murray is fourth in the country in points per game (23.2); 30th in field goal percentage (.561); 43rd in blocks per contest (2.0); and 59th in double-doubles(7).
Murray is also  a four-time Big Ten Player of the Week honoree and isselected to the Wooden Award Late-Season Top 20 List, Naismith Trophy Midseason Team, Lute Olson National Player of the Year Watch List, and Karl Malone Power Forward of the Year semifinalist.
Following Monday's game, Iowa will hit the road for its final two regular-season games at Michigan next Thursday and at Illinois next Sunday.
Northwestern vs. Iowa
When: Monday, 7:01 p.m.
Where: Carver-Hawkeye Arena
TV: Big Ten Network
Radio: Hawkeye Radio Network
Records: Northwestern is 13-14 overall and 6-12 in the Big Ten. No. 25 Iowa is 20-8 and 10-7.
All-time series: Iowa holds a commanding 121-60 advantage over Northwestern in the series. The Hawkeyes have won 13 of the last 16 meetings, including six straight. Iowa holds a dominate 70-18 advantage in games played in Iowa City, including a 30-4
record in Carver-Hawkeye Arena.
The Hawkeyes have won the last seven contests played  against the Wildcats in Iowa City, dating back to 2013. Iowa's 30 wins over Northwestern in Carver-Hawkeye Arena are the most over any opponent.