By Pat Harty
This one will hurt, but only for a while because now comes the coveted postseason where a team has a chance to truly define itself.
On the verge of earning a double bye in the Big Ten Tournament and ruining Illinois' Senior Day, the surging Iowa men's basketball team missed a bunch of free throws down the stretch, and sophomore forward Kris Murray missed a potential game-winning 3-pointer in the final seconds that allowed Illinois to escape with a 74-72 victory Sunday in Champaign, Illinois.
No. 24 Iowa led by as many as 15 points, but couldn't close the deal in the final game of the regular season.
And now as a result, Iowa (22-9, 12-8 Big Ten) will be a five seed in the Big Ten Tournament instead of a four seed and will play on Thursday against either Nebraska or Northwestern instead of on Friday in Indianapolis.
It'll also take four victories to win the conference tournament as a five-seed, whereas it would've taken just three wins as a four-seed.
So, this defeat was costly for Iowa, which had won eight of its previous nine games.
The game was also there for the taking as Iowa led for much of it, including by double figures for long stretches.
Illinois also had a lot riding on Sunday's game as it tied Wisconsin for the Big Ten regular-season title with the victory.
That seemed a long shot heading into Sunday's Big Ten games, but then Nebraska upset Wisconsin in Madison, creating an opportunity for Illinois to share the Big Ten regular-season title with the Badgers with a win over Iowa.
No. 20 Illinois seized the opportunity, while Iowa unraveled at the free throw line down the stretch.
Kris Murray missed three consecutive free throws with Iowa trailing by two points late in Sunday's game, and then his twin brother, Keegan Murray, missed two of three free throws shortly thereafter.
The missed free throws were too much to overcome, but as much as it hurt to lose Sunday's game, it'll be quickly forgotten if Iowa can make a run in the postseason, especially in the NCAA Tournament.
"It hurts when we miss our free throws. Normally we're a really good free throw shooting team," said Fran McCaffery "We missed a ton coming down the stretch. We were doing what we needed to do to manage the clock and get to the free throw line. Stop the clock, whether we were offense or defense, those guys executed to perfection. Really proud of that. We've got a lot of hoop left in this group. Love this team. Really proud of these guys."
Even if Iowa makes an early exit from the the Big Ten Tournament, that would also be forgotten if Iowa goes on to make the NCAA Tournament Sweet 16 for the first time since 1999.
Fair or not, what happens in the NCAA Tournament will ultimately define this Iowa team.
A third Big Ten Tournament title would certainly be a worthy accomplishment and seems within reach given how well Iowa is playing right now.
But it would lose some of its glow should Iowa lose in the first- or second-round of the NCAA Tournament.
It's long overdue for Iowa to make the Sweet 16, and Fran McCaffery has a team that seems capable of doing it.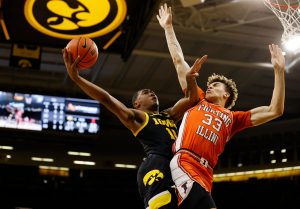 Illinois kept Iowa sixth-year senior guard Jordan Bohannon from being a factor on offense in Sunday's game, and when Iowa doesn't have Bohannon making 3-point shots, the offense has a tendency to become stagnant.
Bohannon got into early foul trouble and was held scoreless in the game.
Sophomore guard Tony Perkins did all he could to help pick up the slack, scoring 17 points and grabbing 12 rebounds.
Keegan Murray and Kris Murray also scored 22 and 13 points, respectively.
It probably isn't a coincidence that Perkins has started the last 10 games and that Iowa is 8-2 in those games.
He brings a toughness and a mindset on defense, but now his offensive game is starting to emerge.
As much as it hurt to lose Sunday's game, for this Iowa team to have won 12 conference games, and to have clinched an NCAA Tournament bid a while ago, is impressive under the circumstances.
Iowa had to replace a bulk of its offense from last season, most notably Luka Garza and Joe Wieskamp, and yet, Keegan Murray and his cohorts have exceeded expectations, and still have a chance to make a statement in the postseason.
A team that started 1-3 in conference play fell just one win short of securing a double bye in the conference tournament.
A team that was picked to finish nowhere near the top of the conference standings is playing as well as any team in the conference right now, even with Sunday's loss.
It's time to move on from Sunday's loss and to embrace the opportunity that now awaits this Iowa team.
Coming 🔜 The 2022 #B1GMBBall Tournament–here's the bracket! https://t.co/tcv0VyGvmN

What GIF best describes your excitement for Wednesday? 👇 pic.twitter.com/mXN31pi8Fo

— Big Ten Men's Basketball (@B1GMBBall) March 7, 2022