By Pat Harty
IOWA CITY, Iowa – As an athletic 6-foot-4 shooting guard, Tony Perkins has always brought a swagger and a toughness to the court.
He also has excelled on defense from the moment he became a Hawkeye last season.
But the one big difference for Perkins compared to just a month ago is that he is now making shots and emerging on offense.
It's still not a huge sample size, but Perkins has shown in the last few games that he can be a factor on offense, and that he can make 3-point shots and that he can force defenses to guard him.
He scored 17 points, grabbed 12 rebounds and had five assists in last Sunday's 74-72 loss at Illinois.
His emergence is one of many factors in Iowa's late-season surge.
The Hawkeyes have won eight of their last 10 games, have 22 wins on the season and are seeded fifth in the Big Ten Tournament, which for Iowa starts on Thursday against either Nebraska or Northwestern in Indianapolis.
There isn't a team in the Big Ten playing any better than Iowa is right now, and Perkins is a big reason why.
He has recovered from a nagging shoulder injury and is now making an impact on both ends of the floor.
"My confidence has skyrocketed just being able to know that I can shoot it without it hurting and without my shoulder injury being on my mind," Perkins said.
Defenses have dared Perkins to shoot from the perimeter, and they've also given him additional space that comes from having to account for sixth-year senior point guard Jordan Bohannon, who is the Big Ten's all-time leader in 3-point field goals.
Iowa is 8-2 since Bohannon shifted back to point guard from shooting guard and since Perkins was inserted in the starting lineup at shooting guard.
"After a few games seeing how they guard him and chase him regardless if it's on the ball or off the ball, it opens up a lot of space for everybody to drive and get shots," Perkins said. "So having him on the court and having him be around the team on the court also brings a lot on the table for me and other guys."
Perkins never has been intimidated by the big stage since becoming a Hawkeye. Even when his shots weren't falling, he still played with confidence and with moxie.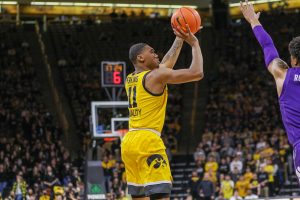 "I will say this about him; in the times that he did play last year, he kind of played with a little bit of swag, which is what you want," said Iowa coach Fran McCaffery. "It's not always the case with freshmen, especially when they're behind veteran guys like he was last year.
"But you could kind of see it coming. I think he's gotten a lot more minutes because he's been really productive at both ends. I think he's proven that he's a gamer." He's not afraid of the moment. He's not afraid of the crowd. He just kind of keeps coming, and that's what you appreciate as his teammate or as his coach. So, I'm thrilled for him, and I think is he's just going to keep getting better. I think that's safe to say with him."
Perkins has averaged 8.0 points and 3.6 rebounds per game as a starter over the last 10 games, while shooting 48.5 percent from the field.
He also has made 5-of-10 shots from 3-point range during that time.
Perkins had a career-best 20 points in the win at Nebraska, hitting 8-of-10 field goal attempts, and matching his career-best five rebounds. He also was credited with a personal-best five steals in Iowa's win over Northwestern.
Perkins has been a force on defense since he became a Hawkeye.
His athleticism, his mindset, his size, and his toughness allow him to guard multiple positions, much like the role fifth-year senior guard Connor McCaffery plays on defense.
"He can guard pretty much anybody," Fran McCaffery said of Perkins, who is from Indianapolis. "If they have a good wing player, we can put him on that person. If we have to switch, he can play at the post. If you start doing the analytics stuff, another guy, along with Tony, that really impacts our defense is Connor when he's out there.
"But Tony, not only is he physical and quick, he's tough. He fights you. I think what will happen with his defense is he'll get better at recognizing action."
It probably isn't a coincidence that Perkins has improved on offense with more playing time. It's now easier for him to get in a rhythm, whereas in the past past he would play in stretches off the bench.
Iowa has also improved in rebounding since Perkins became a starter.
"At the beginning we lost a lot of games due to rebounds," Perkins said. "Seeing that just influenced me to just go on there and grab rebounds regardless if it's offense or defense, because I like winning.'
Perkins also likes playing in his hometown and in front of family and friends. He grew up not too far from where the Big Ten Tournament will be held at Gainbridge Fieldhouse in Indianapolis.
"It's always good to play in front of my family and always good to play in my city," Perkins said.
And while Keegan Murray is without question Iowa's best player and a rising star, he is hardly a solo act.
Fran McCaffery can easily go 10 deep, and with Perkins emerging on offense, Iowa has a lot of help for Keegan Murray.
"I think you just see him being more assertive," Keegan Murray said of Perkins. "I feel like offensively, especially, he's being more aggressive going to the basket, trying to create his own shot that way, but also looking for different guys when he gets stuck down there.
"So, I feel like he's grown a lot confidence offensively and defensively as well. He's been more aggressive that way. And I feel just him being more assertive offensively and defensively has really helped our team when we were a little stagnant on offense and when we get a stop on defense."
2022 Big Ten Tournament
Iowa vs. Nebraska or Northwestern
When: Thursday, 1 p.m.
Where: Indianapolis, Indiana, Gainbridge Fieldhouse
TV: Big Ten Network
Radio: Hawkeye Radio Network
All-time series: Iowa holds a commanding 122-60 advantage of Northwestern in the series. The Hawkeyes have won 14 of the last 17 meetings, including seven straight. Iowa won this season's only regular season meeting (82-61 on Feb. 28 in Iowa City).
Iowa holds a 24-13 edge in the series against Nebraska. The Hawkeyes have won 12 of the 18 meetings since Nebraska joined the Big Ten in 2011. Iowa swept the Huskers in the regular season: 98-75 on Feb. 13 in Iowa City and 88-78 on Feb. 25 in Lincoln.