By Pat Harty
INDIANAPOLIS – Fran McCaffery was right, and many of us, including myself were wrong to question or criticize his decision to change Iowa's starting heading into the first game in February.
It seemed unfair at the time to remove point guard Joe Toussaint from the starting lineup when his backcourt partner, Jordan Bohannon, wasn't performing any better on offense as the starting shooting guard.
Bohannon was also at times a liability on defense, whereas Toussaint always has excelled on defense due to his quickness, toughness and tenacity.
But Iowa was struggling at 4-6 in Big Ten play heading into February, the offense had become stagnant and Bohannon wasn't comfortable or very productive playing shooting guard after having played point in his first four seasons.
Fran McCaffery felt that a change was needed, so he moved Bohannon back to point guard and inserted sophomore Tony Perkins in the starting lineup at shooting guard, even though Perkins hadn't been playing very well at the time.
A coach has to trust his instincts and do what he or she feels is best for the team, and Fran McCaffery took a chance by changing the starting lineup and now look where Iowa is today as one of the hottest teams in the country.
Iowa has won 11 of 13 games since Fran McCaffery changed the starting lineup and will face Purdue in the Big Ten Championship game on Sunday at Gainbridge Fieldhouse.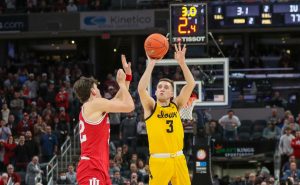 Bohannon is back to making big-time shots like the 3-pointer he made from about 28 feet to defeat Indiana in Saturday's semifinal, and Perkins is playing the best he ever has as a Hawkeye, having scored in double figures in four of the last seven games, and having dished out 16 assists in the three tournament games.
Toussaint also has thrived while coming off the bench, and for him to have embraced that role speaks volumes about his character, but also about the culture that Fran McCaffery has built in 12 seasons at Iowa.
Of course, Toussaint probably didn't like being benched because who does? Especially someone with his confidence and competitiveness.
Toussaint had waited patiently for two seasons for his chance to start, but then barely midway through the season, that role was taken away.
The lineup change could've caused problems with team morale and chemistry, but Fran McCaffery trusted that Toussaint would put the team first, and that's exactly what has happened.
And while many factors have contributed to Iowa's late-season surge, including Keegan Murray's all-around greatness, the lineup change has also been key.
It might have actually kept Iowa's season from unraveling, because as great as Keegan Murray is as a 6-foot-8 do-everything forward, Iowa still was struggling before the lineup change was made.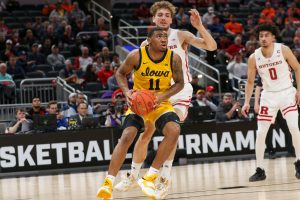 Fran McCaffery felt that he had to do something to provide a spark before it was too late, and he now looks like a genius, while I look like an idiot for questioning the move.
Nobody knows his players better than Fran McCaffery does. He's around them every day and he knows what makes each player tick.
He also knows that Bohannon's ability to make 3-point baskets is something that Iowa needs on offense as evidenced by Saturday's dramatic win over Indiana.
Fran McCaffery also must have seen enough from Perkins in practice to feel that he could excel as a starter, and with more playing time.
There are times when a head coach has to take a chance and Fran McCaffery took a chance by changing his starting lineup.
The same team that was below .500 midway through conference play is now 25-9 overall and one of just three teams in program history to win at least 25 games in a season.
So, even though I'm not much for wearing hats, I tip my hat to Fran McCaffery for pushing the right buttons at the right time, and for making this season one to remember.