By Pat Harty
INDIANAPOLIS – This was the perfect example of a team win, the way in which the Keegan Murray and his cohorts overcame a hostile environment to claim Iowa's first Big Ten Tournament title since 2006.
Iowa withstood everything that Purdue has, which is a lot, and prevailed 75-66 on Sunday afternoon at a packed and raucous Gainbridge Fieldhouse.
Iowa in addition to earning an automatic bid to the NCAA Tournament also improved to 26-9 and has won 12 of its last 14 games.
The 26 wins is the second most in program history, trailing only the 1986-87 squad that finished 30-5 while advancing to the NCAA Tournament Elite Eight.
Iowa is seeded fifth in the Midwest Region and will face Richmond in a first-round game next Thursday in Buffalo, New York. It will mark the first time that the teams have ever met in men's basketball.
With Sunday's victory, Iowa also becomes the first school since Ohio State in 2011 to win both the men's and women's conference tournaments in the same season.
Sophomore forward Keegan Murray led the charge as usual in Sunday's game with 19 points and 11 rebounds, but his supporting cast also rose to the occasion in spectacular fashion, including freshman Payton Sandfort, who came off the bench to score 10 points.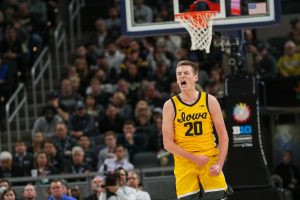 The Waukee native also made back-to-back 3-point baskets in the second half when Purdue was trying to rally. His second trey gave Iowa a 57-51 lead with 8 minutes, 20 seconds left to play.
Sophomore guard Tony Perkins scored 11 points and made three critical free throws late in the game to help secure the win.
Sophomore center Josh Ogundele, who rarely plays, came off the bench to score four points, while senior guard Connor McCaffery made an old-fashioned 3-point play to give Iowa a 66-62 lead with 2:42 left to play.
Iowa coach Fran McCaffery used 12 players in the first half, including Ogundele and freshman center Riley Mulvey to help offset Purdue's massive frontline.
And the strategy worked for the most part, other than Ogundele and Mulvey both taking an ill-advised 3-point shot.
Purdue struggled to find a rhythm and a flow on offense in the first half and that resulted in nine turnovers, while Iowa only had one turnover in the first 20 minutes.
Iowa led 35-32 at the break despite only making 3-of-15 shots from 3-point range.
Purdue finished with 17 turnovers, while Iowa had 13 steals and just six turnovers, and just one in the first half.
Iowa also had 15 assist on 26 baskets.
All of this from a team that was just 4-6 in conference play heading into February.
Fran McCaffery's decision to change his starting lineup heading into February has paid huge dividends with Iowa having won 12 of 14 games since Jordan Bohannon moved back to point guard after having started the first 21 game and with Perkins inserted in the starting lineup at shooting guard.
Purdue defeated Iowa twice in the regular season, but Keegan Murray missed the first game in West Lafayette, Indiana, and he was in foul trouble in the second game.
He stayed out of foul trouble in Sunday's game, and impacted both ends of the floor.
Not much was expected from this Iowa team after having lost so many key players from last season, including 2021 National Player of the Year Luka Garza and All-Big Ten wingman Joe Wieskamp.
But the rise if Keegan Murray, coupled with a supporting cast that just keeps getting better has helped Iowa exceed expectations and go where few Iowa teams have gone before.
And this spectacular journey is far from over.