By Pat Harty
IOWA CITY, Iowa – The first time I saw Keegan Murray play basketball in person was on Dec. 17, 2017 at Muscatine High School.
He was a junior at Cedar Rapids Prairie, and part of a unique one-two punch with his twin brother, Kris Murray.
But the Murray twins weren't the reason I drove from Iowa City to watch the matchup between Prairie and Muscatine High School.
Joe Wieskamp was a senior at Muscatine High School, and by far the state's top prospect, and he had just signed a national letter of intent with Iowa a month earlier.
Wieskamp put on a show that night, scoring 42 points and making 13-of-17 field-goal attempts. He also made five of his eight 3-pointers and 11 of his 13 free throws.
He scored 18 points in the second quarter and had 29 points by halftime.
I left that night thinking he had chance to be a major contributor for the Hawkeyes, if not a star, and he certainly lived up to that expectation by twice making All-Big Ten at Iowa.
Wieskamp, a 6-foot-6 shooting guard, is a now in his rookie season for the San Antonio Spurs after having been selected in the second round of the 2021 NBA Draft.
But as great as Wieskamp was that night against Prairie in 2017 his team lost.
Prairie overcame a 37-31 halftime deficit to win, 72-65, on the road.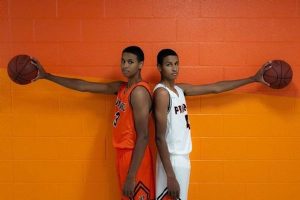 The Murray twins played a significant role, but it was Kris that led his team in scoring with 26 points, while Keegan was his team's third leading scorer that night with 15.
After the game, I interviewed Wieskamp for a story that I was writing, and I also spoke with the father of the Murray twins, former Iowa basketball player Kenyon Murray, who was a Prairie assistant coach at the time.
Kenyon Murray was very complimentary of Wieskamp, saying that he had star potential, and he also spoke proudly of his sons, who weren't being recruited much at the time as slender 6-7 forwards.
Kenyon spoke about being patient, about respecting the process and about working hard each day when asked what advice he was giving to his sons.
He never went as far as to say it, but I could tell that Kenyon felt that his sons were being under-valued as recruits.
Obviously, he was right in both cases, considering where the Murray twins are now.
Keegan Murray has gone from being the third leading scorer against Muscatine that December night in 2017 to one of the top college players in the country as an Iowa Hawkeye, and a potential NBA lotter pick, as a versatile and highly efficient 6-foot-8 forward, while 6-8 Kris Murray is now an emerging star for Iowa.
But it wasn't easy for either one to reach this point.
Western Illinois was the only school to offer the Murray twins a scholarship coming out of high school as crazy as that sounds with hindsight.
However, Iowa coach Fran McCaffery was interested enough to where he had a suggestion.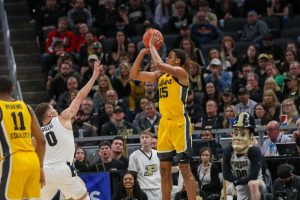 He encouraged the Murray twins to attend prep school for one year in order to get bigger and stronger and to improve as players with the understanding that a scholarship would be offered to both of them if they showed improvement.
They followed McCaffery's advice and got bigger, stronger and better, and McCaffery would go on to offer them both scholarships, a decision that now ranks among McCaffery's best as the Iowa head coach.
The Murray twins are a reminder that success rarely comes easy, and that staying the course, staying humble and hungry and staying focused on a dream can produce life-changing results.
In barely four years, Keegan Murray has gone from being hardly recruited to one of the greatest players in the history of the Iowa program.
He broke Iowa's single-season scoring record earlier this season and was named the most outstanding player at the Big Ten Tournament where he led Iowa on Sunday to its first championship since 2006.
The respect for Keegan Murray is one of the main reasons some of the national pundits are predicting that Iowa will make the NCAA Final Four for the first time since 1980.
That journey will start on Thursday when 26-9 Iowa, seeded fifth in the NCAA Midwest Region, faces No. 12 Richmond in an NCAA Tournament first-round game in Buffalo, New York.
Keegan Murray will be to that game what Wieskamp was to the game in high school game in 2017 as a superstar that everybody wants to see play.
Kris Murray also will play a key role off the bench.
Keegan Murray has separated himself from his twin brother from a performance and from a status standpoint, and there is no question that Keegan's Hawkeye career is about to end after just two seasons with NBA riches waiting.
But it wouldn't be a surprise if Kris Murray were to lead Iowa in scoring next season, and also develop into an NBA prospect himself.
He and his brother are both listed at 6-8 and 225 pounds and have versatile, but different skill sets.
Keegan Murray was brilliant in the Big Ten Tournament while leading Iowa to four victories in four days, which has only happened four times in Big Ten Tournament history.
He broke the record for most points (103) and field goals made (38) in a single Big Ten Tournament, surpassing the previous mark of 92 points and 34 field goals made by Ohio State's Duane Washington Jr. in 2021.
Point guard Jordan Bohannon, who chose to return for a rare sixth season, was asked in Sunday's post-game press conference what winning the Big Ten Tournament championship meant to him under the circumstances.
Keegan Murray was seated to Bohannon's left at a table.
"Everything that we have done has been the right way and that's just what makes it so perfect," Bohannon said. "Everyone here is committed to doing things the right way. And understanding that we had one of the best players in the country, best players to ever go through Iowa to my left and he just stepped up in huge moments throughout the whole season for us to get here."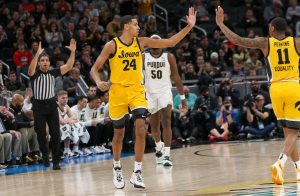 Keegan and Kris Murray are both soft-spoken and choose their words carefully.
They don't show a lot of emotion on the court, they just compete, and they work.
And they do it with dignity and class as Keegan showed when asked after Sunday's game what it meant to be named the most outstanding player of the tournament.
"It's obviously a big individual honor, but I really couldn't have done this without my teammates," Keegan Murray said. "I feel like back at it, like I've had to learn from a lot of guys last year just what it takes to be great at this level, good at this level and guys especially in this tournament have just really had faith in me. That's all I could ask for. I take a bad shot, they tell me to shoot the next one. I miss a shot, they say shoot the next one. That's just the kind of team we are, the kind of guys we have in our locker room. It's a team trophy, it's not an individual one."
That's how you hope your star player would answer that question, and it's reasonable to think that Keegan Murray, besides being raised the right way by his parents, has developed an even greater appreciation for hard work, and for being humble after having been humbled by the recruiting process, and for having to work so hard to become an elite player.
Keegan Murray already is a Hawkeye legend, but that legend would take on a completely different meaning should he lead Iowa on a deep run in the NCAA Tournament, with deep being at least a Sweet 16 berth for the first time since 1999.
It's incredible to think how far Keegan and Kris have come since they won in Muscatine as high school juniors.
Their father was a McDonald's All-American coming out of high school in Michigan, and he had solid career as a Hawkeye as a three-year starter at small forward who excelled on defense.
But Kenyon Murray never played in the NBA because he was undersized at 6-5, and because only a very select few are good enough to play at that level.
He instead would go on to raise a future NBA player, and maybe two should Kris continue to develop.
Keegan Murray didn't standout the first time I saw him play in Muscatine, but that only makes his sudden ascent to stardom even more impressive.
He was good that night in 2017, but I didn't leave the gymnasium in awe, or thinking he was anything special, as I do after almost all of his games now.