By Pat Harty
IOWA CITY, Iowa – Members of the Iowa men's basketball team, along with head coach Fran McCaffery, were being introduced one-by-one over a loudspeaker just moments after Iowa had won the Big Ten Tournament title on Sunday.
Iowa fans cheered loudly and enthusiastically as each name was introduced at Gainbridge Fieldhouse in Indianapolis.
But then Iowa Athletic Director Gary Barta had his name announced, and to say that the mood changed would be an understatement.
Some fans even booed after hearing Barta's name announced in what was yet another example of just how polarizing Barta is with Hawkeye fans.
Some like him.
Some don't have strong feelings either way.
And some despise him.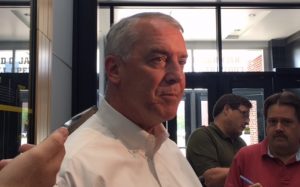 This column isn't an attempt to change how you feel about Barta, because without question, he has made some mistakes and blunders that have proved costly in lawsuits, and from a public relations standpoint.
He also hired Todd Lickliter as the Iowa men's basketball coach in 2007, and that would prove to be disaster.
And he hired Marla Looper to coach the softball team, but that didn't work.
Barta is far from perfect, and is certainly open for criticism.
But let's also acknowledge the good stuff because it's easy to see the glass half full in the case of Hawkeye athletics right now.
In slightly over a year, Iowa has won the 2021 national championship in wrestling, the 2022 Big Ten Tournament Championships in both men's and women's basketball, the 2022 Big Ten regular-season championship in women's basketball, two indoor Big Ten men's track and field championships and one outdoor title, and the 2021 Big Ten West Division title in football.
Iowa is also the first school since Ohio State in 2011 to win the Big Ten Tournament in both men's and women's basketball in the same season.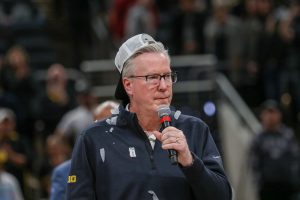 It could be argued that there hasn't been a better year-to-two-year stretch in athletic department history, and Barta, whether you like him or not, should get some credit, at least for hiring Fran McCaffery as men's basketball coach in the wake of the Lickliter debacle in 2010, and for hiring Joey Woody as Director of Track and Field and Cross Country.
Barta was under pressure to make the right decision when he hired Fran McCaffery away from Siena in 2010, and while you could point to Iowa's lingering postseason woes as an ongoing problem, the current team is ranked 16th nationally in the Associated Press poll, 26-9 overall, which is the second most wins in program history, and preparing to face Richmond in the first round of the NCAA Tournament on Thursday in Buffalo, New York.
Iowa's NCAA Tournament woes in men's basketball still hasn't been fixed under McCaffery, but he has lifted the program to where making the NCAA Tournament is a realistic expectation for each season.
It's easier to say that now with Iowa having proved the many doubters wrong this season by making the NCAA Tournament as a No. 5 seed.
Some had Iowa as a longshot to make the Big Dance in the wake of losing so many players from last season's team, including 2021 National Player of the  Year Luka Garza.
It was hard to disagree with that narrative heading into the season, and even harder when Iowa was 4-6 in conference play heading into February.
But the team has stayed the course and is now having one of the best stretches in 12 seasons under Fran McCaffery, with 12 wins in the last 14 games.
Barta was waiting off stage for Fran McCaffery following Sunday's post-game press conference at Gainbridge Fieldhouse and they both wrapped one arm around each other in a celebratory embrace.
The mood will undoubtedly change should Iowa make an early exit from the NCAA Tournament, but even if that happens, it can't diminish what the athletic department has accomplished over the past year or so.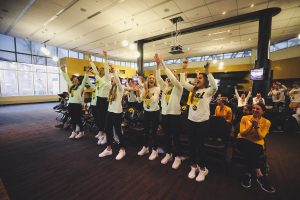 The women's basketball team also advanced to the NCAA Sweet 16 last season and has a good chance of doing it again this season as a No. 2 seed, and as host for the first two rounds.
Ipwa sophomore guard Caitlin Clark is one of the top women's basketball players in the country, while sophomore forward Keegan Murray is considered the same on the men's side.
This is without question a special time in Hawkeye athletics, both individually and from a team standpoint.
And remember, Spencer Lee would've been a heavy favorite this season to become Iowa's first four-time national champion in wrestling if he hadn't had season-ending knee surgery.
Iowa athletics is thriving right now from a competitive standpoint, and while some will say in spite of Barta, it still doesn't change the results.