By Pat Harty
One sign of a good head coach, besides winning games, of course, is having players that want to play for you, and that respect you.
Richmond men's basketball coach Chris Mooney seems to have built that relationship with his players.
His veteran squad, which includes six graduate students, is seeded 12th in the Midwest Region and will face No. 5 seed Iowa in the first round of the NCAA Tournament on Thursday in Buffalo, New York.
The Spiders have come a long way since finishing 14-9 during the 2020-21 season that was interrupted and cut short by the Covid-19 global pandemic.
The players could've easily transferred to other schools without facing any restrictions, but they chose to stay at Richmond and are now reaping the benefits.
"During when the entire country was in quarantine, when COVID ended the season and everything, I certainly had a bunch of schools sort of reach out to my high school coach and try and figure out what I was going to do with the fifth year and everything, so I know that there were a lot of options out there," Richmond center Grant Golden said Wednesday. "But I had always said if I was going to decide to come back and everything, this year, whatever it may be, that it was going to be at Richmond.
"How Coach Mooney and his entire staff and how these guys have impacted my life is something that I can't even describe, so I couldn't even imagine taking the court with anybody besides them."
Fifth-year senior point guard Jacob Gilyard has no doubts that he made the right decision to stay at Richmond.
"Once I decided to come back after the COVID year, I knew there wasn't anywhere else I would rather be," said Gilyard, who is Richmond's all-time leader in steals. "Richmond was always what I was going to do."
Asked if playing for Mooney is a big reason why he stayed, Gilyard said:
"Yeah. I would say — my teammates are probably right there along with Coach, but, yeah, Coach Mooney played a big part in it, how he went about it. He didn't force anybody. He didn't try to put himself on anybody to make sure that we were going to come back or that one guy would come back. He let us make our own decisions, and he has done that throughout our whole career. He treats us as adults rather than kids in college."
The current Richmond team, which has four 1,000-point scorers, defies what has been occurring in college basketball since the transfer portal was launched in 2018.
While many schools have used the portal to overhaul their rosters, Richmond has done it the old-fashioned way.
"It's so hard to be in a position to be an at-large team. It's just incredibly challenging, and, you know, for these guys, obviously, to come back, six seniors to come back, two walk-ons paying their own way for an extra year, and the four scholarship players all had 1,000 points before this year, they could be anywhere," Mooney said. "It's incredible. So, counter to what so much of what college basketball is today. This is great."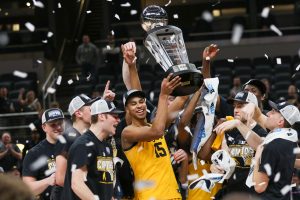 Keegan awareness: Chris Mooney was very familiar with Keegan Murray's rise to stardom this season, thanks largely to a Hawkeye connection on his support staff.
Former Iowa player Darius Stokes, who is from Cedar Rapids and the son of former Iowa star center Greg Stokes, is Richmond's video coordinator for men's basketball.
Richmond Athletic Director John Hart also graduated from the University of Iowa.
"Yeah, so I was pretty aware of him," Mooney said. "We would watch some Iowa games on the road because Darius was interested, and then subsequently having drawn them, Murray is amazing. He can score in so many ways. He is so fluid, athletic, calm, incredibly in control. He is tremendous. He is better than I thought he was before we started watching them.
"I'm not sure what he is projected in the NBA draft, but I imagine very high. He's a great player. I don't know — if you average 23 points per game, I'm not sure that anybody has guarded you very well in that conference. He is an amazing player and someone that will take the whole team to defend and to make sure that we make him make as hard of shots as possible, which he is capable of, but still want to make them as hard as possible."
Mutual respect: When Chris Mooney and Fran McCaffery shake hands before and after Thursday's game, they won't just be going through the motions.
The two head coaches both grew up in Philadelphia about 10 years apart and they both played basketball at different Ivy League schools before getting into coaching.
"We're pretty close," Mooney said. "We've gotten to know each other very well over the past few years. You know, I can remember his Lehigh team. That's a long, long time ago. When he was an assistant coach at Notre Dame, and I was kind of just coming up and getting into coaching, I knew who he was obviously because of his Philadelphia years. He is kind of a legend in Philadelphia.
"And then subsequently on some of the Nike basketball coaching trips, we've hung out a lot and had a lot — he is a great storyteller, very funny. He has been a really, really good friend to me and somebody that, obviously, I look up to, and his success has been impressive."
Fran McCaffery also spoke about what Mooney's friendship means to him.
"We became friends over the years, and in particular, Nike used to take the coaches on a trip every year, and that way we not only would get to know each other better because I always knew Chris pretty well," Fran McCaffery said. "But our wives would get to know each other. You know, and that's how I ended up going to (Purdue coach) Matt Painter's wedding. Our wives are really good friends, and I think that bond is formed.
"Chris and I are a little bit different being Ivy League guys that just kind of grinded our way through the business, and I enjoy seeing him on the road. We sit next to each other when we're recruiting and talk. He has a great sense of humor. I have a lot of respect for what he has done."
Defending the Hawkeyes: In addition to having a great sense of humor, Fran McCaffery also has an explosive offense led by Keegan Murray and sixth-year senior guard Jordan Bohannon, who is the Big Ten's all-time leader in 3-point field goals.
Iowa leads the Big Ten and is fourth nationally in scoring offense (83.8). The Hawkeyes have led the Big Ten in scoring four of the last eight seasons, including the last three.
"They're great in transition," Mooney said. "What makes them unique is it's not — it's not a particular fastbreak or a system fastbreak where everybody is in the same spot every time. They're kind of similar to their half court offense. They're playing together and reading each other.
"Bohannon is such an incredible shooter with such range that generally the idea is you want to get back and be tight in transition defense. Against them you can't really do that because of the shooting, especially Bohannon and Murray. I think the biggest thing is not turning the ball over so that — they run off of rebounds and off of makes as well, but trying to get back and have as many guys back and building a wall at the hashmark as possible.