By Pat Harty
Jordan Bohannon is always a threat to catch fire from 3-point range, and just by that alone he could be a key factor in Thursday's game against Richmond in the first round of the NCAA Tournament in Buffalo, New York.
Iowa's sixth-year senior point guard is the Big Ten's all-time leader in 3-point field goals, and one of his most recent treys lifted Iowa over Indiana in the semifinals of the Big Ten Conference Tournament.
Iowa would go on to win the conference tournament and is now seeded fifth in the NCAA Tournament Midwest Region with a 26-9 record.
And with the 24-year old Bohannon, Iowa has one of the best shooters in the country who is preparing to play in his school record 179th game.
But even with all of Bohannon's productivity and experience, don't be surprised if backup junior point guard Joe Toussaint plays as big a role, or bigger, against Richmond.
The Spiders are led by fifth-year senior point guard Jacob Gilyard, who is the NCAA's all-time leader in steal with 466 heading into Thursday's game.
Gilyard only stands about 5-foot-9, but he has cat-like quickness, incredible stamina and the ability to control tempo.
Bohannon at 6-1 rarely has a size advantage over the opposing point guard, but he will against Gilyard, so that could help Bohannon get free for shots.
But also expect Gilyard to use his quickness on defense to pressure Bohannon in an attempt to produce turnovers, and his quickness on offense to blow by Bohannon.
Bohannon has a history of struggling against quick and athletic guards, and Gilyard certainly fits that description.
That's why the 6-0 Toussaint, who is from the Bronx, New York, could prove to be a key player off the bench.
His quickness and defensive tenacity could help to contain Gilyard and make it harder for Gilyard to get to the basket, and to be effective in transition.
Toussaint started the first 21 games this season at point guard, while Bohannon started all those games at shooting guard.
The team was struggling heading into February, however, with a 4-6 record in conference play, so Iowa coach Fran McCaffery moved Bohannon back to point guard, where he started for most of the previous four seasons, and also moved Toussaint to the bench.
Sophomore Tony Perkins moved into the starting lineup at shooting guard and Iowa has won 12 of 14 games since McCaffery changed the lineup.
And though Toussaint lost his starting position, he still has been a major contributor off the bench, especially on defense.
It's easy to picture he and Gilyard going at it, speed and quickness versus speed and quickness at the point of attack.
Iowa sophomore forward Keegan Murray is one of the best players in college basketball and a potential NBA lottery pick. He should put his stamp all over Thursday's game on both ends of the floor, while Richmond will have to account for Bohannon at all times when Iowa is on offense.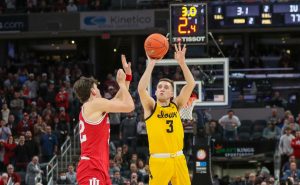 But games often are decided by matchups, and Toussaint might be a good matchup against the Spiders, who have six graduate students and four 1,000-point scorers on the roster.
Should Bohannon get hot from 3-point range, he will log heavy minutes and deservedly so because he can shift momentum in a hurry.
But if he struggles from the perimeter, Fran McCaffery has shown throughout the season that he is willing to sit Bohannon for long stretches if Toussaint and the other guards are playing well.
Toussaint might be the one player for Iowa who is capable of keeping up with Gilyard on defense.
Toussaint also bring instant energy to both ends of the court, and he will be playing in his home state, although, Buffalo is nearly 400 miles from New York City.
The way in which Toussaint has responded since losing his starting position has been a key to Iowa's late-season surge.
Instead of pouting or becoming a distraction, Toussaint has embraced his role coming off the bench, and that has helped significantly from a chemistry and from team morale standpoint.
Thursday's game just seems to fit Toussaint from a matchup standpoint because there is no substitute for quickness.
He also can impact a game without scoring many points, while Bohannon makes his biggest impact by draining 3-point shots.
Toussaint doesn't always play well, but he always plays hard and with toughness.
He will relish the challenge of facing a dynamic point guard who plays the game sort of like how Toussaint does.
So again, don't be surprised if Toussaint makes a significant impact.