By Pat Harty
Just like that, it's over.
One of the greatest seasons in program history, and two of the greatest careers in program history are finished.
Done.
History.
The Iowa men's basketball team in the span of about two hours on Thursday afternoon went from being a popular pick to make a deep run in the NCAA Tournament as a five seed to being eliminated in the first round by Richmond.
Iowa became the latest five seed to lose to a 12-seed as Richmond held on for a 67-63 victory in Buffalo, New York.
The same Iowa team that won the Big Ten Tournament just five days ago, and that had won 12 of its previous 14 games, lost to a team that won the Atlantic-10 Conference Tournament as a six seed and that had lost 12 games in the regular season, including one against Drake.
The Spiders missed a bunch of open shots from near the basket, and from the perimeter, but they also held Iowa to 21 points below its Big Ten-leading scoring average.
Iowa never looked comfortable on offense as Richmond controlled the pace of the game throughout and made things difficult for Iowa All-America forward Keegan Murray.
He still scored 21 points, but none of his points came easy.
And it just wasn't enough.
Sixth-year senior point guard Jordan Bohannon only scored six points, while his counterpart, Richmond point guard Jacob Gilyard, scored 24 points and controlled the pace of the game.
"We're resilient," Gilyard said on the TruTV post-game interview. "You saw it last weekend and you saw it today. We knew they were going to make their run. But we're a battle-tested team and we're pretty confident in ourselves and we think we can beat anybody."
Richmond improved to 24-12 and will face Providence in the second round on Saturday, while Iowa ended the season with a 26-10 record.
The 26 wins is the second most in program history, and four of them came during Iowa's march to the Big Ten Tournament title last week.
There is so much to like about what Iowa accomplished this season, but fair or not, this team will be judged by many for what it failed to do in the NCAA Tournament.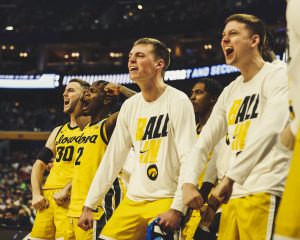 That's just how it works, especially for a program that hasn't advanced to the Sweet 16 since 1999.
Iowa played tight and was timid against Richmond, as if the program's NCAA Tournament drought was too heavy of a burden.
The result was a horrible loss that will symbolize this season, much like Iowa's 64-63 loss to 14-seed Northwestern State in the first round of the 2006 NCAA Tournament is the lasting memory from that season.
In the first half, Richmond forced Iowa into many difficult shots, controlled the pace of the game throughout the half, shutdown Bohannon, and contained Keegan Murray by his standards, and yet, Iowa only trailed 29-28 at halftime.
So, the situation could've been much worse for Iowa heading into the second half.
But on the other hand, Iowa also had to get something going quickly on offense in the second half because the longer a 12-five matchup stays close, the pressure eventually falls on the five seed to avoid being upset.
Neither team shot well in the first half, but Richmond missed a bunch of open looks near the basket and from the perimeter, whereas Iowa's shots in the first half were more contested.
Iowa likes to play fast and score in the 80s, but Richmond had other plans for Thursday's game, and Richmond's game plan worked on defense.
Iowa only made 1-of-13 shots from 3-point range in the first half and scored just two fastbreak points.
The pace of the game changed quickly in the second half, though, as Iowa went on an 11-0 scoring run to take a 39-34 lead, thanks mostly to eight points from Patrick McCaffery.
But the Spiders didn't wilt under the pressure and Gilyard and his cohorts quickly shifted the momentum and took back the lead.
Asked what it took to win the game, Gilyard said:
"A lot of grit. They've got an All-American over there, a lottery pick. It was a team effort. We locked them down. I don't know ow many they have, but I'm pretty sure they're under their average.
"So, credit the defense by us."
And by us, Gilyard means a veteran and gritty team that includes six graduate students, including Gilyard, and four 1,000-point scorers.
It was clear from the opening tip that the Richmond players weren't intimidated.
Richmond did benefit from an obvious missed foul on a 3-point shot by Iowa forward Kris Murray late in the second half. The replay showed that the Richmond defender made contact with Kris Murray's shooting hand, but no foul was called on a shot that fell short of even hitting the rim.
But you also could argue that Iowa shouldn't have been in that position as a 10-point favorite.
Richmond wouldn't have even made the NCAA Tournament without having won its conference tournament because it lost 12 games in the regular season.
Iowa missed 23 of its 29 shots from 3-point range and none of the bench players even made one three.
Patrick McCaffery made four of Iowa's six treys, while Bohannon made the other.
However, Bohannon also missed five shots from 3-point range in what would prove to be his final game as a Hawkeye.
And now Fran McCaffery faces the challenge of moving on without Keegan Murray, who is expected to declare for the 2022 NBA Draft as a sophomore, and without Jordan Bohannon, who played in his 179th game on Thursday.
Bohannon leaves as the Big Ten's all-time leader in 3-point field goals, and as Iowa's all-time leader in assists and games played.
But he also leaves without having advanced past the second round of the NCAA Tournament.
As great as Luka Garza was a Hawkeye, he also never advanced past the second  round of the NCAA Tournament.
However, shortly after Thursday's loss Garza congratulated Bohannon and fellow seniors Connor McCaffery and Austin Ash for having incredible careers.
Garza also pointed out that Iowa finished 14-19 just five seasons ago.
The program has made significant progress since having that losing season.
But the program also hasn't made significant progress in the NCAA Tournament, and that sobering reality is tough for fans to handle right now.
You start to wonder if this team couldn't make a run with everything it had going for itself, then when will it ever happen?
Will March Madness ever stop being March Sadness for Iowa?