By Pat Harty
IOWA CITY, Iowa – Jack Koerner already has defied the odds by having been a three-year starting defensive back at Iowa who came as a walk-on.
He now hopes to defy the odds again at the highest level of football.
Koerner took a step in that process on Monday by participating in Iowa's annual Pro Day event.
He worked out for scouts from numerous NFL teams, and seemed satisfied with how he performed in the drills.
"When so much is riding on just hundredths of tenths of seconds and a few inches here and there, it's kind of a mental burden," Koerner said. "But all you can really do is just prepare as well as you can and go out there and do your best, and at the end of the day, the times are going to be what the times are.
"It's not that much bigger and I try not to put too much stock into it. But I feel pleased with how I did today and it's definitely kind of a weight off my shoulders."
Koerner said he was most pleased with his time of 4.51 seconds in the 40-yard dash.
"Obviously, everybody hopes to see a 4-4 number, but I think 4.51 is a lot faster than everybody would have expected from me," Koerner said. "And it's definitely above average for a safety. So, I feel pretty pleased with that."
Koerner is just looking for a chance, and all it takes is for one team to like the 6-foot, 204-pounder.
Of course, he'd love to be selected in the 2022 NFL Draft, and he's hearing that he could be taken in the seventh round. But if not, Koerner will pursue free agency, and try to make the most of it.
Koerner was in a similar situation when he came to Iowa as a walk-on in 2017 after having had a standout career at West Des Moines Dowling Catholic.
Iowa gave Koerner a chance to show that he was first worthy of playing time, and when he met that challenge in convincing fashion, he was put on scholarship.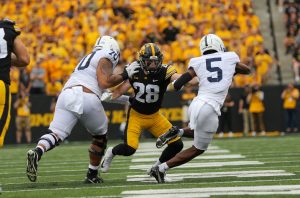 Koerner started 32 games for Iowa at free safety, and he made second-team All-Big Ten as a junior in 2020 and honorable mention this past season.
He certainly has a resume that deserves NFL attention.
Whether he has the talent to play in the NFL remains to be seen.
Koerner draws inspiration from former Iowa defensive back and Davenport native Jake Gervase, who currently plays for the Super Bowl champion Los Angeles Rams.
Gervase also came to Iowa as a walk-on defensive back, and then climbed the depth chart as a safety.
Gervase also helped Koerner make the adjustment to college.
They both had something in common as walk-ons and that helped to create a bond that still is strong to this day.
"Guys like Jake and other walk-ons that have had great success stories, when you're a walk-on coming into the program, those are the guys that you talk to when you're having your visit as a walk-on and you see the player panel up there, guys that were in your shoes years ago and then they found success and they kind of laid the blueprint out for you on how to find that success, that's something that I,. obviously, took to heart and you kind of just pass the baton," Koerner said. "Once guys leave, they pass the baton to the next walk-on guys and it's their job to kind of steer the young guys in the right direction as well.
"So that's, obviously, a role that I tried to take on as much as I could in my last couple years here."
Iowa has had 16 defensive backs selected in the NFL Draft under Kirk Ferentz, but only two – Derek Pagel in 2003 and Sean Considine in 2005 – came to Iowa as a walk-on.
Gervase began his NFL career as a free agent, and just as he did as a walk-on at Iowa, he has defied the odds by sticking in the league.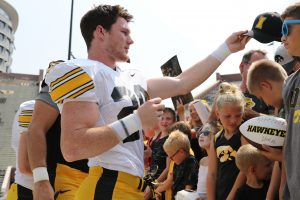 "Ever since I started playing here, he's kind of been like a big brother to me, he put his arm around me and kind of showed me the weight," Koerner said of Gervase. "And it's been no different now that he's in the league. He's kind of held my hand a little bit through this process."
Geno Stone is the last Iowa defensive back to be selected in the NFL Draft as he was taken by the Baltimore Ravens in the seventh round in 2020 and is on the current roster.
"Older guys like Jake, an undrafted free agent, and Geno going in the seventh round, that's kind of where a lot teams have been telling me I kind of fit in between those projections," Koerner said. "So hearing from those guys, kind of what they did and what their preparation is like, what they heard from teams and such is really, really valuable to me."
Koerner could've returned for a sixth season at Iowa due to having a free Covid year.
But he's 23 years old and ready to move on to the ultimate challenge for a football player.
Iowa won 10 games in two of Koerner's three seasons as a starter, won the 2021 Big Ten West Division and also led the nation with 24 interceptions this past season.
Koerner was used to winning when he became a Hawkeye.
Dowling won the state title in each of his four years as a student and has won seven of the last nine state titles.
Dowling also has had numerous players go on to play college football at multiple levels.
Iowa is expected to have two Dowling graduates in the starting lineup next season in sophomore running back Gavin Williams and senior defensive end John Waggoner.
But as far as playing in the NFL, only a handful of Dowling graduates have climbed to that level.
Punter Matt Haack, who plays for the Buffalo Bills, and receiver Rico Gafford, who plays for the Green Bay Packers, are believed to be the only Dowling graduates currently on an active NFL roster.
Receiver Amara Darboh, who graduated from Dowling in 2012 and then played for Michigan, is currently an NFL free agent after having played for the Denver Broncos this past season.
"It's pretty tough to go from Dowling High School to division one, but division to the (NFL), that number gets funneled down pretty  great," Koerner said. "But I would love to join those guys, they're some all-time Maroon greats. If I could join that lineage, it would be the icing on the cake for sure."