By Pat Harty
IOWA CITY, Iowa – Chuck Long called it a missed opportunity, while Kirk Ferentz said it made "perfect sense" to have Brian Ferentz switch to coaching the Iowa quarterbacks.
Time and performance will ultimately determine who is right, but it's easy to see why Long has his doubts and concerns.
Because Kirk Ferentz is taking a huge chance by making his son the quarterback coach despite Brian Ferentz's lack of experience in coaching quarterbacks, and despite how poorly the offense has performed recently.
Long was hoping that Kirk Ferentz would hire a person with experience in coaching quarterbacks because Long feels the position warrants it, and because he feels that Iowa's struggling offense needs an upgrade.
And Chuck Long's opinion carries a lot of weight as arguably Iowa's greatest quarterback of all time, and as a former quarterback coach, former offensive coordinator, and former head coach at the collegiate level.
Long sees how much the Iowa offense has struggled since Brian Ferentz became the offensive coordinator in 2017, and Long was hoping that Kirk Ferentz would use Ken O'Keefe's recent decision to step away from coaching quarterbacks as a chance to hire somebody from the outside that would've provided a fresh and new perspective on offense.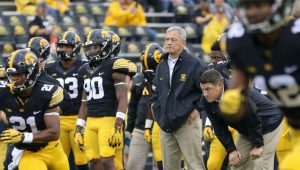 But instead, Kirk Ferentz chose to stay inhouse and to give his son even more responsibility and influence by switching Brian Ferentz from coaching tight ends to coaching quarterbacks.
"And it just made perfect sense," Kirk Ferentz said Wednesday at a press conference to mark the start of spring practice. "I thought he was in the best position to handle that role at this point. And I think the bigger hope is that he'll help us add to our efficiency and proficiency offensively. And that's the thinking behind that. And he's embraced that and done a good job as well.
"Feel really good about where our staff is at now and eager to get started in the football perspective."
Long, on the other hand, feels differently.
"I just thought it was a missed opportunity," Long said Wednesday on the Hawk Fanatic radio show and podcast. "And I thought the dominoes were playing out really well for Kirk with Ken O'Keefe retiring and going off the field.
"Here you had great position open. You keep Brian as tight ends coach, and you have a chance to go out and get either an offensive coordinator or a quarterbacks coach."
Kirk Ferentz chose a different route, however, by hiring former Iowa linebacker Abdul Hodge to coach the tight ends, and by basically eliminating O'Keefe's full-time position as quarterback coach, a job O'Keefe had held since 2017.
The fact that O'Keefe worked closely with Brian Ferentz over the past five seasons helped to convince Kirk Ferentz that Brian is now ready to coach the quarterbacks.
O'Keefe served as the Iowa offensive coordinator and quarterbacks coach from 1999 to 2011 before leaving to coach in the NFL.
Greg Davis replaced O'Keefe as offensive coordinator in 2012 and held the position for five seasons before retiring shortly after the 2016 season.
"That was a big part of  it– after the '16 season I was hoping when Greg (Davis) talked about getting out and retiring, I was hoping Ken would be interested because he's got so much history with the program," Kirk Ferentz said. "And certainly, he knows our program. Certainly, has expertise in that area.
"So, for a brand new coordinator to have a guy who not only is a coordinator by trade but also a guy who coordinated in this system, I thought that was a real plus, certainly. And I never put numbers on things or targets. But I guess in my mind, I felt like if we could get three good years out of Ken, we'd be doing really well and that would get us up and running. And fortunately we got more than three."
Kirk Ferentz tried to downplay Brian Ferentz's lack of experience with coaching quarterbacks by saying the game isn't as complicated as some make it out to be.
He referred back to when Hayden Fry hired him to coach the Iowa offensive line in 1981 when Kirk Ferentz was just 25 years old and had very little experience in coaching the offensive line.
"In this day and age there's so much information. I was laughing with a couple of the guys from the NFL the other day — I mean, there's a record number of experts out there right now critiquing what we do," Kirk Ferentz said. "And the game is not that complex. It really isn't. Fundamentals of throwing a football, a lot of fundamentals carry over. But there are things — I'm not pretending — that there are things that are specific to that position.
"But it's also learnable. I certainly didn't play the offensive line. I'm not saying I wasn't a great line coach but I got by for a while. You learn things. You study things. You visit with people who really are experts. And that's how you learn. That's how you grow. And he'll make mistakes just like I'll make mistakes every day, he'll make them, too. But I'm pretty sure he'll try to fix them, and that's the biggest thing that we'll have."
The problem with Kirk Ferentz's narrative in this case is that if coaching offense and coaching the quarterbacks isn't as complex as some make it out to be, then why has Iowa struggled so much on offense?
Iowa was ranked at or near the bottom of the Big Ten in most offensive statistical categories this past season, causing Long to say Wednesday that the proof is in the pudding.
Some will say that Iowa won the Big Ten West Division and finished 10-4 this past season in spite of the offense.
Iowa also hasn't had a quarterback make first-team All-Big Ten since Drew Tate in 2004.
Iowa's previous setup in which Brian Ferentz called the plays, but didn't coach the quarterbacks was highly unusual because most offensive coordinators also coach the quarterbacks and call the plays.
"When Ken made that decision, then my thoughts were to shift Brian over," Kirk Ferentz said. "I think it makes sense. And really all that, outside of 1999 and the last couple of years, that's been the way we've been operated. The guy calling the plays is coaching the quarterback directly. Personally, I think if he can get that situation it's better.
"And Brian is more than capable of doing that job. And he knows our offense better than anybody, quite frankly. I think it's going to be a good, positive move for us, and just really excited to have Abdul join our staff."
Kirk Ferentz certainly has a right to feel that way, and to have confidence in his son, but Chuck Long also has a right to question the move due to how poorly the offense has performed with Brian Ferentz running the show.
Even with Brian Ferentz now coaching the quarterbacks, Iowa's setup still is unique since Brian Ferentz is Kirk Ferentz's son.
It now seems obvious that Kirk Ferentz has hitched his saddle to his son, and that Brian Ferentz will have a lot to say about how Kirk Ferentz's final years as head coach will play out.
Chuck Long was fortunate to not only have Hayden Fry's vast knowledge and experience to draw from when Long played at Iowa from 1982-95, but Long also had Bill Snyder as his offensive coordinator and quarterbacks coach.
Snyder is now considered one of the greatest college head coaches of all time after what he accomplished as the head coach at Kansas State.
"How many guys who played the game had two Hall of Fame coaches coaching him at the same time?" Long said of Fry and Snyder. "I was blessed to have two guys that knowledgeable about the game."
The proof was also in the pudding as the Iowa offense thrived with Long behind center. He finished runner-up for the Heisman Trophy in 1985 and was also the first Big Ten quarterback to surpass 10,000 passing yards.
Iowa's offense isn't nearly as productive or as dynamic as it used to be, and that's why Long was hoping that Kirk Ferentz would use Ken O'Keefe's decision to step away as an opportunity to bring in a new quarterback coach.
But for Long, hope has since turned into disappointment.
"I thought it was a missed opportunity for Kirk and Iowa football, I really did," Long said. "Quarterback coaching is such a different animal. I was in it for 20 years. I don't know anybody with an offensive-line background that has gone on to coach quarterbacks. It's just different than everything else."
Wednesday that Brian Ferentz hadn't reached out to him for advice since being named the quarterback coach,