By Pat Harty
IOWA CITY, Iowa – Spencer Petras or Alex Padilla?
Or maybe Joey Labas, since he has now entered the Iowa quarterback competition this spring.
Kirk Ferentz will ultimately choose which of those three he feels gives Iowa the best chance to win as the starting quarterback.
My bet's on Petras to start the 2022 season opener due mostly to his experience and because Kirk Ferentz seems to hold Petras in the highest regard, not necessarily as a quarterback, but as a teammate, leader, and as a representative of Hawkeye football.
Petras hasn't performed well enough to convince anyone, including Kirk Ferentz, that he has star potential.
But he also has a 13-6 record as Iowa's starting quarterback, and that carries a lot of weight with Kirk Ferentz.
Petras, a fifth-year senior, is more safe than spectacular, and more predictable than unpredictable.
Kirk Ferentz doesn't seem to like being unpredictable, especially on offense.
Iowa won the three games that Padilla started last season when Petras was injured, but Padilla didn't have enough individual success to supplant Petras as the starter.
Padilla, who will be a fourth-year junior, certainly played well at times, especially after he replaced Petras in the first quarter against Northwestern. Padilla led three scoring drives and showed the ability to scramble from the pocket, which Iowa fans were so happy to see.
But the same offense that sputtered under Petras also sputtered with Padilla behind center as Padilla completed less than 50 percent of his passes last season.
The fact that Petras also started and played the entire game against Kentucky in the Citrus Bowl seems pretty telling.
He and Padilla were reportedly competing for the starting position in the weeks leading up to the bowl game, and Kirk Ferentz ultimately gave the edge to his most experienced quarterback, which hardly came as a surprise.
Some fans would prefer that Padilla start because for one, they've seen what Petras can do over the course of two seasons and believe that his performance leaves much to be desired, and because they haven't seen enough of Padilla.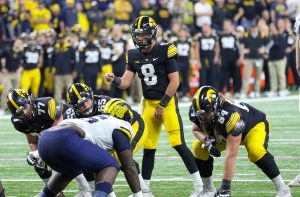 They also like that the 6-foot-1, 197-pound Padilla is somewhat mobile, especially compared to the 6-5, 233-pound Petras, who struggles to avoid pressure in the pocket.
There is also a growing push for Labas to make a breakthrough as a redshirt freshman.
His stock has been rising for a while with some fans, and with some in the media who have suggested that Labas might be the best of three.
And while that might ultimately be the case, you just hope that there will be a true and open competition at quarterback this spring, because as much as I like and respect Spencer Petras, he hasn't performed well enough to be the unquestioned starter.
Kirk Ferentz was asked Wednesday if the starting job is Petras' to lose.
"Everybody's competing right now," Kirk Ferentz said. "And on one hand, he's got an edge or things he does better than Alex. But I can flip it around saying there's things that Alex can do a bit better too. We'll ride it out, see where it all goes. But we'll get it figured out. And the good news is both guys are totally capable."
When Kirk Ferentz says that everyone is competing right now, does he mean each of three quarterbacks will get the same number of reps in spring practice?
Does he mean that each of the three will get to work with the No. 1 offense an equal amount of time, and that each of the three will get the same amount of playing time in the scrimmages?
It's easy to assume that Petras will hold on to the starting job this spring because it's hard to remember a multi-year starting quarterback under Kirk Ferentz losing the job during spring practice.
Jake Rudock lost the job to C.J. Beathard, but that happened just days after the 2014 season had ended.
Jake Christensen lost the starting job to Ricky Stanzi, but that happened after four games in the 2008 season.
Another important question is how much say will offensive coordinator Brian Ferentz have in deciding who starts at quarterback?
Brian Ferentz will spend more time around the quarterbacks than anybody now that he is also the quarterback coach.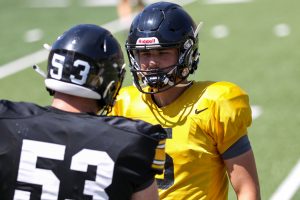 So, will his father trust Brian Ferentz enough to give Brian final say on  who should start at quarterback?
There is also the chance that the competition will carry to preseason practice if none of the quarterbacks are able separate from the pack during spring practice, or because Kirk Ferentz wants it that way to keep everybody happy and engaged in this age of the transfer portal, and to keep the media guessing.
Petras was listed first on the recently released spring depth chart followed by Padilla and Labas.
Kirk Ferentz downplayed the significance of the current depth chart, but it sure seems to be Petras' job to lose since he was listed first on the spring depth chart, and since he played from start to finish in the Citrus Bowl.
Or, maybe Petras was listed first simply due to having the most experience.
Whatever the case, Kirk Ferentz says his quarterbacks are competing right now and that all positions are open.
That's different than a year ago at this time when Petras was clearly the starter heading into spring practice.
Padilla had only appeared briefly in two games at that point, but now he has a bigger body of work to help support his case.
So, may the best quarterback win.