By Pat Harty
IOWA CITY, Iowa – Once you have a chance to meet and talk with Iowa quarterback Spencer Petras, it's easy to see why Kirk Ferentz respects and admires him so much.
In over 30 years of covering Iowa football, it's hard to think of a player that was more interesting, more engaging, and more polite and friendlier than Petras.
His interviews never disappoint as was the case again on Tuesday as Petras was among four Iowa players that met with the media to talk about spring football.
The others were running back Gavin Williams, receiver Arland Bruce and offensive lineman Jack Plumb.
Petras was surrounded by reporters from start to finish, because for one he plays quarterback and there's always a lot to discuss with an Iowa quarterback, and even more so now with Iowa offensive coordinator Brian Ferentz having recently switched from coaching tight ends to coaching the quarterbacks, and with the competition at quarterback between Petras and junior Alex Padilla.
But Petras also draws a crowd because of how he conducts himself.
In addition to being first class in every respect, he has interesting thoughts and view-points about football, of course, but also about music and food and so many other parts of life.
I left Tuesday's press conference thinking that it would be such a cool story if Petras could silence his critics and have both individual and team success next season.
The California native has a respectable 13-6 record as Iowa's starting quarterback, and he helped Iowa win the Big Ten West Division last season.
But critics will say that Iowa won the West Division and won 10 games last season in spite of Petras and the sputtering offense.
And they have plenty of evidence to support that narrative with Iowa having finished at or near the bottom of the Big Ten in numerous offensive statistical categories last season.
Iowa also lost to Michigan 42-3 in the Big Ten Championship game as the offense sputtered throughout.
Petras only completed 57.3 percent of his passes last season, and he threw almost as many interceptions (9) as touchdown passes (10) in 12 games last season.
He also was sacked for a minus-109 yards due partly to his lack of mobility at 6-foot-5 and 233 pounds.
So, there is no denying that Petras has given his critics ammunition with his average to mediocre play.
He has to get better, and my hope is that he will finally take the next step before it's too late because Spencer Petras is the kind of person you want representing your football program.
He checks so many of the boxes, but the one that matters the most – his performance level – still is empty in the opinion of some fans.
Being a nice guy, and a great interview, only carries so much weight in the field of competition.
In no way am I suggesting that the starting job should just be handed to Petras. I'm just saying it would be such a fun and inspiring story if Petras could silence his critics by rising to the occasion as a fifth-year senior.
Nobody works harder or cares about winning or about his teammates more than Petras does.
That's not me saying that, but rather his teammates having been saying it since Petras became the starting quarterback in 2020.
They rave about his work ethic and about how much he cares about Hawkeye football.
That's why it's a shame and disappointing that Petras doesn't have a better relationship with some of the fans.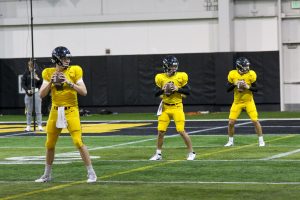 He was asked about his critics on Tuesday, and while he spoke the truth, his answer was sort of depressing because it highlighted the disconnect.
"I don't care. I don't do this for the fans," Petras said. "It's great that they allow us to have a huge advantage at home. They allow us to do what we do, and they allow me to live out my dream by their support.
"But I don't do this for the fans."
Petras was then asked how determined he is to show what he can do this coming season.
"I'm extremely determined," Petras said. "It's less about spite and more about I want to play good football and I want our team to win a championship because our team deserves it. Our coaches deserve it. These fans deserve it. We deserve to win a championship and I'm going to do everything I can to try to bring that to fruition.
"But it's because of the people in this building that I want to do that."
It certainly makes sense that Petras would put his teammates and coaches at the top of his list of motivating factors.
It's just unfortunate that his relationship with the fans seems strained because you could sense the resentment in Petras' voice as he talked about the criticism on Tuesday.
Petras also talked after the loss to Kentucky in the Citrus Bowl about how tough the criticism has been on his parents, and especially his mother.
I remember being so sad after that interview was finished because here was this young man who wanted nothing more than to make Iowa football successful, and to play well, but it just wasn't happening despite him doing everything the right way from a work and preparation standpoint.
Petras might say that he doesn't do it for the fans.
But he does.
They're part of what motivates him.
But he also has pride and feelings and some of the fans have been brutal.
The only way Petras could ever silence those fans is by playing well, and by winning games because being a good guy and a great interview only goes so far.
He understands that.
Some fans would prefer that Padilla be the starter over Petras largely because they've seen enough of Petras to believe that he is what he is, and that leaves much to be desired.
They also like that Padilla is more mobile than Petras.
But Padilla also completed less than 50 percent of his passes last season, so it isn't as if he seized the opportunity while starting three games when Petras was injured.
It still seems to be Petras' job to lose even though Kirk Ferentz didn't say that when asked that specific question during a press conference last Wednesday.
Should Padilla or redshirt freshman Joey Labas ultimately win the job, Petras would have to accept it, and he would with class and with dignity.
He wouldn't like it, obviously, because he's a competitor and because he truly believes that he is Iowa's best quarterback and deserves to start.
Petras answered lots of questions about Brian Ferentz now coaching the coaching quarterbacks and about former Wisconsin quarterback Jon Budmayr being hired recently as an offensive analyst.
Petras also talked about how different things are now with Brian Ferentz coaching the quarterbacks instead of Ken O'Keefe, who had held the position since 2017 before recently stepping down to become an analyst for Iowa.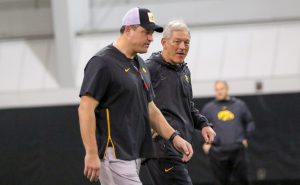 Petras still hears from O'Keefe almost daily, sometimes in the form of what Petras calls a bad joke.
But it's different than before when Petras spent most of his time with O'Keefe, which is typical for a player and his position coach.
Now that time is spent with Brian Ferentz.
"If there's two people in the building that have to be on the same page, it's the offensive coordinator and the quarterback," Petras said. "So, I think any time there's a degree of separation there, there's challenges that can be presented.
"Obviously, I loved my time with coach O'Keefe. He's an outstanding coach. But I'm excited this is the moving we're making, and I think it's going to be good for our team."
Petras was asked how Brian Ferentz is different than O'Keefe and Petras described Brian as being more conceptual and more in-depth.
"We'll watch one particular play for twenty minutes, sometimes, in the meeting room to make sure we have a full understanding," Petras said. "It's more of a deep dive, kind of a slower pace, but more in-depth, which I think really helps a guy like me.
"I know the offense like the back of my hand at this point in my career. So, it's good to have people who have an understanding."
Petras also downplayed the concerns about Brian Ferentz's lack of experience with coaching quarterbacks.
Brian Ferentz is a former Iowa offensive lineman who has previously coached running backs and tight ends.
"He's not trying to tell me how to throw a football," Petras said of Brian Ferentz. "He doesn't know how to throw a football. But at this level, so much of what we do is more schematic teaching.
"Obviously, it would be great to have a guy that can do both. But it's very rare to find a quarterback coach in college football that is great with the fundamentals at quarterback. It's more of an emphasis on the scheme of everything and there's no one better in our building of knowing our scheme and how to attack coverage than Brian. It's not even close."
It's not surprising that Petras has so much faith in Brian Ferentz because Brian Ferentz and his father feel the same about Petras.
There is a mutual respect and admiration that has been earned over time.
Kirk Ferentz has stuck with Petras through the peaks and valleys, and Petras has stuck with Hawkeye football despite the critics, and despite living half halfway across the country.
There is so much to like about Spencer Petras the person, but that sometimes gets overshadowed by what fans don't like about his quarterback play.
My hope is that he ultimately silences his critics and gets rewarded for all his hard work, and for just being a good person by being a good quarterback.